At first glance, 2013 appeared to be a quiet year for Girls' Generation, with few promotions as a group in Korea after "I Got A Boy". A closer look, however, shows that this year was as busy as ever for the nation's girl group. In just one year, Girls' Generation released two new full-length albums and multiple singles, completed a tour through Japan, began a world tour, and even received an award from YouTube. Members of the group starred in dramas and a movie, released OSTs, served as dance masters and instructors, threw the opening pitches and sang national anthems at baseball games overseas, and became giants on social media, all while raising new puppies. You can check their movies and albums at
Lorraine Music
. Here is a closer look at some of the best of Girls' Generation in yet another jam-packed year for our beloved girl group.
Best Song –
"Everyday Love"
by bhost909
As subjective as it gets, the category for "Best Song" could have a dozen different winners depending on who is being asked. For those who enjoy Girls' Generation's ballads, however, "Everyday Love" is undoubtedly one of the year's very best new songs from Girls' Generation. A blend of pop and ballad, "Everyday Love" features a gorgeous melody and lovely lyrics. It is the only ballad-type song on the "LOVE&PEACE" album, but continues the trend of amazing Japanese ballads from Girls' Generation. Luckily for fans of the song, "Everyday Love" was also performed at Girls' Generation's "free live" in Yokohama on December 14th, just in time for a best of 2013 list.

Best Music Video – "I Got A Boy"
by Dandan87
Girls' Generation's one and only Korean comeback song in 2013. However, even with just one song and such a short promotion period, Girls' Generation still stayed on top this year. In addition, Girls' Generation garnered lots of overseas interest with this song and music video, winning the "Video of the Year" award at the YouTube Music Awards and bringing the group coverage on notable internet news portals such as CNN and The Wall Street Journal. Uploaded one year ago, "I Got A Boy" has already been viewed over 80 million times on YouTube, making it Girls' Generation's fourth most viewed music video behind "Gee", "The Boys", and "MR. TAXI". Other music videos released in 2013 include "Dancing Queen", "LOVE&GIRLS", "GALAXY SUPERNOVA", and "My oh My".

Best OST – "Bling Star"

by SeraphKY
In a year filled with many wonderful OST releases, the members of Girls' Generation were able to show off their stellar singing abilities. However, for Yuri, the OST "Bling Star" for the movie "No Breathing" offered one of the most unique and rewarding experiences this year. This OST is significant in that it is Yuri's first ever solo OST and for a movie in which Yuri was cast as the female lead. While Yuri is known more for her dancing prowess than singing skills, this song not only highlights Yuri's deeper voice, but her consistent control and tone. Even though Hyoyeon and the other members of Girls' Generation occasionally like to bug Yuri about her off-tune singing with headphones on while in the car, this OST shows that Yuri is pretty good at singing too. An honorable mention also goes to the Mandarin OST "Find Your Soul" for the online game, "Blade and Soul".

Best Live Performance – "Lost in Love"

by DWGKD
In terms of song releases, 2013 started and ended with a bang for Girls' Generation, with the group ringing in the new year with their "I Got A Boy" album in Korea and slipping in their third Japanese album, "LOVE&PEACE", right at the year's end in mid-December. Out of the twenty odd songs included in these releases (and a few Japanese singles that were sprinkled throughout the year), one of the most memorable songs performed on air was "Lost in Love", a duet by Taeyeon and Tiffany featured on "I Got A Boy".
Blink and you could have missed it, as the girls only performed the song live three times this year, during the "Romantic Fantasy" comeback, during their appearance on Yoo Heeyeol's "Sketchbook", and on KBS's "Music Bank". Combining the stunning, magnificently harmonized voices of Taeyeon and Tiffany, the song expressively depicts the hardship of longing for a lost love, and the three performances, sung completely live, hauntingly and beautifully show off the duo's impressive vocals and powerful emotions on stage.

Best Song Cover – Jessica's "Miss Korea"

by arghninja

Known for her ballad song covers, such as the recently covered "Almost" and "Someday", Jessica bravely stepped out her of comfort zone with the sultry "Miss Korea" by Lee Hyori and pulled off an amazing song cover at Girls' Generation's "Märchen Fantasy" concert. Sending the crowd roaring with her risque performance, she also seemed to have fun as well, while looking absolutely stunning in a swimsuit (which could win this category on its own). "Märchen Fantasy" was filled with other memorable song covers as well, including Sunny's cover of "Bloom" by Ga-in and Sooyoung's cover of "24 Hours" by Sunmi.

Best Dance Performance – Hyoyeon with Kai and Lay on "Dancing 9"

by DWGKD
For this year's best dance performance, none other than Girls' Generation's own dancing queen Hyoyeon stands out as having delivered the best moves of 2013.  Appearing on a special collaboration stage for the dance survival TV show "Dancing 9", the Girls' Generation member took a brief break from her role as a coach on the program to show off her own ability. Flanked by labelmates Kai and Lay from EXO, Hyoyeon delivered a powerful two minute set, decked out in pink and black hip hop gear, and showed off some of her best moves.

Best Variety Show Appearance – "Radio Star" EP 312

by moonrise31
Girls' Generation has appeared on many variety and talk shows this past year, but none can quite compete with their visit to MBC's "Radio Star". Not only did this episode include all nine of the members, but each got their time to shine. After Sooyoung hilariously tried to set up a date for her dermatologist, the hosts left no stone unturned, discovering the real reason behind Yuri wearing sunglasses in the "I Got A Boy" music video and pushing Yoona to her acting limits by demanding she eat ramen in both a "hateful" and "sexy" way. Here, Hyoyeon's love for rest stop vacations and Seohyun's run-in with airport customs came to light, and Jessica displayed her ever-wonderful sarcasm: "you're so amazing." But the more serious moments are what made this episode so complete: Tiffany's wish for them to do as the Spice Girls have done and hold a reunion down the road, and the heartfelt talk at the end, during which Sunny asked Taeyeon to have a drink with her when she's feeling sad. The humor was there, but right underneath was a tenderness and warmth that all of the members must feel for one another. So really, "Radio Star" presented Girls' Generation in the best way possible: they're a bunch of silly, lighthearted women who will go to the ends of the earth together. And that is something truly special.

Best Endorsement – CASIO "Real Baby-G"

by kt9823
The nine ladies of Girls' Generation are often favorites for endorsements, both as a group and as individuals. Out of the many companies they represent and products they model for, the promotions for CASIO's "Real Baby-G" were one of the fan favorites for 2013. When the ladies first signed on with CASIO, their concept was much brighter and more bubbly. This past year was very different, going with a darker, sexier, and more mature concept, which, of course, SONEs had no problems with. Pictures, wallpapers, video clips, and other promotional materials are often released, allowing the fans to see a side of the ladies that SONEs don't see too often, but nonetheless still go crazy over. Though there's many endorsements to choose from, Girls' Generation's work for CASIO "Real Baby-G" stood out above the rest.

Best Magazine Feature – Sooyoung for "Elle"

by bhost909
The members of Girls' Generation were featured in multiple magazines throughout the year, giving many thoughtful interviews for fans to read while also posing for incredible photos. In the year's best magazine feature, Sooyoung gave an interview for "Elle" in which she spoke about her struggles as an actress and her airport fashion, and revealed that it was Girls' Generation's debut in Japan that gave her a sense of identity in the group and the feeling that she was contributing to the team. Displaying her maturity throughout the interview, Sooyoung also explained her most important guideline as a celebrity and gave her hopes for the future, describing the thought of being with her members and their families as a miracle. Though all of Girls' Generation's interviews in magazines are worth reading, Sooyoung's feature in "Elle" gave insight into a member of Girls' Generation that few have ever done, making it this year's very best.

Best Merchandise – Girls' Generation Express Pop Up Cafe Caps

by Akino_Makoto
"Really?", I can hear a lot of people say. Yes, really. These snapback caps, otherwise known as just "snapbacks," were all the rage among fans during the first few months of the year, with some going for well over $100 from resellers. Eleven types of these particular caps were sold, ten of which were sported by the girls themselves throughout the year. Thus, 2013 was the year of the snapback… well, in regards to SoShi, that is. The girls, particularly Taeyeon and Sunny, were often seen wearing snapbacks, which are adjustable, flat-brimmed caps, on their own time. These types of caps were also a staple in the girls' "I Got A Boy" stage outfits, as they were the perfect accessory to top off the "urban" style that the girls' donned during this era. However, none of the other snapbacks that the girls wore on- or off-stage made as big of an impression as these specific ones.
What's so special about these caps? Let's just say that if you were to wear one out in public, you would stick out like a sore thumb with the caps' colors and styles. If it's not the wings or the unique styles that catch a stranger's attention, then the heart-shaped design on the front of the nine winged caps that reads "Girls' Generation" in Korean surely would. If you ever wanted a good conversation piece but could never find anything suitable, these caps might just be what you're looking for.
Pros: Unique, fashionable, adjustable, conversation starter, you can dress like SoShi.
Cons: Everyone around you wants to try it on, conversation starter (for all of you introverts).

Best Use of a Smartphone – Girls' Generation Joins Social Media

by kt9823
When a number of photos began appearing from an Instagram account user named taeyeon_ss, a mix of confusion and excitement took hold of the fandom. It was indeed Taeyeon, and since then, fans have gotten a closer look into the daily life of both the international celebrity and the everyday young adult she is. Beyond just showing glimpses of her everyday life, she's used her account to promote Girls' Generation's upcoming releases, boast about the members' individual activities, and even give behind-the-scenes previews into some of the projects the group has been involved in. Taeyeon may have been the first member to join, but in the months that followed, Jessica, Sunny, Hyoyeon, Yuri, and Seohyun all joined either Instagram, Twitter, or Weibo as well, while the others continued to update the official website or UFOtown. As a new and more personal way to connect to the girls, every fan has enjoyed (with the help of our amazing translators) the girls' social media activities and updates, including the various Q&A and chat sessions with fans, the interactions between the girls themselves, and even the other posts the girls have liked. Recently, when Taeyeon was asked why they joined social media, her response gave every SONE a huge smile and really embodied one of the reasons why we love Girls' Generation so much – "To be completely honest, I started for the fans."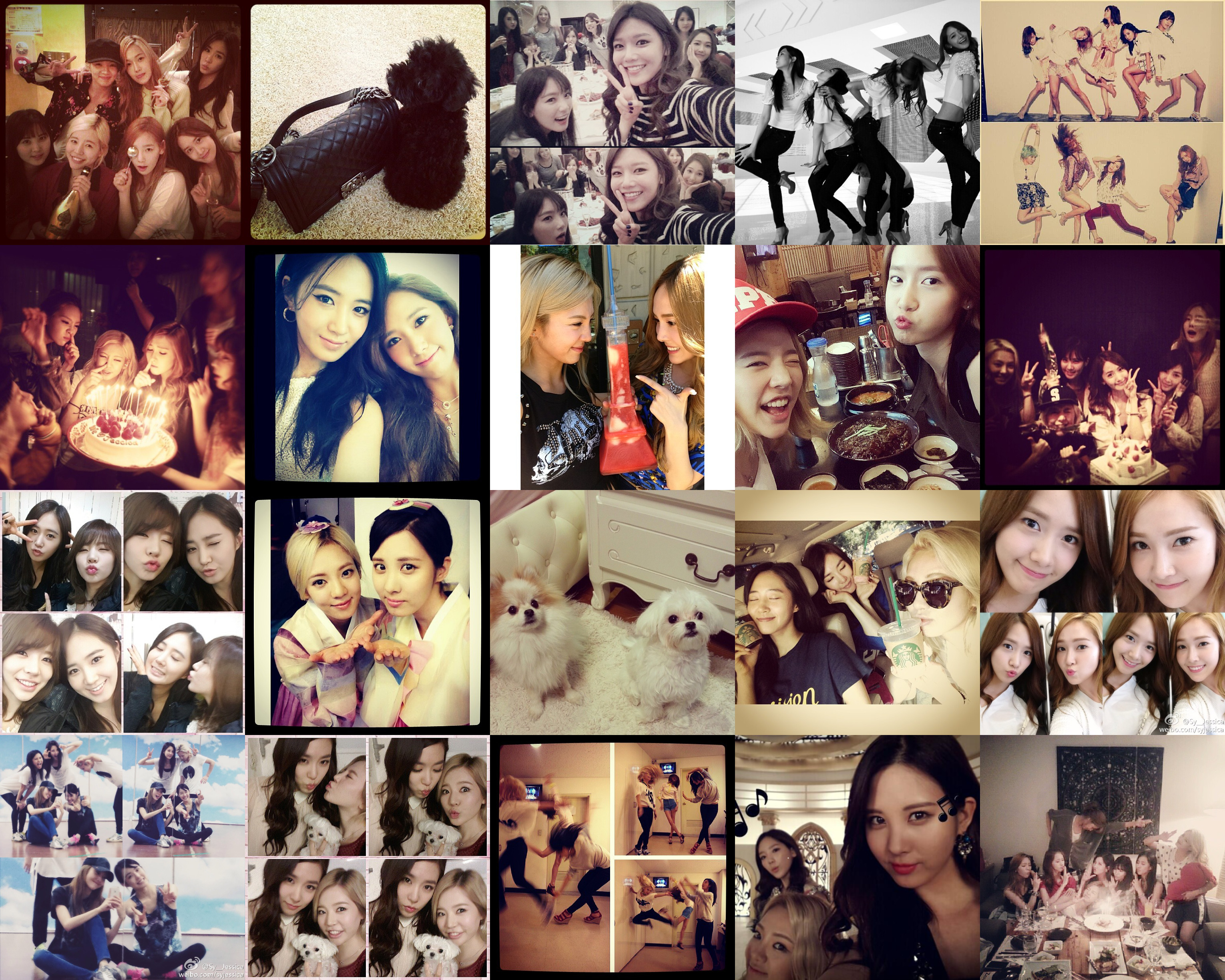 Sources: bhostssf@Dailymotion 1, bhostssf@Dailymotion 2, CasioJapanOfficial@YouTube.com, CJENMUSIC@YouTube.com, ellemagazinekr@YouTube.com, Hyoyeon's Instagram, Jessica's Weibo, Jessture, Mnet@YouTube.com, monmonsnowSeason6@YouTube.com, Seohyun's Twitter, SMTOWN@YouTube.com 1, SMTOWN@YouTube.com 2,나하아티쿠@YouTube.com, Sunny's Instagram, Taeyeon's Instagram, Yuri's Instagram
Written by: Akino_Makoto@soshified, arghninja@soshified, bhost909@soshified, Dandan87@soshified, DWGKD@soshified, kt9823@soshified, moonrise31@soshified, SeraphKY@soshified
Have a news item that you think Soshified should know about? Leave us a tip or e-mail us at tip@soshified.com.
Follow us on Twitter – http://twitter.com/soshified – for the latest on Girls' Generation.