Videos
Off TV Interviews Girls' Generation
In addition to performing at a special Music Bank concert and on "Le Grand Journal", Girls' Generation also sat down with "Off TV" for a lengthy interview, where they discussed topics ranging from their fans to their impression of Paris. "Off TV" also posted two photos of Girls' Generation on their Facebook page, which can be seen in this forum thread.
Seohyun and Yoongun's Interview for "Don't Say No"
On January 13th, the official YouTube account for SM Entertainment released an interview of Seohyun and Brown Eyes' Yoongun for their duet, "Don't Say No". The interview took place during the day of the recording, and opens with Seohyun briefly describing the song, calling it "sad" and one that "lingers in your ears." Seohyun also goes on to introduce her partner, Yoongun.
Endorsements
Eider Releases New Photos of Yoona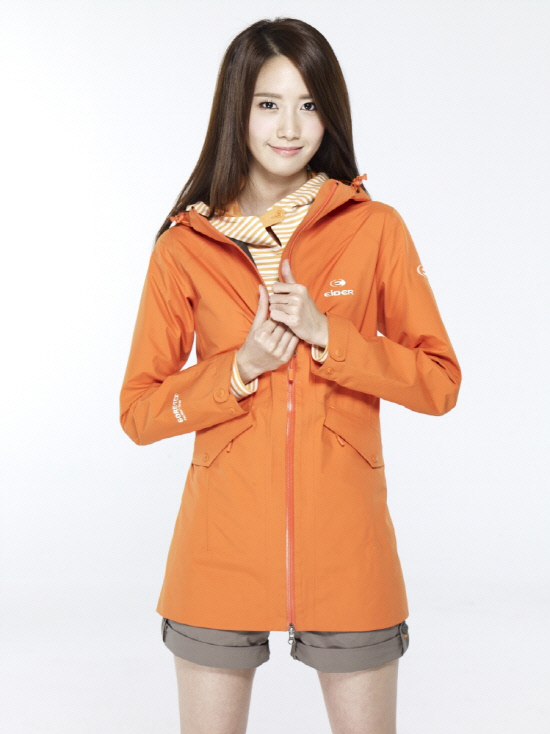 Eider has released new photos of Yoona wearing clothing for their outerwear brand. She can be seen modeling jackets and other items, while also posing next to popular actor, Lee Minho. You can see all of Yoona's new Eider photos in Soshified's Photos Section and check out her CFs from September 2011 for Eider here.
Vita500 Commemorates Sooyoung's Birthday with a Special Giveaway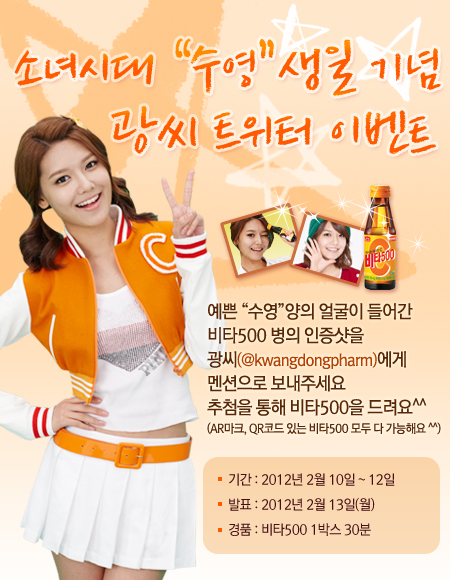 Kwangdong Pharmacy will be holding a giveaway event to celebrate Sooyoung's birthday. Fans will have a chance to win a box of Vita500 drinks by taking a picture of themselves holding a Vita500 bottle with Sooyoung's face on it. Vita500 has also released a special wallpaper in honor of Sooyoung turning 22. Be sure to leave Sooyoung a message in her birthday message thread and read Soshified's birthday dedication. Happy Birthday Sooyoung!
Others
"New Straits Times" Covers Sunny and Her Role in "Catch Me If You Can"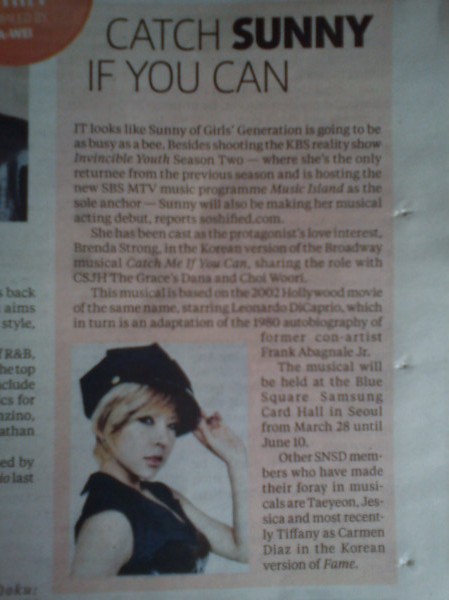 The Malaysian newspaper "New Straits Times" covered Sunny's upcoming musical debut in "Catch Me If You Can". Look forward to the musical! Soshified is also mentioned in the article.
Official "Catch Me If You Can" Website Updates With Cast Information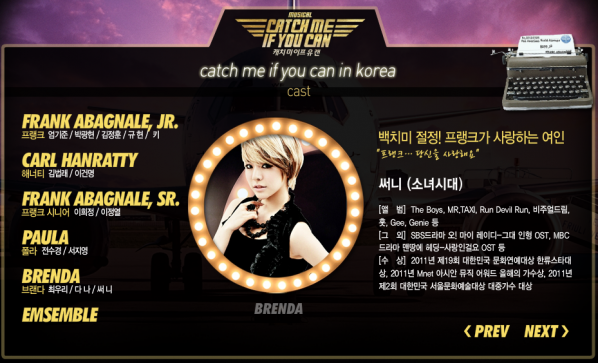 The official website for the musical "Catch Me If You Can" updated with information about all of the various cast members. A new photo of Sunny was posted along with information about her upcoming role as Brenda Strong.
"Wild Romance" Releases New Still Photos of Jessica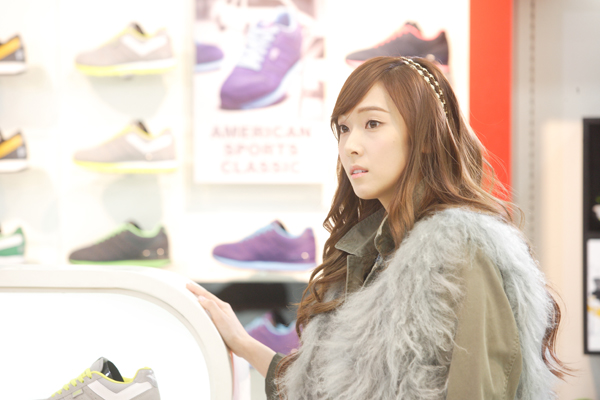 Wild Romance recently released four new still photos of Jessica. Her character, Kang Jonghee, can be seen in the photos exchanging her boots for tennis shoes. You can see all four new still photos in Soshified's Photos Section.
Seohyun Voted as the Number One Idol Who Shines in a White T-shirt and Jeans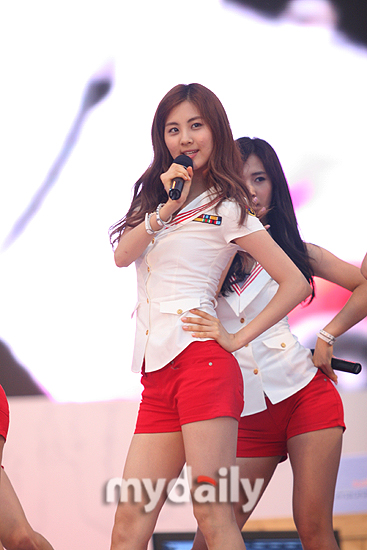 Seohyun was recently voted as the number one idol who shines in a white t-shirt and jeans. In a poll of 9356 people, 23% of voters found that Seohyun still manages to show off her looks in only a simple attire. Jessica came in second place, with voters citing her "glamorous" body. However, as all their fans know, the members of Girls' Generation would all shine brightly wearing even potato sacks.
"The Straits Times" Reports On Girls' Generation's Foray Into Acting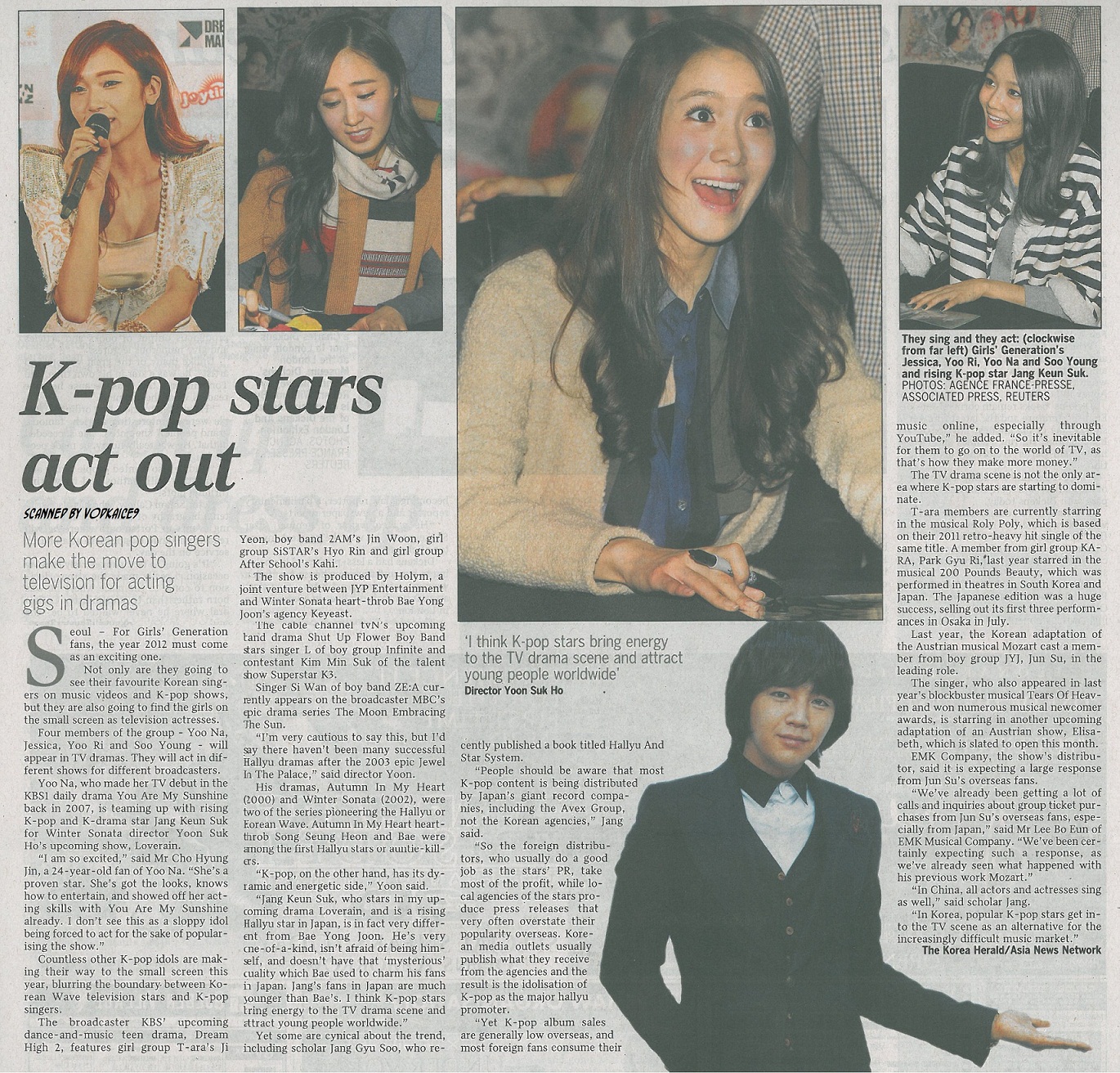 The Straits Times, a newspaper based in Singapore, recently covered Jessica, Yuri, Sooyoung and Yoona's future drama activities. The article also discusses K-pop and Korean dramas as two of the major promoters of Hallyu. You can read more about Girls' Generation's current and upcoming dramas here.
SBS Releases Official Photos of Taeyeon for "Salamander Guru and the Gang"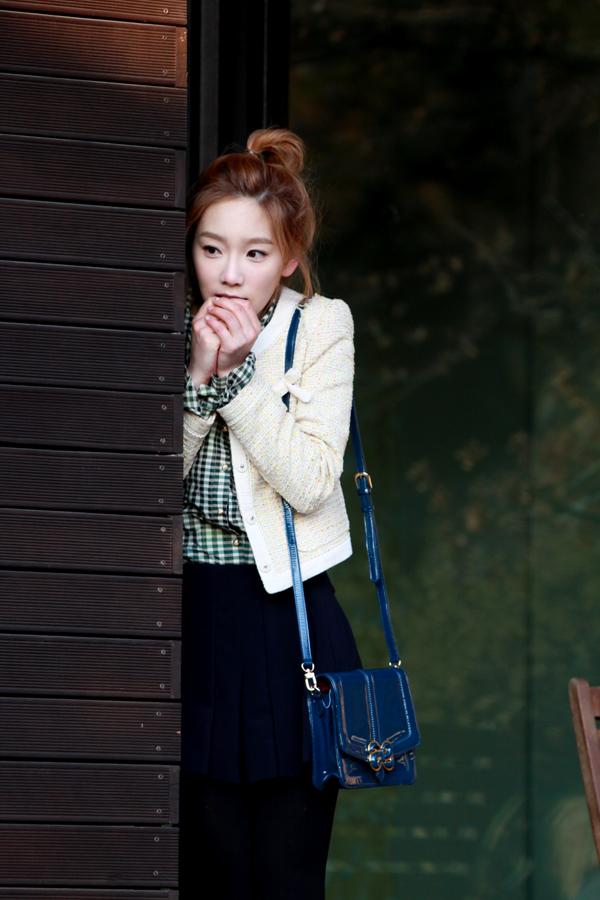 SBS has released several photos of Taeyeon for her cameo on "Salamander Guru and the Gang", in which she made her first appearance on February 10th. You can check out all of the photos in Soshified's Photos Section, and download Taeyeon's appearance in the drama in Soshified's Videos Section.
"Third Eye Blind" Guitarist Kryz Reid Inspired by "Gee"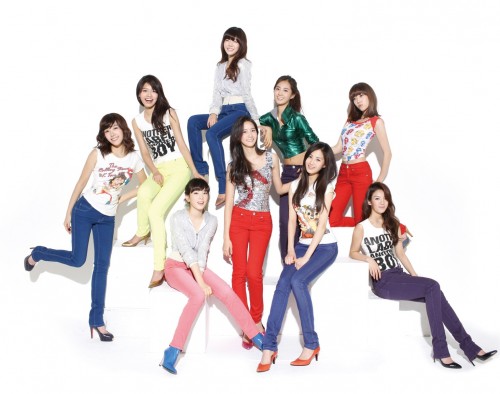 Kryz Reid, guitarist for American alternative rock band "Third Eye Blind", recently
tweeted
that one of his inspirations for their upcoming 5th album is popular Girls' Generation song "Gee". It'll be interesting to see how the song turns out. Thanks to Jared for the tip.
Sooyoung Leaves a Birthday Message on the Official Girls' Generation Board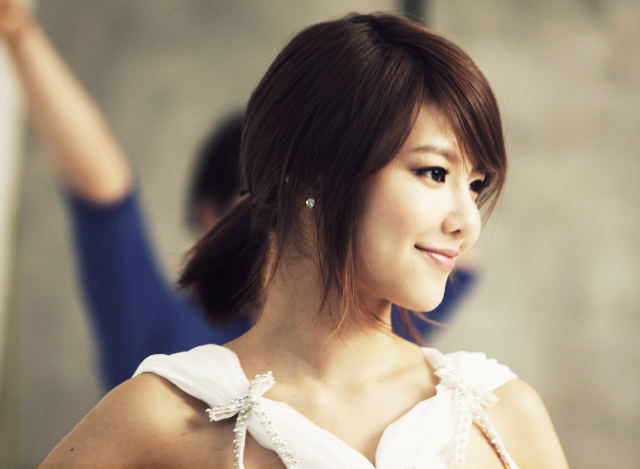 Sooyoung recently posted a touching thank you message on the official Girls' Generation
board
for her birthday. In the message, she thanked fans for their love and support, and also introduced the idea of the "Soshi Express", a train with passengers from all over the world. Head over to the train car with Soshified's
Translated Goodies Section
, where you can find a comfortable seat and read Sooyoung's entire message.
Official Twitter for "Salamander Guru and the Gang" Tweets a Photo of Taeyeon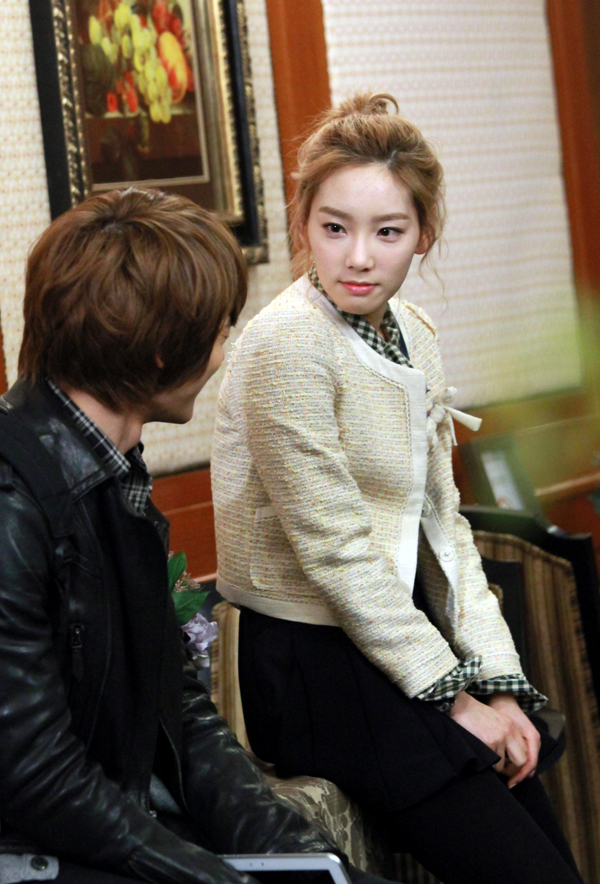 The official Twitter
account
for SBS's drama "Salamander Guru and the Gang" released an image of Taeyeon and SHINee's Minho on a break from acting during the show's recording. The tweet commented on the image by saying, "Maybe talking seriously about acting?" Perhaps Taeyeon is giving Minho advice on how to perform her amazing oppa-melting aegyo. Another photo posted can be seen
here
.
Sunny Posts a Selca and Message on Girls' Generation Japanese Fansite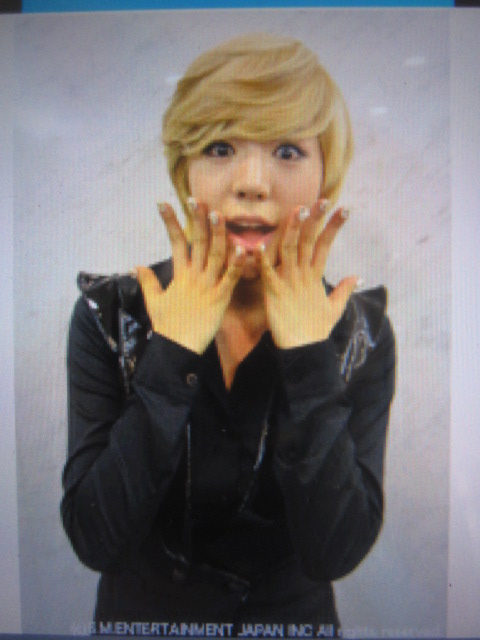 On February 9th, Sunny left a short message and selca on the official Japanese mobile fansite for Girls' Generation. In the photo she is showing off her nails that have a "pure white snow" theme. Sunny also gave her best wishes to everyone who cheers for Girls' Generation. You can read Sunny's entire message in Soshified's Translated Goodies Section.
"Kissing You" Chosen as the Song Boyfriends Want To Hear Most From Their Girlfriends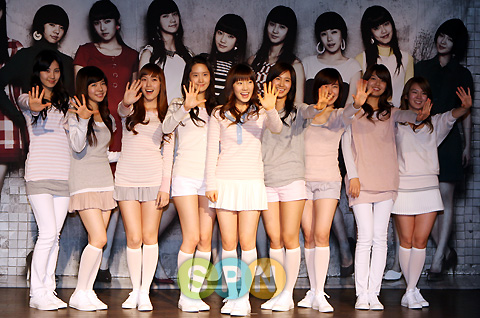 Girls' Generation's "Kissing You" came on top in a survey by a dating website in Korea. The survey targeted men between the ages of 20 and 30, and was conducted over a period of three days, starting from February 1st. The question was, "What song would you like your girlfriends to sing for you on Valentine's day?". "Kissing You" came on top with 33.2% of the votes, followed closely by IU's "Good Day", with 31.7%, and Girls' Generation's "Oh!" in third place with 19.6%.
Yoongun Posts a Selca with Seohyun
Brown Eyes' Yoongun recently posted a selca of himself with Seohyun on his
twitter
account. Their
duet
, entitled "Don't Say No", was recently released and reached first place on the Olleh
music chart
. The song also performed well on many other charts, such as Naver, Bugs, and MelOn.
CNN's Financial Times Covers Girls' Generation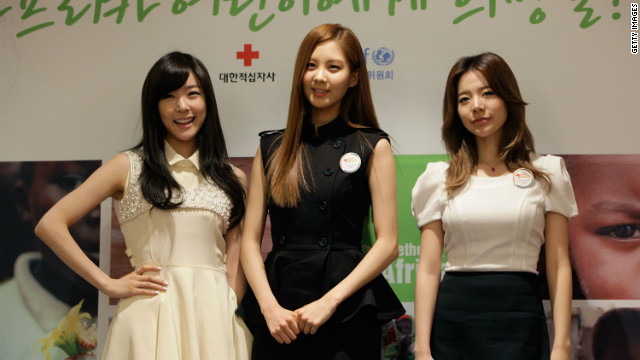 CNN's "Financial Times" recently covered Girls' Generation and the advance of K-pop in North America and Europe. The online article mentions Girls' Generation's performance on "Late Show with David Letterman", as well as the popularity of Korean dramas. You can check out the entire article here.
Girls' Generation Featured on YouTube Ad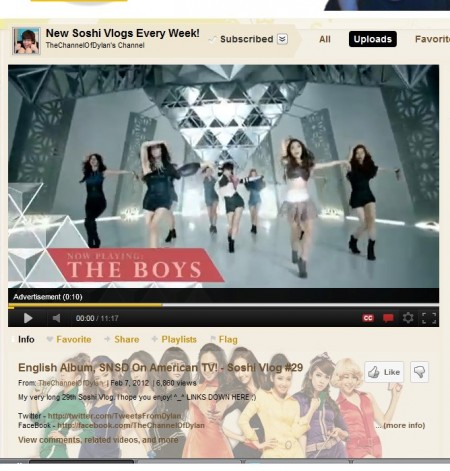 In general, most people who visit YouTube are frustrated by ads that constantly pop up. However, SONEs now have a reason to look forward to those ads, as they may stumble upon the YouTube ad that features Girls' Generation. Be on the lookout, and see if you can find that elusive ad.
New Sets of Pictures
Freestyle Sports – Group1
J.ESTINA – Jessica, Yuri, Yoona, Hyoyeon1, Hyoyeon2
SONE Picture/Video of the Week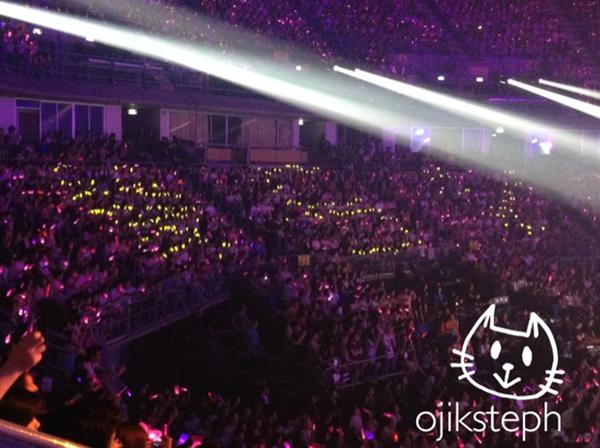 After fans in Paris congratulated her with birthday wishes at a special
Music Bank,
SONEs halfway around the world attending Girls' Generation's 2nd Asia Tour in Bangkok welcomed Sooyoung with another special fanevent. In one of several surprises for Girls' Generation, members in the audience held up lights to form "♥SY".
If you have any pictures or videos you'd like to submit for SONE Picture/Video of the Week, please feel free to do so by sending them to the Soshified Writing Team at tip@soshified.com or posting at the official SONE Picture/Video of the Week thread
Sources: 99D33@twitter.com, catchmeifyoucan.co.kr/, dcinside, esports, Yurui912@twitter.com, My Daily, vodkaice9@twitter.com, SBS, Kryzreid@twitter.com, dosasnsd@twitter.com, kwangdongpharm@twitter.com, Girls' Generation Board, OffTV@facebook.com, theyoongun@twitter.com, Newsis via Naver, CNN, ramyoon.tumblr.com, ojiksteph@twitter.com, Olleh,
Written by: taengsoshi@soshified, bhost909@soshified, SeraphKY@soshified, LetsGo@soshified
Contributors: minigiglo@soshified, redsunset@soshified, taengbear@soshified, ch0sshi@soshified
Have a news item that you think Soshified should know about? Leave us a tip or e-mail us at tip@soshified.com.
Follow us on Twitter: http://twitter.com/soshified for the latest on Girls' Generation.