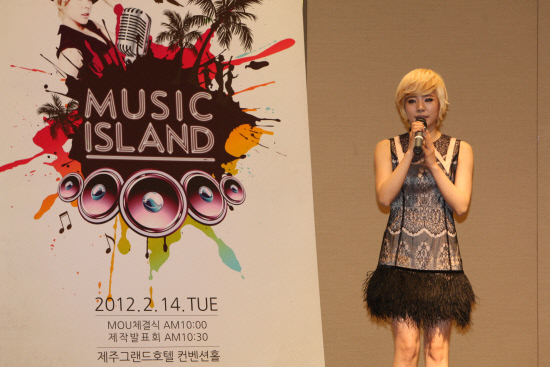 On February 14th, Girls' Generation's Sunny attended the SBS MTV "Music Island" press conference at the Grand Hotel in Jeju, where she stated, "I will do my best to become a bridge for Hallyu communication."
Sunny gave her thoughts on becoming a solo MC for the first time on a music program.
Sunny stated, "Since this will be aired in over eight countries in Asia, I thought this would be a program that would help the K-Pop wave. As a member of Girls' Generation, who has been getting help from the K-pop wave, I will take the pressures and work hard to fill in the large role for the program. I will do my best to lead the program to success."
She continued, "Honestly, I'm really nervous, because this is my first time MCing alone. I am anticipating the first recording with a fluttering heart."
Kim Changwoo, the production director of SBS MTV, revealed, "I've produced many music programs, but they all lacked variety. However, 'Music Island' will aim towards being a high-class live music show. We are planning on having many sectional live performances by idol groups who are leading the K-Pop wave." He added, "We are anticipating it to be a show that combines live K-pop and talk. It will be aired in eight countries around Asia. I think using the MTV network will be a good model for K-pop."
Meanwhile, Sunny will be taking her place as a solo MC for the recording of SBS MTV "Music Island" on February 14th at Jeju Convention Center's Tamla Hall. IU, MBLAQ, F.T. Island, Dalshabet, Jung Yup, Rainbow, Block B, Lim Jeonghee and Sunny Hill are scheduled to appear. The first episode of "Music Island" will air at 8pm KST on February 29th in Japan, China, Singapore, Malaysia, Taiwan, Indonesia, Hong Kong and Philippines.
Source: Daum
Translated by: ch0sshi@soshified
Edited by: taengsoshi@soshified
Have a news item that you think Soshified should know about? Leave us a tip or e-mail us at tip@soshified.com.
Follow us on Twitter: http://twitter.com/soshified for the latest on Girls' Generation.