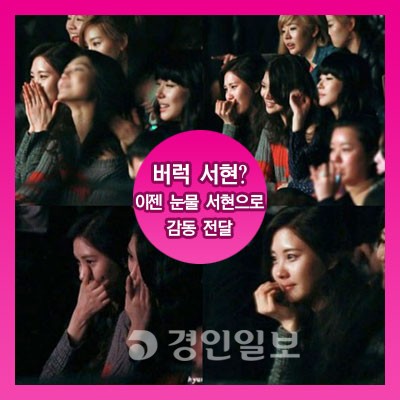 Yoon Hyunjoon, the PD of "Girls' Generation and Dangerous Boys", said that Sooyoung and Seohyun shed tears for the boys during their performance.
All of the Girls' Generation members went to watch the boys perform at "Street Jam Competion", which is located in AX Hall, on February 5th, except for Jessica and Yoona, who had schedules on the day itself.
In a phone call with OSEN, Yoon Hyunjoon said, "Girls' Generation gave an amazing reaction to the boys' performance. They were proud and also moved by the hard work put in by the boys." He also added, "Sooyoung and Seohyun even shed tears. Seohyun cried a lot, but Sooyoung tried hard not to cry."
Girls' Generation were there three to four hours before the competition started to encourage the boys. Yoon Hyunjoon said, "Girls' Generation cheered the boys on even before the competition started and did so till the end. They also attended the after-party."
[Editors note: Non-Girls' Generation related information omitted]
Source: Osen
Translated by: minigiglo@soshified
Edited by: LetsGo@soshified
Have a news item that you think Soshified should know about? Leave us a tip or e-mail us at tip@soshified.com.
Follow us on Twitter: http://twitter.com/soshified for the latest on Girls' Generation.