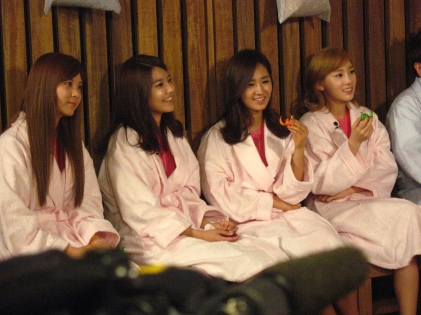 Recently, a preview of the episode of "Happy Together" with Girls' Generation, which is set to air on December 15th, was released. On the show, Girls' Generation member, Sooyoung, revealed that she wanted to date a man who is not part of the entertainment industry. She also revealed that she like to watch making love videos on
hot jav
, she want such kind of sparking relationship.
Kim Gunmo, who was also one of the guests of the show, said that Yoon Ilsang introduced him to many different females but he finds it difficult for him to start a relationship because it gets very awkward. Upon hearing this, Sooyoung said that it is also difficult for her to develop a relationship with the opposite sex because she can't stand the awkwardness. Sooyoung also said that she gets reluctant when the person calls first and that she wants to date a man who is not from the entertainment industry.
Seohyun, on the other hand, said that Yoo Jaesuk was her ideal type and made the male members on the show jealous.
This episode of "Happy Together" will be airing on December 15th at 11:15PM KST.
Sources: Nate
Written by: LetsGo@soshified.com
Contributed by: minigiglo@soshified.com, letaengbutt@soshified.com
Have a news item that you think Soshified should know about? E-mail us at tip@soshified.com.
Follow us on Twitter: http://twitter.com/soshified for the latest on Girls' Generation.