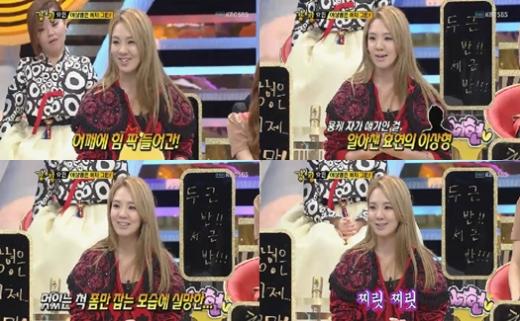 Girls' Generation's Hyoyeon made a surprise confession that she has given up on the male idol she had a crush on.
On September 13th, Hyoyeon guest starred on the SBS variety show "Strong Heart", where she surprised everyone in the studio by revealing, "I said that there was a male idol that I secretly liked the last time I was here, but I don't anymore."  Hyoyeon continued, "I confidently confessed with an innocent intent, but that person somehow figured out it was him.  After that, his actions changed.  My ideal type shattered.  [He's] not it anymore."
She went on revealing that she went on a blind date arranged by a friend.  She honestly stated, "My meeting with him was spine-tingling."  Hyoyeon recalled that day adding, "The two of us went to eat spicy sausage stew once.  I couldn't tell how fast the time had gone by.  I then got a call from my manager, telling me to return because of a schedule."
Hyoyeon and her blind date decided to go for a walk in the park.  She caused laughter in the studio by revealing, "I was confused that so many people could recognize me when I had a hat pressed down on my head.  It turned out I still had the apron on from the restaurant."
When Kang Hodong asked, "Are you still in contact with that person?" Hyoyeon replied, "I couldn't contact him after the apron incident."
Source: Star News
Translated by:  ch0sshi@soshified.com
Edited by: MoonSoshi9@soshified.com
Have a news item that you think Soshified should know about? E-mail us at tip@soshified.com.
Follow us on Twitter: http://twitter.com/soshified for the latest on Girls' Generation.