Apologies for the delay. Life happened.
But no worries. We're back with Part 2 of this month's edition of Soshified Spotlight. In Part 1, we featured Rillean, a SONE who recently became a member of the United States Navy.  In this edition, we're meeting 1.0, or Andrew.  A Project Leader, Andrew may be most famous for his success in the "Tweet Me Your Wish" contest SM Entertainment ran earlier in the year, getting the girls to wish Soshified a happy birthday.  He was the person taeyeonsheart mentioned in a previous Spotlight who got into the VIP party after last year's SMTown LA, though the price of the bottle of champagne is up for debate.  Andrew currently works in the family business as his day job, and took some time to share what his life is like with us.
What is your first name?
Andrew. Yes I know its the same name as the previous SSF Spotlight staff member but rest assured I am totally different person.
How did you find out about Soshified and why did you decide to join?
I happened upon this forum by chance. I had been searching for Girls' Generation related stuff and saw Soshified come up as a match. Now at first i just passed over the link and continued with my search. But the more
I saw it come up during my searches, the more I became tempted to click the link. I have never looked back since that fated date I clicked the link/
How did you come up with your screen name?
Originally, my screen name was Andrew Chi because during the registration I misread one of the fields and put my real name in the box for screen name. I had it later changed to my current screen name 1.0 because I met
a totally awesome sone with the same name. We became fast friends and to reduce the confusion among our peers we became 1.0 and 2.0. Thus, we have changed our screen names to reflect that.
Where are you originally from, and where do you currently reside (city and country for both)?
I was born here in Pennsylvania and moved to Georgia when I was 3 years old and have been here ever since. Both my parents are from Korea so i can speak both Korean and English. I am still a little fail at Korean haha.
If we were visiting you where you live for one day, where would you take us? Why are these places so significant?
I would have to take y'all to the Georgia Aquarium because it is the worlds largest aquarium. Its quite a site to see. Since Coca Cola has its headquarters here, we would have to hit up the World of Coke which is right next
to the aquarium. There you can take a stroll though the history of coca cola and even sample its products from all over the world. Some are good and others are just totally gross. I can't tell you which to try and to avoid because
that would take the fun out of experience.
Tell us a little about your life. What do you do full time and in your free time?
Currently I am working in the family business. My father has a wholesale beauty supply business here in Georgia. I have been working with him for about 3 years now. I am also working on something with fellow staff member
taeyeonsheart but for now it's hush hush. We hope to have a big reveal in the next several months. So everyone keep your eyes peeled. My free time is pretty much filled with Girls' Generation with no other time for anything else.
I'm just kidding. Although Girls' Generation takes up a good portion of my time, I also enjoy bowling, gaming with my buddies 2.0, taeyeonsheart, sekshi, SNSDave, and chubbaymoo, and photography.
Your project with taeyeonsheart isn't the side project for the iPhone he mentioned in July by any chance, is it?
No. That project is his own. Our side project is the first stepping stone to a much larger goal. This goal is actually a dream of one of our members we would like to see happen. It's a bit of a journey but we hope to make that dream of his a reality. That's all I can say for now. Just stay tuned!
What exactly do you do in the family business? Do you plan to take over in the future?
We're in the business of beauty care. We wholesale to lots of little mom and pop shows all throughout the southeast. I am on the fence about taking over. I would like to carve my own path. I am thinking about certain things I want to try and see if I can make work. If worse comes to worse, I always have a place I can fall back on. I think my dad feels the same way. He wants me to discovery what I want to do and go for it. Should I succeed or fail, he will support me and give me a safety net.
What's the most interesting thing about you and/or that has ever happened to you?
The most interesting thing to happen to me was during the LA meet up in January. As you all know, during that event they held a special event in which people would tweet SM Entertainment their wish. The event was called Tweet
Me Your Wish and I had wished that our beloved girls could wish Soshified a Happy Birthday as it was just around the corner. I was totally surprised to see that my which was one of the three chosen by SM to be fulfilled. Then on February 1st
SM tweeted a picture. It was the girls wishing Soshified a Happy Birthday. It was totally amazing and will always be one of my favorite memories.
Usually, one would ask for something personal to keep in that situation. Why did you decide to do something for Soshified instead with Tweet Me Your Wish?
I did ask for a personal wish and then it struck me that Soshified was having a birthday soon. I wanted to give a gift everyone could enjoy and not just myself. I took a chance and gave a wish for Soshified. And look what happened. The wish came true and now everyone has a gift they can always remember.
How did you think of having the Girls' Generation members wishing Soshified a happy birthday for Tweet Me Your Wish?
Luckily the LA Meet-up happened in January and Soshified's birthday was in February so things just worked out. I was a little worried about time. I wasn't sure if it would happen on time as the girls were very busy in Japan. I gotta give a lot of love to Jinny and the rest of the people at SM Entertainment here in the US for making it happen. I heard later that it was extremely difficult with the time difference and the girls schedule but they were able to pull off one amazing job.
For people who are first meeting you (like most of us), how would you describe yourself?
I think i am a quiet person when I meet someone for the first time. But once I get to know you, people will tell you I am friendly, funny, and caring. I am always willing to help any one of my friends out in times of need. I'm also a good
listener. So if you ever wanna vent or get advice, I can always lend an ear. Sometimes I think i am too goofy hahaha.
Tell us some things that most people don't know about you that you think they should.
Well, awhile back during Taeyeonsheart's spotlight there was mention of someone spending $1000 for a bottle of champaign during the after party at SM Town LA 2010. I am here to clear up that story. First, it was only $600 and not the mentioned $1000. Second, I did it on a whim to thank the artists and their staff for all their hard work. My gesture resulted me entering the artist and staff VIP area where I got a chance to see some of the artists. Boa was actually at the table
closest to us and Sooyoung was off in the distance talking to someone. It was quite a cool experience for me.
So are you saying that if any of us bought a $600 bottle of champagne and took it to the SMTown VIP afterparty, we'd be able to get in as well? Did you try and meet anybody, or were you just soaking in the atmosphere?
It was a huge gamble on my part. The chance of success was about 1%. Really I wanted to say thanks to the staff and artists who worked hard for an amazing show. Getting in was a side bonus. Elsy and I were just soaking in the atmosphere. When your around celebrities, as much as you tell yourself they are people just like you and me its still a bit daunting to be in their presence. But it didn't take long before we were able to collect ourselves and really enjoy the company.
Is there anything big in your life that you're working on? (This can be related to school, career, hobbies, family, friends, etc.)
Currently there aren't any specific projects we are working on right now. But just because there aren't any projects now doesn't mean we're not at work coming up with ideas for potential projects. Also as mentioned before, Taeyeonsheart and I are working on a side thing but thats all i can say now.
What are your interests outside of Girls' Generation?
Right now I am in the process of improving and learning more about photography. I have lots of people I have met on Soshified who are much more experienced and love to share their wisdom.
How did you first become a fan of Girls' Generation?
I remember it like it was just yesterday. I had first heard rumors of a girl group to debut soon with 9 members. At the time I had very little interest in the rumor. It wasn't until I heard their music that I totally became hooked. Their voices were
so angelic that I couldn't help but become a fan.
Who is your favorite member and why?
My favorite member is Taeyeon! i really like cute, short, and dorky girls. Something about Taeyeon just drew me to her. So naturally, Sunny is next on my list for the exact same reasons. hahaha.
What is your favorite Girls' Generation song and MV and why?
My favorite Girls' Generation song would have to be Complete because the lyrics remind me of a lot of things. It really stirs my emotions. I got to see this performed during the 2nd Girls Generation Tour and during both days a special event was held when they finished Complete which caused the girls to be filled with emotion. That memory i will always carry with me. The bond between Soshi and Sone is one that will last forever and only grow stronger with time. My favorite MV would have to be Girls' Generation because it was the first song i heard that got me to fall in love with them. It is also a nice reminder of when our girls started and to see how much they have grown and changed over the 4 years as members of Girls' Generation.
What is your favorite Girls' Generation moment and why?
There are so many great moments to choose from. If i had to choose, my favorite Girls' Generation moment would have to be whenever Sunny does her aegyo. I know they call it CCP (Cuteness that Calls for a Punch) but it really makes me melt. It really is the cutest thing and i wish that my future girlfriend/wife has some aegyo like that. She seriously makes me want to give her anything she wants. I think i am a sucker for cuteness.
How has Girls' Generation impacted your life, in specific areas or even as a whole?
Girls' Generation has impacted my life in a big way. Because of Girls' Generation I have met some of the most amazing people. These are some of my most cherished friends. It has given me opportunities I could have only dreamed of. I have
learned a lot about myself though the people i have met and the projects i have worked on. Never have I met a bunch of generous people as I have right here on Soshified. From donations to help others to donations for gifts for our girls. I think
that Girls' Generation has pushed me to become a better person. Just as they support each other during hard times and share in the joys of each others success, I want to be able to emulate them in this aspect and apply it to my life.
What do you like most about Soshified, and why? Any section in particular you're attracted to?
I really like Soshified as a whole because there are so many different aspects to it that cater to all people and brings people from all walks of life from all over the world together to share a common interest. I love that there is a team of uploads who upload all the video clips that relate to our girls. I am in awe of the hard work that our subbing team does to get videos subbed and released quickly for those who don't know Korean. The hidden hand of the moderators who make sure people behave and nothing inappropriate is found on the forums as we have those members from all age groups. This all wouldn't be possible without the hard work of our tech admins who make sure Soshified stays up or gets back up and running quickly (especially after visits from Tiffany). And to everyone else who makes Soshified so dynamic from the Soshi Stylists who keep us updated on Soshi fashion to the Project Leaders who make sure events get planned and executed with precision.
Why did you decide to join the Soshified staff, and why the particular job you have now?
I had the great honor of having GPTX ask me to be a part of the Project Leaders team. I had volunteered for the SM Town LA meet-up and it wasn't long after that i was asked to join the team. I don't really have any special set of skills that fit
with the other positions here at Soshified. All I had were my ideas, problem solving ability, and my diligence. So I think this position is a perfect fit for me.
What exactly do you do? Do you enjoy this position? What do you like about it?
Our job is as our name says. As project leaders it is our jobs to come up with the different projects you see here on Soshified. From birthday gifts, to support bundles for concerts, anniversary gifts, and charities, we all play an integral role in making sure the projects run smooth and to come up with ideas for future projects. I love my position. I love it when we do charities that help those people in need all over the world. There is a great sense of accomplishment when we help raise
money to help lots of different causes around the world. Another great thing about being a project leader is that you get a sense of connection with our girls. By that I mean when we pick out gifts and we see them wearing out gifts, it really shows that they notice our effort and makes our work that much more amazing.
What is your favorite project that you've ever been involved in?
Now this is a hard one. My favorite project I was a part of would have to be the charity for Japan. Never have I seen such an outpouring of people wanting to help out. What really touched me were the people who donated their own personal items from their own collections to help raise money. To part with such an amazing gift as an autographed item to help others in need really really shows me that this community just isn't about coming to share a common interest. Its about coming together to make a change in our lives and the lives of others.
Any interesting experiences when interacting with members?
All my interactions with members have been amazing. I've had the pleasure of meeting many of the amazing staff members before I became staff during the SM Town LA meet-up. I have many memorable friends in SoCal, Canada, Florida, and even here in Georgia. Its always fun talking to other members on Sbox about the girls and other interests we share in common. I do hope i get a chance to meet as many members from Soshified as I can.
Is there anything else about you that you would like to add?
I'd like to take a moment to give out a few shootouts
Thanks Cyrus for trading in your 350Z for the awesome Honda Civic Si
Thanks Will for showing us a great time in Korea and look forward to all the PR work you can do for us
Thanks Andrew 2.0 for being an awesome brother from another mother
Thanks Tim for being an cool guy and for gaming with us
Thanks Elsy for hanging out in Korea and the after party at SM Town LA
Thanks Miika for being the one and only Finnish Brad Pitt
Thanks Jennie for being the best DJ ever!
Thanks Sarah for just being totally fun to hang with
Thanks Geoff for letting me be a part of the Projects team
Thanks Pallie for being our makane
Thanks Aidan for always raging at Dave when we game
Thanks Dave for making it so Aidan can always rage at you while we game
Thanks Tony for an epic field trip and for all the work you did even though you weren't able to go
Thanks Jeanie for planing the epic field trip and dealing with us for those 5 days in Korea
Thanks Soy for founding Soshified where we can all gather to share a common interest no matter where we come from and make lasting friendships
A little about the photos i have attached: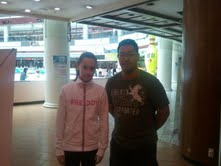 The first picture is of Claudia from Kiss & Cry. We happened to meet her during the SSF Field trip during our day at Lotte World. She just happened to be eating lunch at the Lotteria near the ice rink.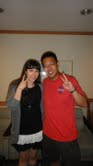 The second picture is of DJ Isak. We took a trip down to visit her during her show Mid-Day Break to drop off some gifts for her. It was an amazing experience to meet her in person after listen to her on the radio for so long.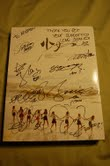 The final picture is a very special one. A connection of mine was able to get my photo book autographed. It is my most prized possession next to the Star Card vol 2.5 Bingo prizes signed by Taeyeon and Yoona.
Huge thanks goes out to Andrew for participating in Soshified Spotlight this month.  As usual, you can submit nominations for future Soshified Spotlights if you'd like to participate or if you'd like to get to know a fellow member better.  Instructions on how to do so can be viewed at the Soshified Spotlight Solicitation announcement.
Compiled by: residentbenchwarmer@soshified.com
Photographs courtesy of: 1.0@soshified.com
Graphic by: cioco@soshified.com
Have a news item that you think Soshified should know about?  E-mail us at tip@soshified.com.
Follow us on Twitter: http://twitter.com/soshified for the latest on Girls' Generation.