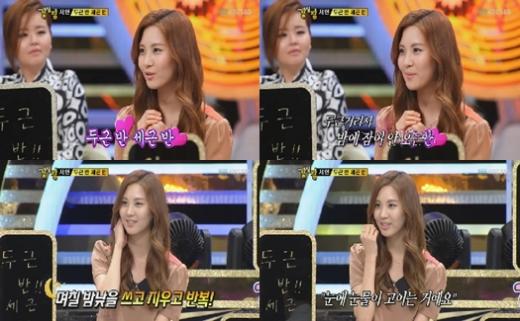 On the 13th during SBS 'Strong Heart', Seohyun garnered attention by revealing more details about her heart fluttering meeting with her life mentor, Secretary-General Ban Ki-moon.
Seohyun confessed, "I debuted when I was 17 years old and during the hard times I endured, I came across his book. After that, Secretary-General Ban Ki-moon has become my role model."
She continued, "Secretary-General Ban Ki-moon is a great man. I couldn't even imagine meeting him, but Girls' Generation attended the 'Help African Childeren' inauguration ceremony, and I learned that he would be there."
Thinking about meeting Secretary-General Ban Ki-moon, Seohyun spent days writing a letter, and prepared Girls' Generation's album along with vitamins for him.
After some complications, Seohyun was able to personally deliver the gifts she had prepared to him. Seohyun recalled the moment she met him and said, "It felt like time had stopped."
Boom then lied, saying they had Secretary-General Ban Ki-moon on the phone. Seohyun caused laughter in the studio by falling for his joke, shyly saying, "Hello?"
Source: Star News
Translated by: ch0sshi@soshified.com
Edited by: JeremyJay22@soshified.com
Have a news item that you think Soshified should know about?  E-mail us at tip@soshified.com.
Follow us on Twitter: http://twitter.com/soshified for the latest on Girls' Generation.