ファンサイトのみなさん元気ですか〜サニーです〜。
わたしがパソコンで書いたイラストを大公開しちゃいます!
本当はちょっとハズカシ〜(汗)
How is everyone from the fansite?? This is Sunny~
It's the big opening of the illustrations I drew on my computer.
Honestly, it's a bit embarrassing~ (sweat drop)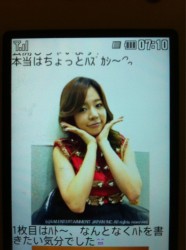 1枚目はハト〜、
なんとなくハトを書きたい気分でした(^o^)
First one is a dove~
For some reason I felt like drawing a dove (^o^)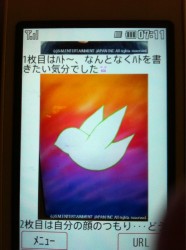 2枚目は自分の顔のつもり・・
どうですか〜??
また書いたら紹介しますね!
I intended to draw my own face for the second one…
how is it~??
If I ever draw it again, I'll show it again.
So, what does everyone think of Sunny's drawings? Cute right?
Source: Sunshine Village
Translated by: SeraphKY@soshified.com
Contributors: MoonSoshi9@soshified.com
Have a news item that you think Soshified should know about? E-mail us at tip@soshified.com.
Follow us on Twitter: http://twitter.com/soshified for the latest on Girls' Generation.