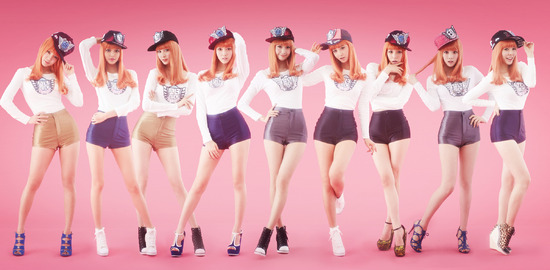 Update with English-subbed version of Hyoyeon's comeback video message and Naver LINE promotional video:

Update with Naver LINE promotional video:
Naver has just released a special promotional video with Girls' Generation for its LINE desktop and photo application. In the video, the members of Girls' Generation can be seen chatting using the application Check out the video below.
Original article from 12/12/28:
As January 1st approaches, Girls' Generation continues to keep fans updated on their comeback through Naver tvcast and Naver's LINE application. After the release of Yoona's video message yesterday, Girls' Generation has followed up with Hyoyeon's message.
In the video, Hyoyeon says that she misses fans and expresses her feelings by demonstrating two key points of the choreography for "I Got A Boy". She also says, "I'm really curious and am looking forward to what you all will call these dance moves."
Fans can also look forward to the dance teaser of the music video for "I Got A Boy" set to be released later on today. In addition, Jessica's video message will be released tomorrow.
More details on the album set to be released on January 2nd can be found here.
Sources: Naver LINE, Naver LINE 2, Naver tvcast, Osen, ssfshortclips2@YouTube.com 1, ssfshortclips2@YouTube.com 2
Written by: letaengbutt@soshified
Contributor: ch0sshi@soshified
Have a news item that you think Soshified should know about? Leave us a tip or e-mail us at tip@soshified.com.
Follow us on Twitter – http://twitter.com/soshified – for the latest on Girls' Generation.