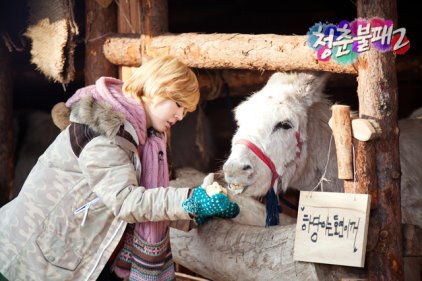 An SM Entertainment representative has revealed, "Sunny is leaving KBS 2TV's 'Invincible Youth 2′."
Sunny already filmed her final episode last month, which will air on July 7th, ending Sunny's eight months on "Invincible Youth 2".
Sunny's representative explained, "Originally Sunny was also in season one, so because of that, even before season two started, discussion with the production crew was already made for her to leave naturally when the program became stable." The representative added that with "new MC Lee Youngja entering the show and the reorganization, it seemed like the right time to take the opportunity and leave the show now." Furthermore, the representative stated about Sunny's future schedules, "For the time being, it is planned she will only do Girls' Generation activities. No individual schedule has been decided yet."
The PD for "Invincible Youth 2" said about Sunny leaving, "Because of Sunny's musical or her Japan activites and her individual schedule, it was a situation where she was very tired and would arrive like this." He added, "For her other schedules, she is leaving 'Invincible Youth 2'." He also said, "Hyoyeon will still be staying. There will be no new different members coming in. It will stick with G5, and Lee Youngja will be coming in as an MC."
For Sunny's final episode, even though there wasn't any special event, the members who knew it was her last broadcast cried along with Sunny. Since October 2009, Sunny has received love by showing a down to earth and firm image in her first broadcast of "Invincible Youth" season one, as well as into season two.
Sources: Newsen, TV Report, TV Daily , KBS
Written by: MoonSoshi9@soshified
Contributor: jyhwang@soshified
Have a news item that you think Soshified should know about? Leave us a tip or e-mail us at tip@soshified.com.
Follow us on Twitter: http://twitter.com/soshified for the latest on Girls' Generation.