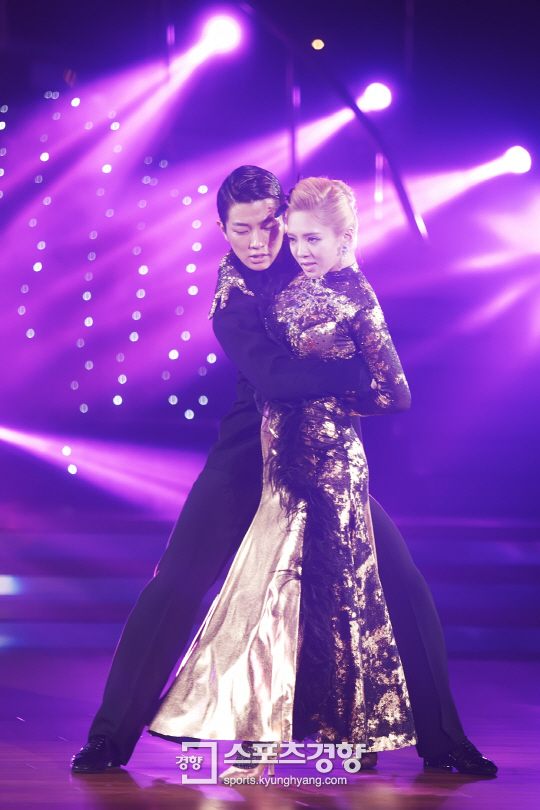 While doing performances overseas, completing schedules in Korea, and practicing all at the same time, Hyoyeon only gets three to four hours of sleep. Even though she has a tight schedule, Hyoyeon said, "I'm happiest right now."
"As soon as I started this program, I began to enjoy doing dance sports. Even though I have lots of schedules, I'll go to the practice room whenever I have time, even late at night or at dawn. Even though my partner (Kim Hyungsuk) gets tired (laugh), if we don't practice, we feel a lot of anxiety."
This week, the contestants in the competition will show a mixture of the jive and the quickstep. Hyoyeon said, "I was boasting that I have confidence in the quickstep, which has lots of running movements, but it wasn't easy matching my foot movements with my partner." She added, "There's nothing else to do but practice."
"When it's nine people, if you make a small mistake but have a good facial expression, even fans won't notice it. However, when making a mistake in dance sports with two people on stage, you can instantly notice it. Last week, I was shocked at making a mistake I didn't ever expect would happen (editor's note: Hyoyeon is referring to when she fell during her performance). It was fascinating that my next motion was unaffected by it."
At the beginning, Hyoyeon wasn't skilled at dance sports. She had the basic skills of dance for group activities, but while doing dances for a man and a woman for dance sports, there were many awkward points. At some point, the skinship is unavoidable, and in the first episode, Hyoyeon was shy with Kim Hyungsuk and asked him, "Where are you touching?"
"Even though I'm still shy, when I'm awkward, Hyungsuk also becomes awkward. I'm a person who acts like I'm not awkward. Different couples next to us sticking together when they dance made some of my shyness go away. I've gotten used to making eye contact. Right now, if I just look at his eyes, we understand each other to the point where I know which move I should do."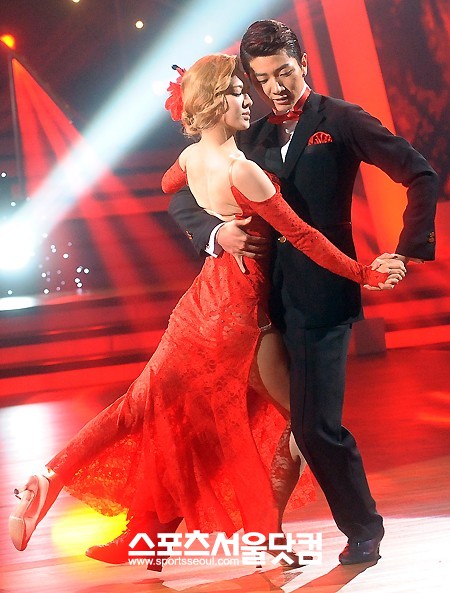 As the program goes on, Hyoyeon has begun to wear lots of daring clothes, such as what appeared to be a tank top with shiny decorations on it. The majority of the outfits were chosen by Hyoyeon herself.
"At first, I wondered if it was okay to be dressed like this. I searched up a lot of dance sport photos, and there were barely any dancers who covered themselves up. Because I was exposed, it was awkward at first, but after being on stage continuously, the fancyness of the outfits looked pretty. My greed to wear more fancy clothes is coming out a bit."
When asked about personal thoughts that she particularly remembered, Hyoyeon answered that when she's on stage, she thought a lot about what her members would think. Hyoyeon revealed that when she thinks that her group mates are watching, she tries even harder. "When I do well, I want to show my members first. When I stand on stage, I think to myself, 'The members are probably watching.' When I got first place, the members sent a message saying, 'Congratulations. Looking forward to next week,' and I wanted to do even better because I wanted to satisfy their expectations."
While it seemed like only praises were given, sharp advice was also exchanged. Hyoyeon said, "I was anxious about dealing with Tiffany's eyes. She would point out that it would be better if I pointed my toes. Maknae Seohyun, like a mother, would say, 'Make sure you eat well' and would encourage me."
The host, Lee Dukhwa, would always praise Hyoyeon at the end of her performances, saying, "Wow I liked it," and, "It was really good." However, Hyoyeon said, "In the beginning, I was shy to the point that I would shrivel up, but now if he doesn't praise me, it's to the point where I'm hurt." She added that one of the most memorable things that one of the judges, Song Seunghwan, said was: "You're like a sleeping princess in a forest."
When asked who her strongest rival was, Hyoyeon chose Choi Yeojin. Hyoyeon said that because of ballet, Choi Yeojin's specialty, her basic skills are firm and form the basis of dance sports. In addition, because Choi Yeojin is tall, her movements are pretty. Hyoyeon also said she was jealous of "practice bug" Choi Yeojin's energy.
Every week, one-by-one someone gets eliminated in "Dancing with the Stars II", with the team in first place for the week exempted from elimination. This brought up the topic of winning. When Hyoyeon was asked, "What is the likelihood that you'll get first place?", she laughed and answered, "It's really nervewracking, but it should be around 60%."
Source: Sports Khan, Sports Seoul
Translated by: jyhwang@soshified
Edited by: bhost909@soshified
Have a news item that you think Soshified should know about? Leave us a tip or e-mail us at tip@soshified.com.
Follow us on Twitter: http://twitter.com/soshified for the latest on Girls' Generation.