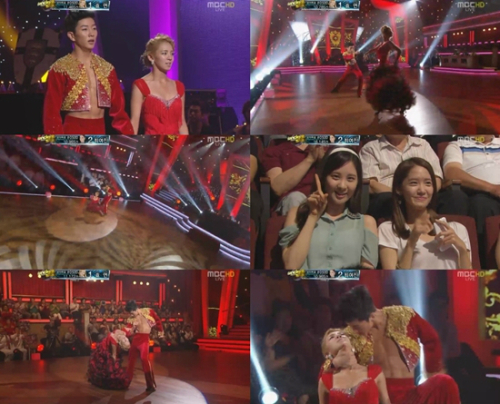 On July 20th, Hyoyeon ended her run on "Dancing with the Stars II" in the finale with a second place finish.
After dancing her way into the finals last week with the season's first score of 10 given by the judges, Hyoyeon and her partner Hyungsuk took the stage in the finals for two dances. The first dance was a Paso Doble with Hyoyeon dressed in a brilliant red gown. Hyoyeon received high marks for the very technical dance, getting a score of 10-9-10 from the judges for a total of 29 points.
Hyoyeon and Hyungsuk's second dance was a Cha-cha-cha where Hyoyeon even got a chance to show off her popping skills. She looked stunning in a blue and silver dress, and the judges awarded her another 10-9-10 score, bringing her total for the night up to 58 points. Her competition for the finals was Choi Yeojin and her partner Park Jiwoo, who had a total of 58 points as well, leaving the deciding vote to the viewers. After voting was finished, in a climactic finale, Choi Yeojin's team was deemed the winner of the second season of "Dancing with the Stars".
Fellow Girls' Generation members Yoona and Seohyun came to the live broadcast to show their support for Hyoyeon and were shown multiple times throughout the show cheering excitedly for her.
Fans were disappointed with the results, but they also expressed how proud they were of Hyoyeon making it to the finals and for dancing so well.
It was a long season of hard work where Hyoyeon would practice until early in the morning and in hotel rooms while traveling for Girls' Generation's overseas performances. Although Hyoyeon did not win, she showed throughout the entire season how much passion she has for dance and how talented she is.
Congratulations to Hyoyeon and her partner Hyungsuk for their amazing accomplishments on "Dancing with the Stars II".
Written by: MoonSoshi9@soshified
Have a news item that you think Soshified should know about? Leave us a tip or e-mail us at tip@soshified.com.
Follow us on Twitter: http://twitter.com/soshified for the latest on Girls' Generation.