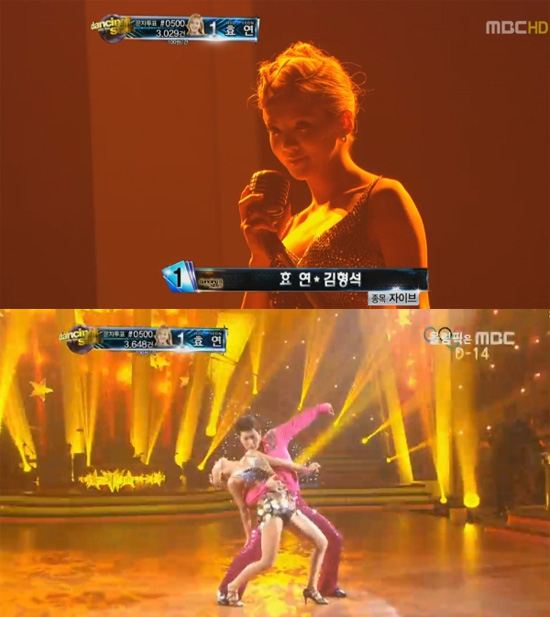 On July 13th, Hyoyeon, along with her partner Kim Hyungsuk, danced her way through the semi-finals of MBC's "Dancing with the Stars II". Avoiding elimination, the duo was two pairs out of three to successfully make it into the finals, which will be broadcast live next week.
In the semi-finals, contestants were required to perform two dances. Hyoyeon and Hyungsuk's first performance was to "Rock & Roll Music!" by The Beatles, in which the pair managed to obtain nine, nine, and ten points from the judges, a near perfect score of 28 out of 30. Hyoyeon was the first contestant to receive a ten from the judges in the entire season.
Their second dance, "Way Back Into Love" by Hugh Grant and Haley Bennett, featured a special guest, none other than Hyoyeon's labelmate, f(x)'s Luna, who sang the song live while Hyoyeon and her partner performed. The second performance was also praised by the judges, and the duo managed to earn nine, nine, and nine points, netting them an amazing score of 27 out of 30.
At the end of the show, Hyoyeon and Hyungsuk were announced as one of the pairs that would continue to the finals, competing against actress Choi Yeojin and her partner, professional dancer Park Jiwoo.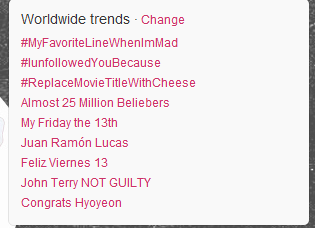 To congratulate Hyoyeon on her success in getting through to the finals, fans started a trending topic on Twitter. "Congrats Hyoyeon" trended at 9th place worldwide when the results were announced.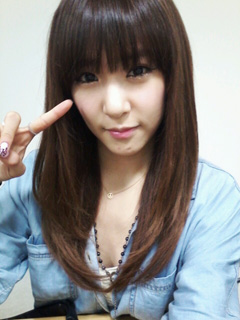 Before the broadcast for the semi-finals began, Tiffany left a message on Girls' Generation's Official Website asking SONEs to watch the broadcast and to support Hyoyeon, mentioning that she will be watching it too.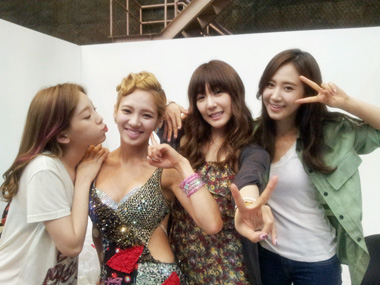 Tiffany left another message on Girls' Generation's Official Website as soon as the original broadcast started. In her message, she shared pictures of herself backstage posing with Taeyeon, Hyoyeon, and Yuri. The pictures revealed that the girls had gone to support Hyoyeon at the broadcasting site. You can read both of Tiffany's
messages
in Soshified's
Translated Goodies Section
.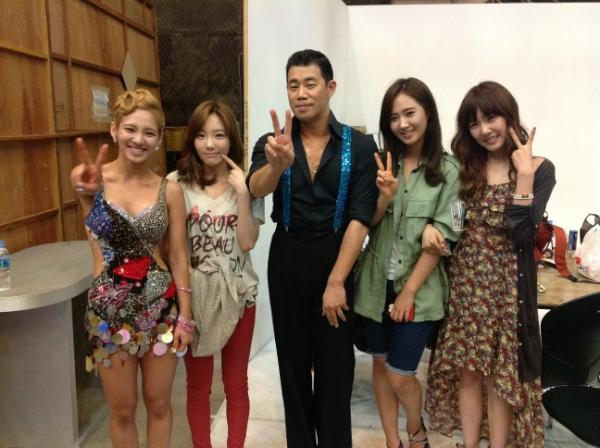 Park Jiwoo, the partner of Choi Yeojin, who will be competing in the finals against Hyoyeon, also 
posted
a picture of the girls right before the broadcast. Park Jiwoo has shared multiple pictures of himself with Hyoyeon in the past, and has also complimented on her ability to dance.
Congratulations to Hyoyeon, and good luck to her in the finals.
Sources: Girls' Generation Official Website1, Girls' Generation Official Website2, jaypjw@twitter.com
Written by: Best Served Soup@soshified
Edited by: bhost909@soshified, MoonSoshi9@soshified
Contributor: spiceshoe@soshified
Have a news item that you think Soshified should know about? Leave us a tip or e-mail us at tip@soshified.com.
Follow us on Twitter: http://twitter.com/soshified for the latest on Girls' Generation.