Videos
Mamonde Releases Behind-the-Scenes Footage of Yuri's BB Cream CF
Following the release of Yuri's latest advertisements for Mamonde's BB (Blemish Balm) cream, the company released behind-the-scenes footage from the CF filming. In the video, Yuri can be seen preparing for her CF shoot while trying out different types of BB cream.
KBS Releases Behind-the-Scenes Footage of Girls' Generation – TTS From "K-wave" Magazine
KBS recently released behind-the-scenes footage of Girls' Generation – TTS from their last photoshoot for "K-wave" Magazine. In the video, captions appear complimenting the girls' beauty and professionalism as they pose for the shoot. Previously, bnt news had also released behind-the-scenes footage from the same photoshoot, featuring individual videos of Taeyeon, Tiffany, and Seohyun.
"I AM" Releases Footage from Press Conferences
Video recordings from recent "I AM" press conferences were released on "I AM"'s official YouTube channel. The clips show the many fans who came to see the movie, as well as their interactions with the Girls' Generation members who also attended.
Sooyoung and Soojin Choi Leave a Message of Support for the "KRPS Charity Concert"
Sooyoung and her older sister Soojin left a video message asking fans to support the upcoming "KRPS Charity Concert" in Australia. Though the two sisters cannot attend, they are still doing everything they can to support this great cause. The charity event is in collaboration with the Korean Retinitis Pigmentosa Society, a foundation which Taeyeon, Tiffany, Sooyoung, and Seohyun are ambassadors for. You can read more about the KRPS here.
Sunny and Hyoyeon Featured in Daebu-do Ansan-si CF
Recently, a CF for Daebu-do Ansan-si, where "Invincible Youth 2" is filmed, was released. In the CF, Sunny and Hyoyeon, along with the other members of G6, talk about the village's attractions as clips of their activities on the show play in the background.
Endorsements
Girls' Generation Featured in a Series of Lotte Advertisements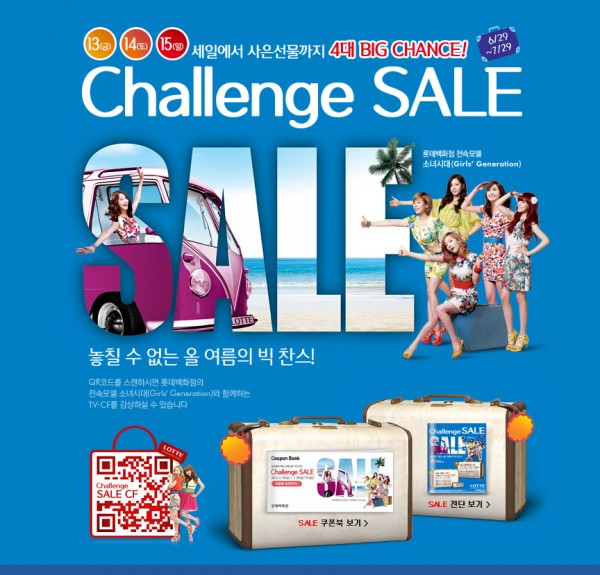 Lotte released a new CF and advertisement featuring Girls' Generation for the department store's upcoming "Challenge Sale". In the short video advertisement for the event, the girls are all sporting cute summer fashions while also displaying their individual charms.
Casio Releases Advertisement Featuring Tiffany and Yoona

Casio recently released an advertisement for Girls' Generation's "Baby-G" wristwatches, featuring Tiffany and Yoona. In the picture, both ladies are sporting their own "Baby-G" wristwatches.
Others
Ahn Hyungsuk Talks About Girls' Generation
In an interview with "The Straits Times", Ahn Hyungsuk named Hyoyeon as one of the best dancers in K-Pop. Ahn is a K-Pop choreographer who created the famous dance to "Gee" in 2009. Ahn also discussed the international popularity of K-Pop and his work with other artists, including Super Junior.
Girls' Generation Picked as K-Pop Group Hallyu Fans Most Like to Dance Cover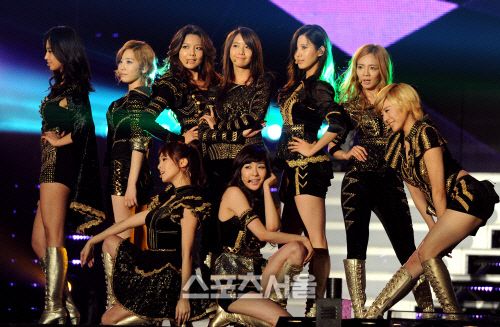 Roughly 1,350 teams from fifty countries scattered across six continents were present at the recent "K-Pop Cover Dance Festival". Girls' Generation had 155 teams covering their dances, the most among all K-Pop groups. Following the girls, SHINee, miss A, SISTAR, and 2NE1 had the second, third, fourth, and fifth most covers, respectively.
Girls' Generation Voted Prettiest Girl Group in Person by Idol Managers and Music Show Staff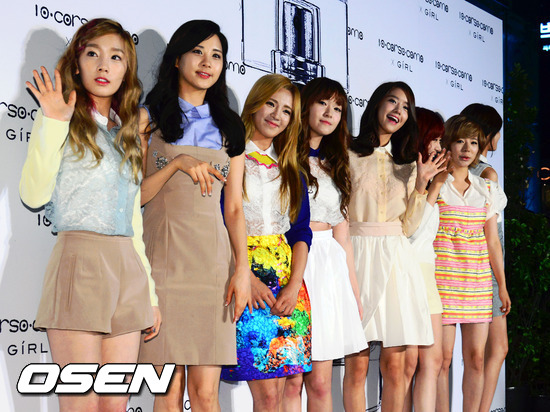 In a recent vote that surveyed various girl group managers and one hundred "Show Champion" staff members, Girls' Generation was chosen as the prettiest girl group when seen in real life. This further shows how captivating the girls really are, both on and off the stage.
Sunny and Yoona Attend "5 Million Dollar Man" V.I.P. Premiere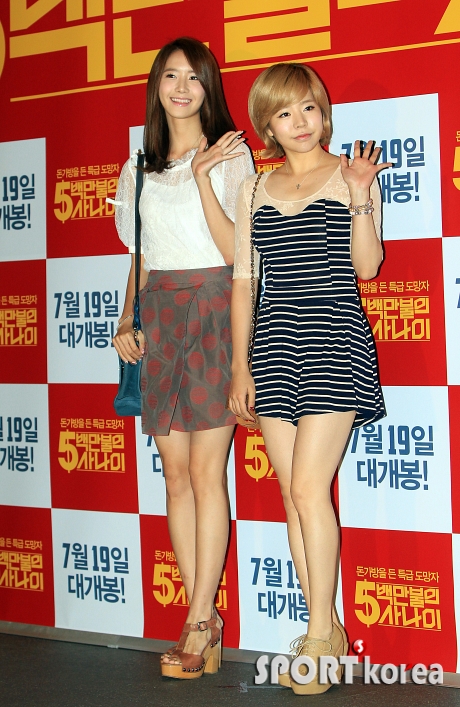 On July 11th, Sunny and Yoona attended the "5 Million Dollar Man" V.I.P. movie premiere. Though dressed in similar styles, their individual charms were still on display. You can check out more photos from the premiere at Soshified's Photos Section.
Girls' Generation's Mobile Fansite Shares a Message From Hyoyeon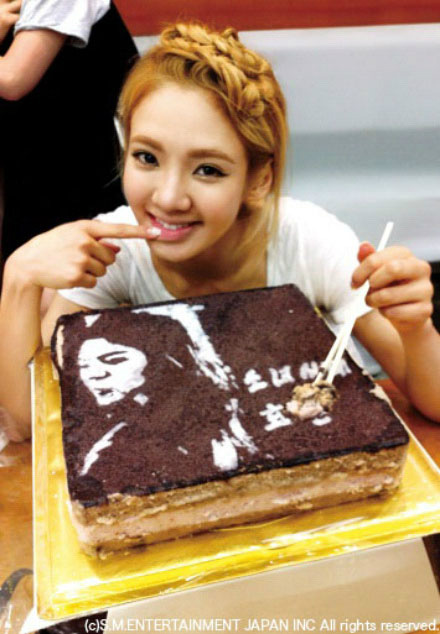 Girls' Generation's Japanese mobile fansite uploaded two photos and shared a message from Hyoyeon. In the message, she talks about her experience on "Dancing with the Stars II" and also thanked fans for the cake she received. You can see the full message and photos in Soshified's Translated Goodies Section.
Yuri, Sooyoung, and Yoona Answer UFO Messages
Girls' Generation members have been answering a number of UFO messages for their fans. Recently, Yuri, Sooyoung, and Yoona all answered UFO messages. Yuri commented on a fan's drawing of her in her "PAPARAZZI" outfit, Sooyoung responded to a fan who wanted to switch lives with her for a day, and Yoona recommended an album by Verbal Jint. You can read the rest of their replies in Soshified's Translated Goodies Section.
Girls' Generation Surpasses One Million Friends on "KakaoTalk Plus Friend"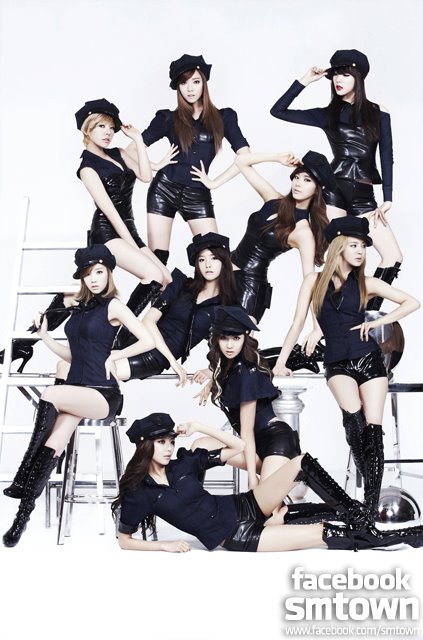 Girls' Generation became the first idol group to surpass one million friends on "KakaoTalk Plus Friend". The application is available in over 150 countries including Korea, the United States, and many more. "KakaoTalk Plus Friend" provides fans with updates for various artists.
Taeyeon Leaves a Message and Selca on Girls' Generation's Official Website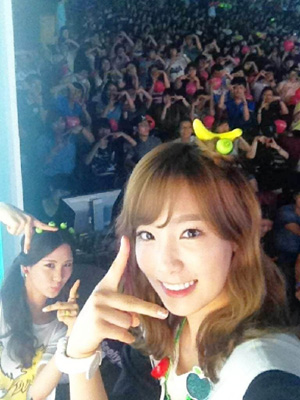 During the July 14th episode of Music Core, Taeyeon once again took selcas of herself with Seohyun and SONEs. Taeyeon also left a message on Girls' Generation's official website, along with the photos. To see the pictures and the full translated message, visit Soshified's Translated Goodies Section.
Mark PD Reveals a Sneak Peek of Tiffany's New Recording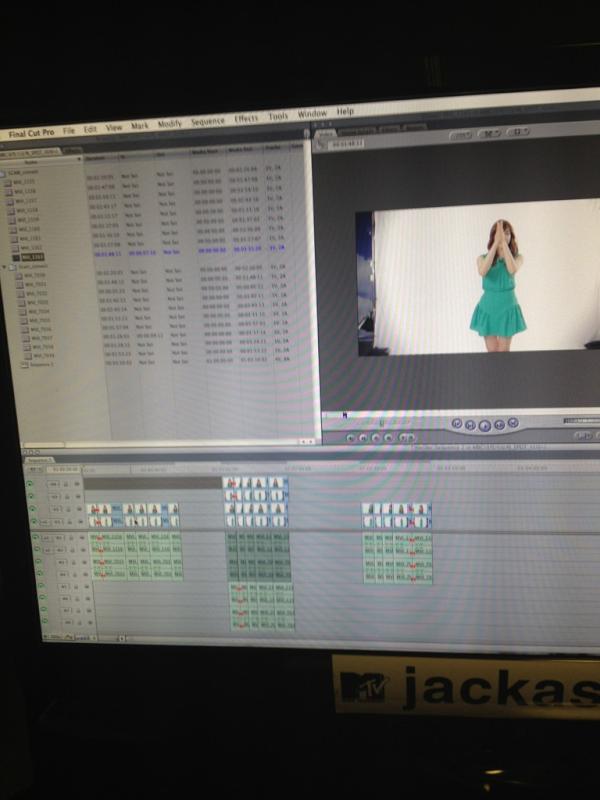 Mark PD, a director for MBC Music, recently tweeted a sneak peek of a new video recording with Tiffany. It was revealed that she filmed this after the July 14th episode of "Show! Music Core". Mark worked previously with Girls' Generation for their MTV series.
Tiffany to be Featured in the August Edition of "CeCi"
"CeCi" Magazine revealed that its August edition will have a birthday feature for Tiffany. Keep an eye out for the upcoming magazine issue!
Photos
Shim Jaewon Posts a Picture of Himself with Yuri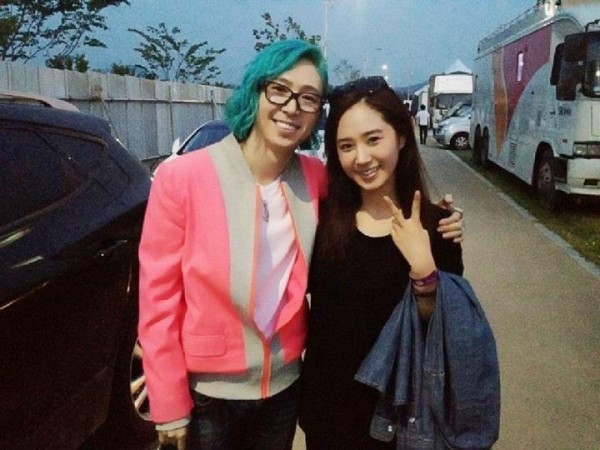 Shim Jaewon, a dance choreographer in SM Entertainment, recently posted a picture of himself with Yuri on his Facebook wall. The photo was taken at the "World DJ Festival", which is an annual music event in Seoul. Shim Jaewon has helped choreograph many of Girls' Generation's dances, one of them being their recent Japanese single, "PAPARAZZI".
Sooyoung Sends Congratulatory Wreath to Her Sister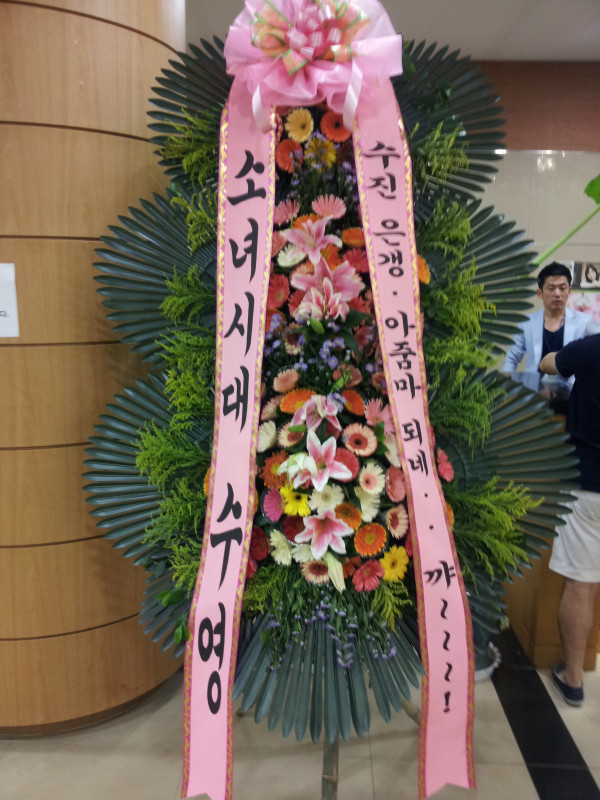 In celebration of Soojin's new musical, Sooyoung prepared a wreath with a playful message addressed to her sister. In her short note on the wreath's ribbon, Sooyoung teased her sister by declaring that Soojin has now "become an ahjumma", referring to her role in the musical.
Girls' Generation Appears in a Group Photo with Hong Kong Artist Eason Chan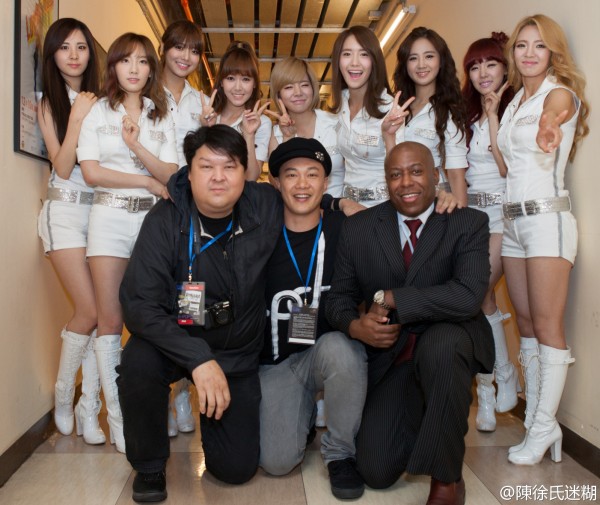 Girls' Generation appeared in a backstage photo with Hong Kong artist Eason Chan during the "K-POP Nation Concert" in Macao. As Eason Chan kneels and poses with two other men, the member of Girls' Generation stand behind them making friendly hand gestures for the camera.
Yuri Uploads a New UFO Profile Picture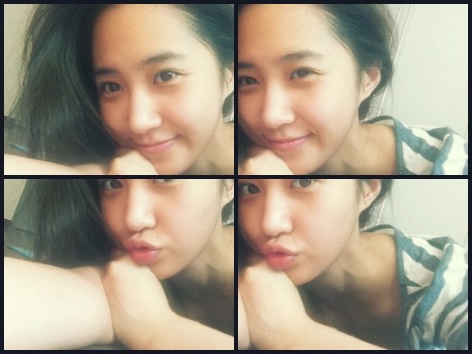 Yuri recently changed the profile picture on her UFO account. The four frames show her cute expressions and natural beauty. These pictures were very similar to those released earlier in May, which can be seen here.
Jessica and Sooyoung Pose for Photos with Their Dentists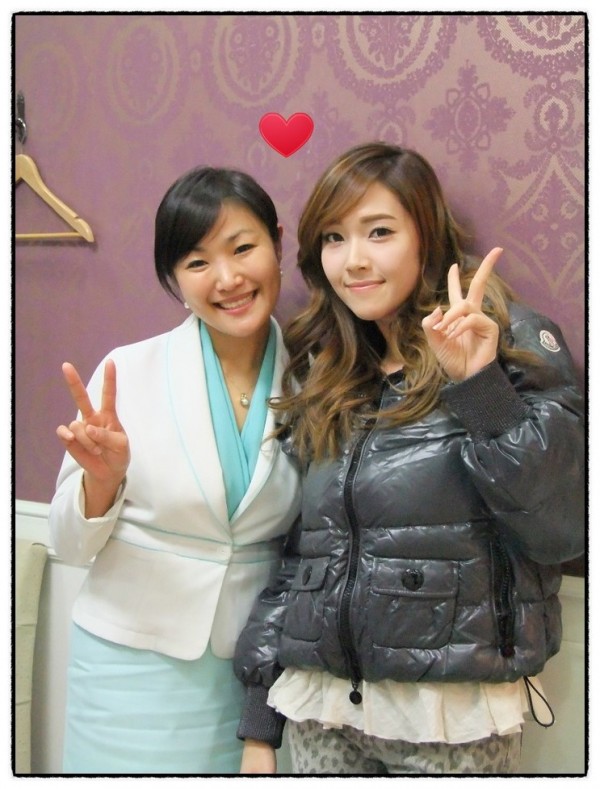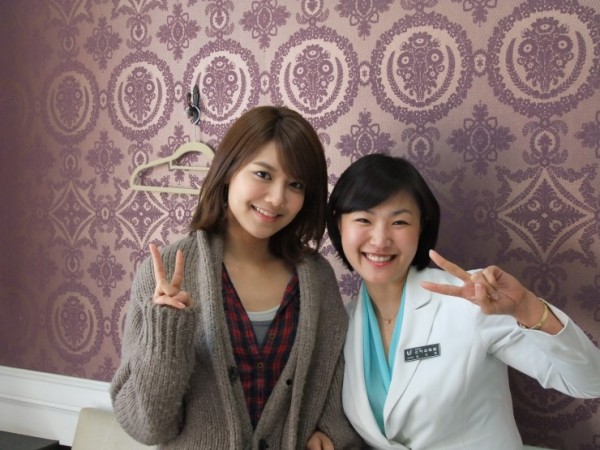 Photos of Jessica and Sooyoung posing with her dentists from Dentistry At Its Finest recently appeared online. In both of the photos, Jessica, Sooyoung, and their dentists can be seen making cute hand signs for the camera, commemorating the girls'.
Photos of Tiffany at a Dermatology Center Uploaded Online
Cosmetic dentistry is NOT recognized as a specialty by the American Dental Association; therefore, any general dentist can deem themselves a cosmetic dentist. So, you can easily find a dentist at Quest Dental with the right skills and credentials to complete an cosmetic case. Invisalign Houston provide traditional metal braces treatment, Many candidate opt for invisalign system not only because it is discreet and cost of Invisalign treatment is comparatively effective, but also because there is no need to change your diet.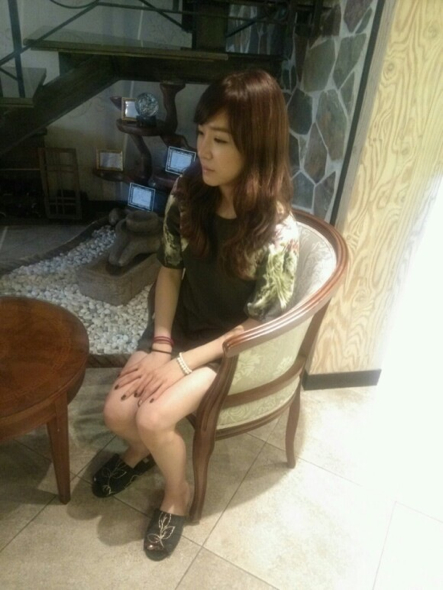 Tiffany and Jessica recently visited a dermatology center together. Tiffany and the staff members at the center posed for photos together, and the photos were uploaded online. All of the pictures can be seen in Soshified's Photos Section.
Hyoyeon and Her Friends Appear in a Photo Together Taken at "Dancing with the Stars II"
Hyoyeon, her dance partner, Hyungsuk, and her friends, Key Jjoon and Jjung Jae, appeared in a photo together taken backstage during "Dancing with the Stars II". Fans who attended the show gave a congratulatory bouquet, which can be seen in the picture.
Sooyoung Uploads New UFO Picture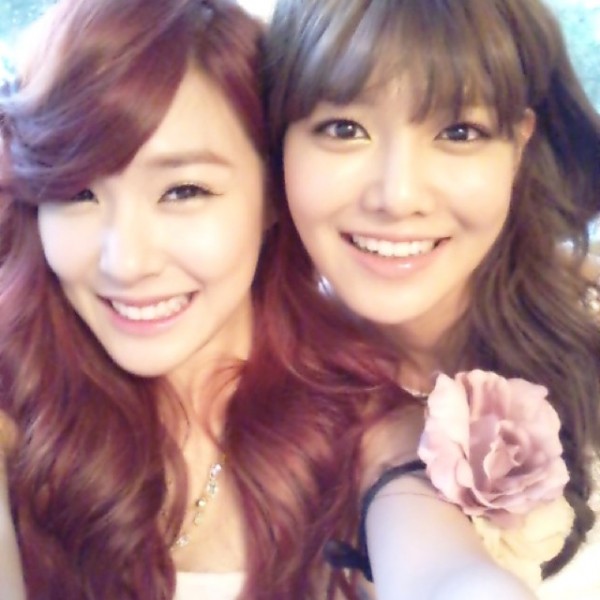 Girls' Generation members have recently been answering many UFO messages for their fans. Sooyoung joined in on the fun and also changed her UFO profile picture. She chose a selca she recently took of herself with Tiffany, in which both are displaying their shining smiles and beautiful faces.
Leeteuk Tweets a Photo of Taeyeon, Tiffany, and Seohyun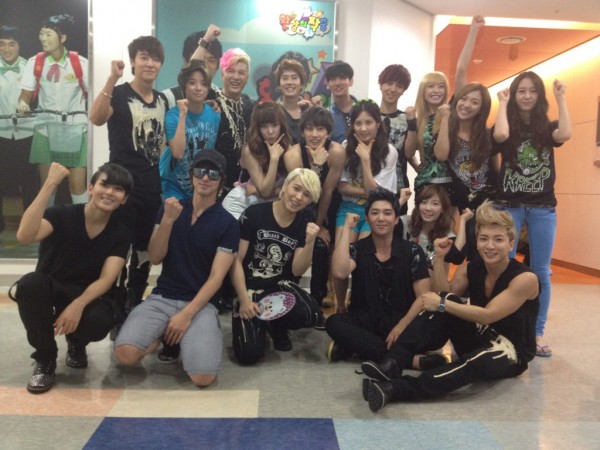 During the July 14th episode of "Show! Music Core", Leeteuk tweeted a photo of various SMTOWN artists posing together. In the picture, Taeyeon, Tiffany, and Seohyun are seen smiling alongside TVXQ, Super Junior, and f(x). His accompanying tweet reads, "The too handsome and pretty dongsaengs.. Let's spend our whole lives together.."
HaHa Tweets a Photo of Himself with Yoona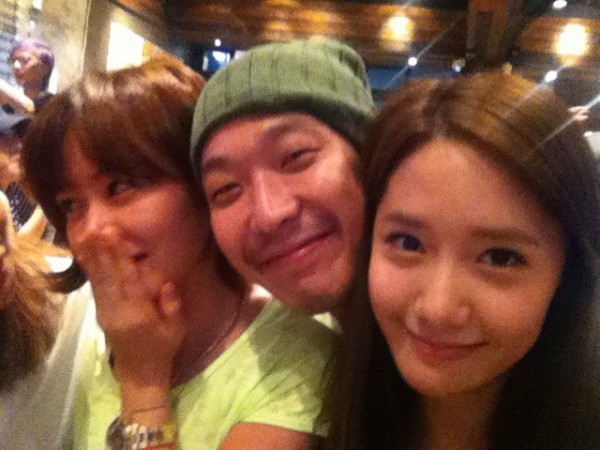 On July 16th, HaHa, a singer and comedian, tweeted a photo of himself with Yoona. He also included a message, which read, "Ah… which of the two should I date… for the first time in a while… I'm going crazy.. I wonder if they'll make a poll on Nate…"
New Sets of Pictures
LOOK – Group1
SONE Picture/Video of the Week
A talented fan recently made a video to celebrate Girls' Generation's fifth anniversary, which will occur on August 5th. The video features clips from various variety show appearances as well as footage of memorable moments from past concerts and the "Paradise in Phuket" DVD.
If you have any pictures or videos you'd like to submit for SONE Picture/Video of the Week, please feel free to do so by sending them to the Soshified Writing Team at tip@soshified.com or posting at the official SONE Picture/Video of the Week thread.