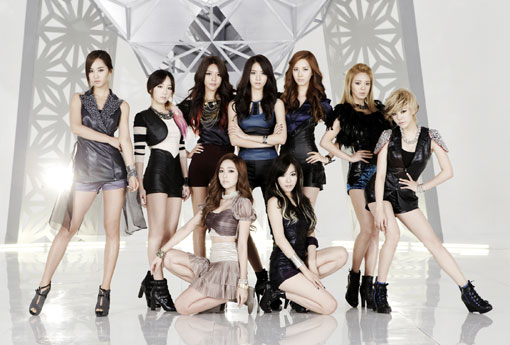 Girls' Generation revealed, "The hardest thing about travelling around the world is the jet lag, we need a chartered plane."
On February 9th, Girls' Generation made an appearance on "Le Grand Journal", a popular talk show on French broadcasting station, "Canal Plus". They also appeared on "Le 7H45", the main news program of French TV channel "M6".  Girls' Generation appeared again on "Le Grand Journal" on February 10th, in the show's "Question Box" corner.
Before their French promotions, Girls' Generation also made various appearances on American talk shows, such as, "Late Show with David Letterman" and "Live! with Kelly". They have successfully finished their third album promotions in Korea and are continuing on with their second Asia tour.
After their recordings on February 9th, Girls' Generation met up with Sports Donga at 7PM in the Korean Culture Center near the Eiffel Tower. During the recordings, the members talked first and foremost about the passion of the French fans. Seohyun said, "I was very surprised at them singing along in Korean and cheering us on." Tiffany then spoke more about the atmosphere of the recording studio, and said, "There's a phrase that Korean fans chant. It's 'Right now, it's Girls' Generation, From now on, it's Girls' Generation, and Forever, it's Girls' Generation'. It was electrifying to hear the French fans chanting this."
Girls' Generation picked jet lag as the most difficult aspect in bringing their stages to Japan, America and France. Yuri said, "It's physically difficult, but most of all, adjusting to the jet lag is hard." She giggled, "However, there's also the fun of experiencing new things because each individual country has their own traditional foods." Taeyeon said, "We are ready to go wherever the fans call us to," and received cheers from the other members by continuing with, "but, we need a chartered plane." These girls really know how to get what they want.
Source: Donga 
Translated by: minigiglo@soshified
Edited by: LetsGo@soshified, bhost909@soshified
Have a news item that you think Soshified should know about? Leave us a tip or e-mail us at tip@soshified.com.
Follow us on Twitter: http://twitter.com/soshified for the latest on Girls' Generation.