Videos
D.O.I. Shares Thoughts on Girls' Generation's Sounds
D.O.I., a sound engineer on Girls' Generation's Japanese album, shared his thoughts on the girls' sounds and their success in Japan.  He has worked with other famous Japanese stars, such as Amuro Namie, EXILE, AI, and Chemistry. Part two with STY and part three with Hiro will be released soon.
Hyoyeon Shows Off Bag
Girls' Generation was seen at Incheon International Airport leaving for their concert in Hong Kong on January 14.  In the video, Hyoyeon can be seen playfully showing off her J.ESTINA bag to the cameras.
Endorsements
Vita500 and Goobne Chicken Release Calendars for January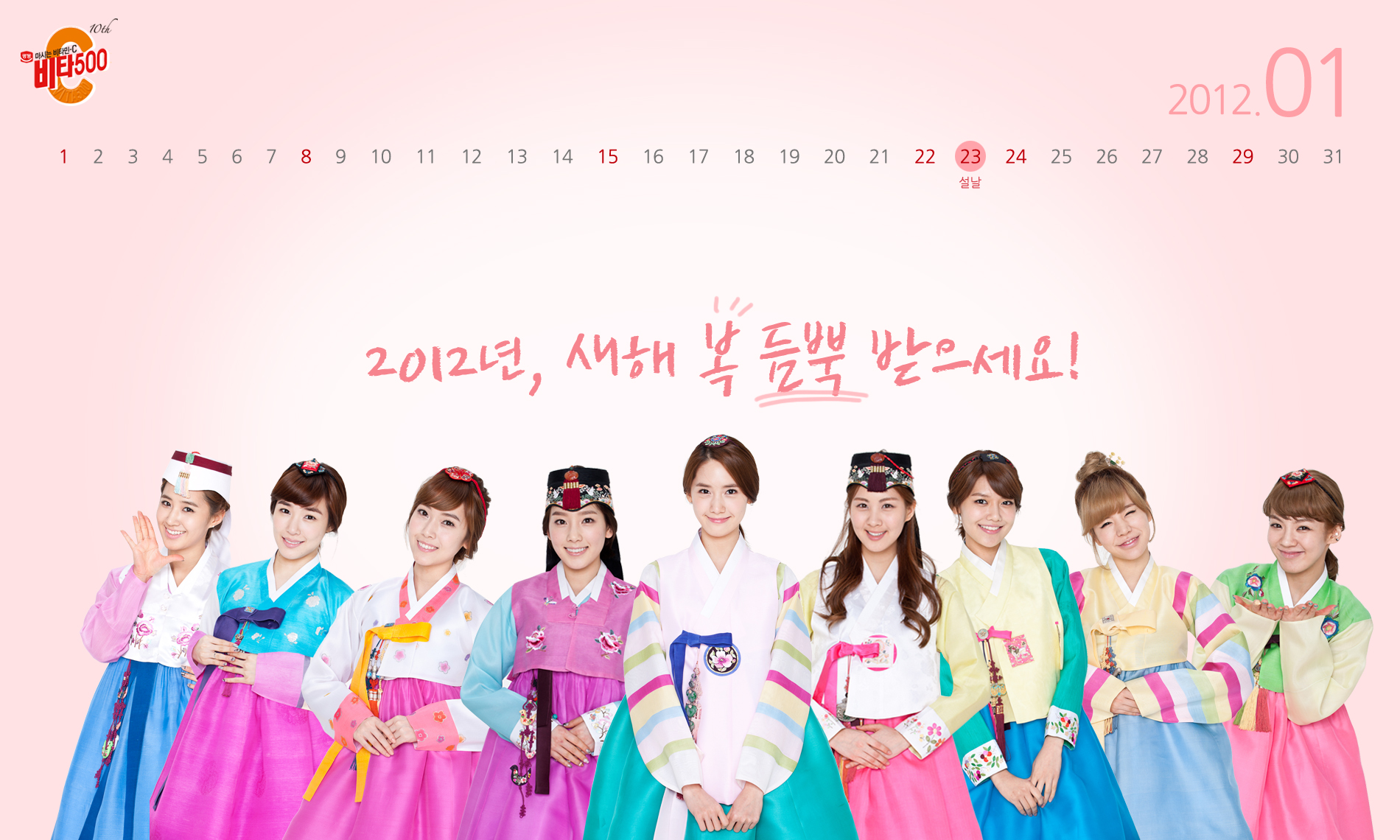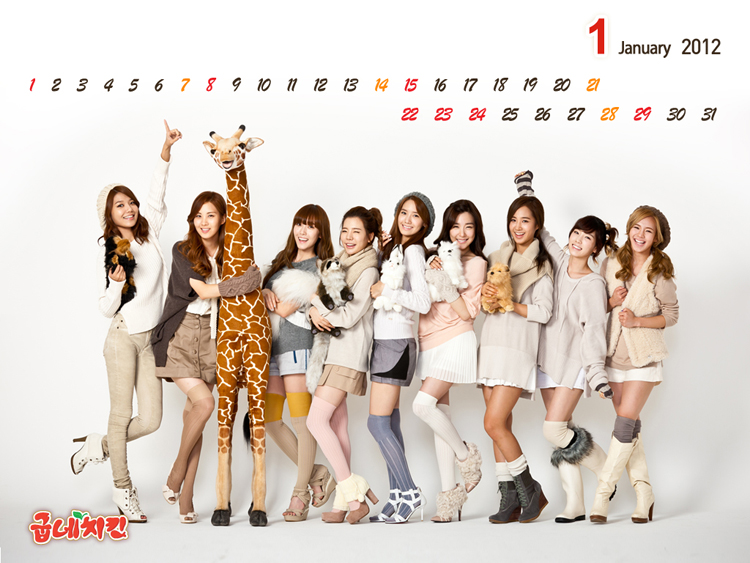 Both Kwangdong Pharmacy and Goobne Chicken have released new calendar wallpapers featuring Girls' Generation for the month of January.  The members can be seen dressed in traditional hanboks for Vita500 and posing with several stuffed animals for Goobne Chicken.  Be sure to use at least one of the wallpapers for the rest of the month!
Others
Official Music Video for "Koala Kid" Features Girls' Generation's "Himnae"

An official music video for "Koala Kid" was revealed on Naver in preparation for the release of the film on January 12th.  The video shows clips of Sunny recording her voice for the film, while Girls' Generation's "Himnae" plays as background music.  Based on the preview, the movie goes perfectly with the uplifting nature of the song.
Sooyoung Visits Park Seungil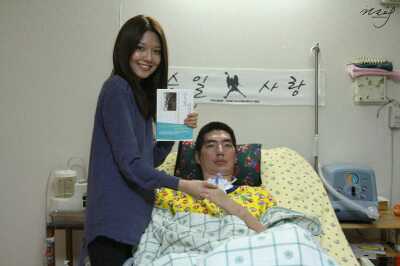 Sooyoung, who is known to be close to Park Seungil, visited him once again.  Seungil, an ex-basketball coach with Lou Gehrig's disease, was thankful for Sooyoung's kindness, saying, "The first person who fulfilled this year's plans is Girls' Generation's Sooyoung.  Sooyoung was shy, saying that she didn't have any makeup on.  She said she must do it if it will help spread the word on Lou Gehrig's disease and stood in front of my camera."
Tiffany Selca
A selca of Tiffany recently surfaced online and has fans clamoring over her gorgeous pictures.  She took them lying down and even gave a wink for the camera.  It seems that taking selcas are a favorite pastime for Girls' Generation.
New Application for SMTown in Paris for iPhone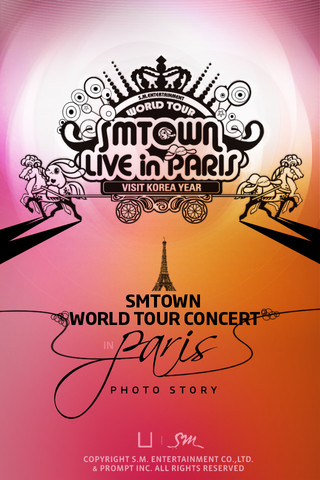 An application has been released on iTunes for SMTown in Paris.  It contains several pictures of SMTown artists during their stay in Paris, with a total of six tabs in the application.  You can download the application 
here
.
Freestyle Sports Prepares "Girls' Generation Special Package" Giveaway Event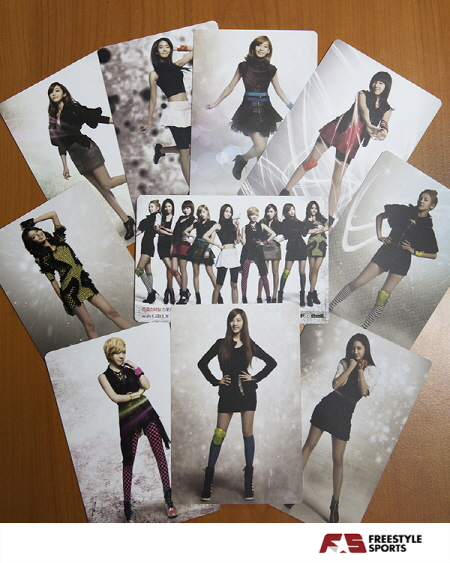 Starting on January 13th to the 31st, JCE will be launching their giveaway event through "Freestyle Sports" called "Girls' Generation Special Package".  This event is geared towards players who have already purchased Girls' Generation characters in the game, and the package will be given out as gifts.  It will include a limited edition poster as well as a Girls' Generation coupon.  Only 10,000 packages will be prepared and handed out.
Girls' Generation's Artist Page on MTV.com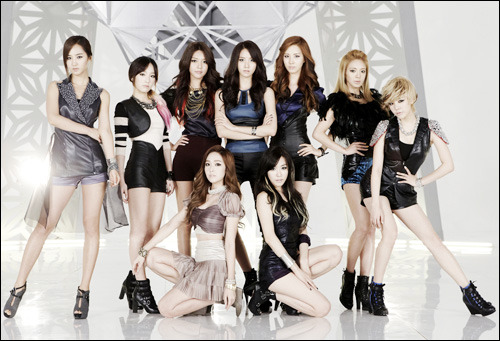 Girls' Generation has been given their own artist page on MTV's official website under the section "Artists A-Z".  In this page, fans and newcomers alike can read a short biography about Girls' Generation, check out news concerning their US debut, as well as look up Girls' Generation's entire discography.  As Girls' Generation prepares for their US promotions, they are certainly receiving the attention of many popular American music channels.
"The Boys" Places First On Taiwan's "Five Music" Chart For 2011
Despite only being released in October, Girls' Generation's album, "The Boys", has placed first on Taiwan's "Five Music" chart for 2011.  Girls' Generation also has three other albums in the top ten, including their first full Japanese album, the "MR. TAXI / Run Devil Run" single, and their 1st Asia Tour Concert album.
Seohyun Leaves Message on Japanese Fansite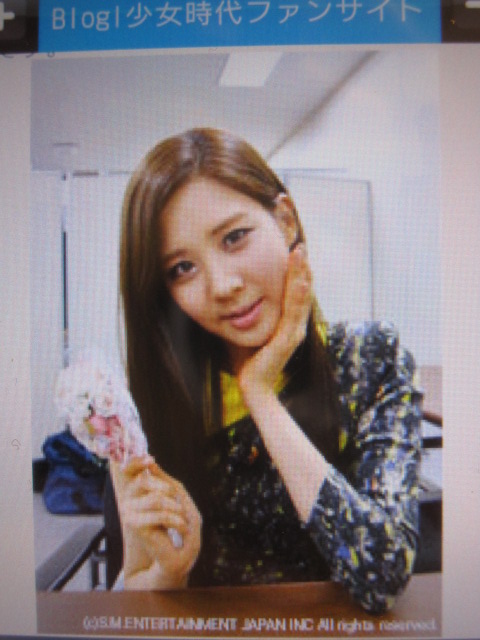 Seohyun recently left a message and selca on a Japanese fansite. The picture was taken while the girls were attending Kouhaku Uta Gassen last year.  She's posing cutely for the camera and is seen holding a mirror decorated with flowers.  To view her full message, click here.
Yoona's Handprint Sells for Seven Million Won
A copy of Yoona's handprint recently sold for seven million won, showing that even handprints from Girls' Generation can be very valuable.  The frame of the handprint also says "Girls' Generation" at the top and features Yoona's signature at the bottom.
Girls' Generation's First Japanese Album Earns Triple Platinum

Girls' Generation's first Japanese album, "Girls' Generation", has been certified Triple Platinum by the Recording Industry Association of Japan, or the RIAJ.  The RIAJ is a music industry trade group in Japan that certifies singles and albums as gold or platinum.  To be ceritified Triple Platinum, an album's sales must exceed 750,000.  Congratulations to Girls' Generation for the wonderful accomplishment.
Girls' Generation Mentioned in Huffington Post and The Atlantic
Girls' Generation was mentioned in popular news sites, Huffington Post and The Atlantic.  The articles covered the excitement from the Republic of Korea Armed Forces over Girls' Generation's visit for their Christmas Special on MBC.
Yoona and Yuri's Name Appears on College Administration Test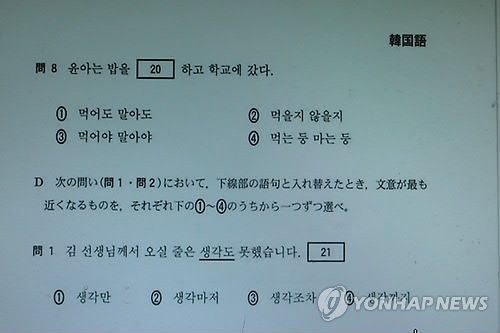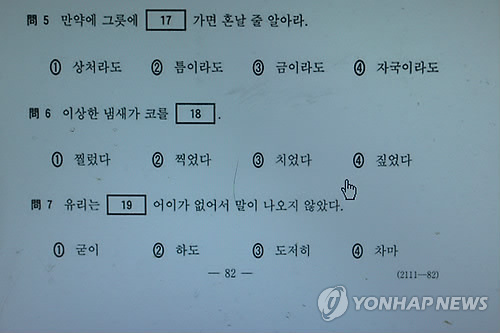 Girls' Generation's Yuri and Yoona's names appeared on a college administration test in Japan which tests their Korean language proficiency.  It seems that our girls' popularity is steadily on the rise  in Japan, so much so that their names appeared on a test in Japan.
"Gee" Music Video hits 63million views on YouTube 

Girls' Generation's "Gee" music video has reached yet another milestone on YouTube, with a whopping 63 million views on YouTube.  Congratulations to our girls' for achieving such an amazing feat!
New Sets of Pictures
Vita500 – Taeyeon1, Taeyeon2, Jessica1, Jessica2, Jessica 3, Sunny1, Sunny2, Sunny3, Tiffany1, Tiffany2, Hyoyeon1, Hyoyeon2, Yuri1, Yuri2, Yuri 3, Sooyoung1, Sooyoung2, Sooyoung3, Yoona1, Yoona2, Yoona 3, Seohyun1, Seohyun2, Seoyhun3
SONE Picture/Video of the Week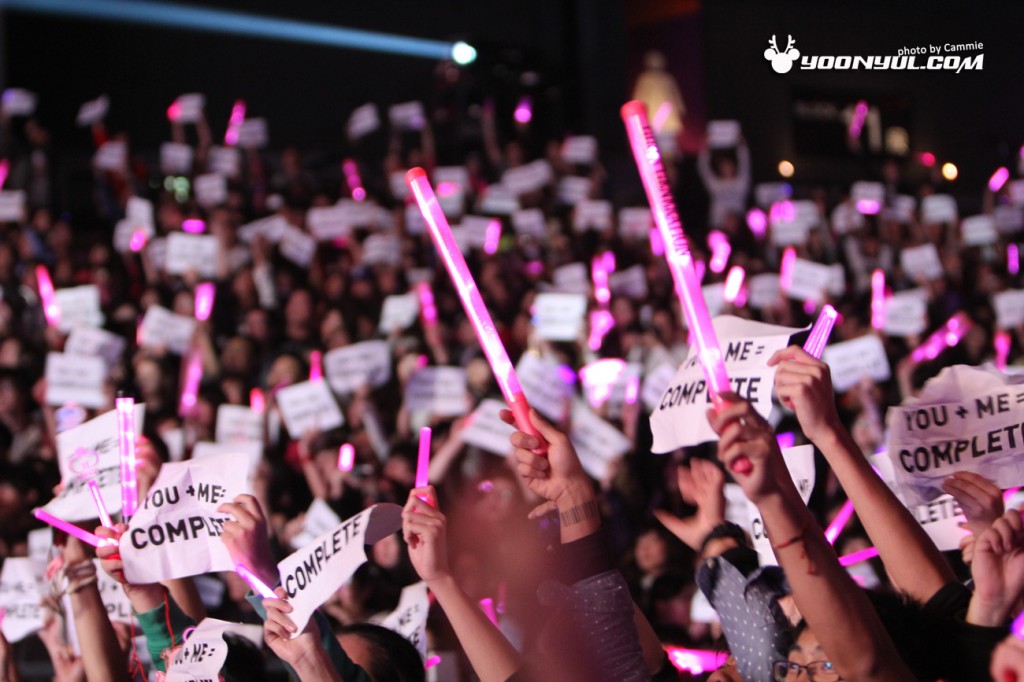 Girls' Generation recently completed their concert in Hong Kong as part of their 2nd Asia Concert Tour.  They performed in front of another sold-out crowd, as they sang their hit songs and delivered several exciting solo stages.  Fans attending the concert showed their thanks to Girls' Generation by organizing a paper event, where everyone in the concert arena held up a sign saying "You + Me = Complete".
If you have any pictures or videos you'd like to submit for SONE Picture/Video of the Week, please feel free to do so by sending them to the Soshified Writing Team at tip@soshified.com or posting at the official SONE Picture/Video of the Week thread
Sources: kwangdongpharm@twitter.com, Yurui912@twitter.com, Koala Kid via Naver, star.mt.co.kr, dcinside.com, gametoday.co.kr, mtv.com, 5music, digmee2010@youtube.com, redsunset@soshified, RIAJ, bntnews, Huffington Post, The Atlantic, yoonyul.com
Written by: bhost909@soshified, taengsoshi@soshified, LetsGo@soshified, FrozenArctic@soshified, Litney@soshified
Contributors: ch0sshi@soshified, minigiglo@soshified, MoonSoshi9@soshified, michaelroni@soshified
Have a news item that you think Soshified should know about? Leave us a tip or e-mail us at tip@soshified.com.
Follow us on Twitter: http://twitter.com/soshified for the latest on Girls' Generation.