Videos
1. Vanness Wu Dances to Girls' Generation's "MR.TAXI"
Vanness Wu is known to be a close friend of Girls' Generation's Tiffany and Sooyoung, and a video of him dancing along to "MR. TAXI" recently has been a hot topic. In the video, one of the guys shows off his dancing prowess, and Vanness Wu can be seen laughing at a corner. However, he says that the dance looks exactly like how Girls' Generation does it, and he even learns the dance from the guy, albeit rather shyly. The guy then says that he learned the dance from a tutorial, and that the steps are:
1. Turn right
2. Turn left
3. Turn right
4. Press the horn
Vanness Wu even dedicated his short dance to Girls' Generation, and he left a small message for Tiffany in English at the end. Check out the cute video!
2. Girls' Generation's Coway Behind-The-Scenes Video Released
Following the release of Girls' Generation's recent Coway CF, a behind-the-scenes video of each member has been released. In Taeyeon's video, she is painting a wall with blue paint, and her dorky and adorable actions take up the short clip. Besides that, she also conducts a short interview in the video. Apart from Taeyeon, behind-the-scenes footage of other members like Yoona, Sunny, Jessica and Hyoyeon were also released. Check out their respective videos below!
Endorsements
1. Girls' Generation's New Official SM Merchandise
A new collection of Girls' Generation's official merchandise has been released by Everysing! In this collection, the previously reported and much anticipated Girls' Generation Pillowcase has finally been released, and fans are going crazy over the new goodies. Apart from individual pillowcases of each member, there are other new things like card cases and Girls' Generations badges. For more photos, go here!
Others
1. Yoona on Star Auction Show
Recently, Yoona appeared on the Star Auction Show which was recorded by MBC in view of their upcoming Chuseok Special Programme. On the show, she auctioned off one of her costumes from Girls' Generation's "Genie" era from part of her personal collection.
Apart from Yoona, many other famous stars such as Choi Soojong, Seo Inyoung and Park Myungsoo also participated in the show and auctioned off their own personal belongings. The star, who's item fetches the highest bid, will get an additional 50 million won added to the bid and the total amount of money will be donated under the star's name. Remember to catch this episode of MBC's Chuseok Special to see how Yoona does!
2.Yoona Voted First in Poll Held by Cosmetics Surgery Clinic
From the 2nd to the 29th of August, a cosmetics surgery clinic held a poll titled "Which idol with deer-like eyes looks kind-hearted makes you want to protect her?" Out of the 369 people who answered, 159 (43%) of the votes went to Girls' Generation's Yoona, placing her in the first position. The reason why people voted for Yoona was because they felt that she has a very innocent face with deer-like eyes, and she also seems to give off a very kind and warm feeling. KARA's Hara came in second with 125 (33%) of the votes, and After School's Uee came in third with 57 (15%) of the votes.
3. Girls' Generation to Perform at Autumnal Music Festival
On the 16th of October, Girls' Generation will be performing together with other idol groups like CNBlue and f(x) at the event titled "The First Disabled People VS Multicultural Families Art Contest". This event will be held over a period of 3 days, and the Idol groups will only be making an appearance on the last day. On the first day, the Classical music singers will be performing and the first preliminary round will take place while the second preliminary round will be held on the second day together with the Trot music singers. On the last day, the Idol groups will perform and the finals of the contest will be held. This even organised by KBS will be held at Yeouido Park in Seoul.
4. Taeyeon Receives Thanks from Marie Digby Via Twitter
Resized to 100% (was 646 x 268) – Click image to enlarge
Taeyeon recently recommended Marie Digby's "Spell" to fans on her UFO, and fans have been flooding the artist's youtube page with comments ever since. Many of the fans praised the artist for her wonderful vocals, and they also left a small message saying that Taeyeon from Girls' Generation was the one who brought them there. Because of the overwhelming number of comments, Marie Digby left a short thank you message for Taeyeon via her twitter.
It looks like Girls' Generation's spreading influence is lethal!
5. Tiffany's "Fame" Musical Details
Following the wonderful news of Tiffany making her debut into the world of musicals, further details regarding the musical, "Fame", has been released. The musical will be opening on the Friday, 25th of November 2011, and the last show will be on Sunday, 29th of January 2012. There will be no shows on Mondays, but performances will be held from Tuesday to Fridays at 8PM. On Saturdays, there will be 2 performances at 3PM and 7PM. As for Sundays and public holidays, there will be 2 shows at 2PM and 6PM. The musical will be held at the Seoul Olympic Park Woori Financial Hall. There are 4 categories of tickets which will go on sale starting on Wednesday 7th of September, at 6PM KST. The VIP ticket is 110,000 won, following which is the R, S and A categories. Seats in these categories are going at 99,000 won, 77,000 won and 66,000 won respectively. Be sure to get your tickets here early as they're sure to be snapped up!
6. SMTOWN LIVE in TOKYO SPECIAL EDITION to be Aired
To fans who were unable to attend the SMTOWN LIVE in TOKYO SPECIAL EDITION, worry not! A Japanese broadcasting TV Station, WOWOW, will be airing the highly anticipated concert on the 3rd of November at 9PM JST. Although no further news regarding the line-up of the programme has been released, fans of the various SM groups are all extremely excited over this opportunity to watch their idols perform on TV. Stay tuned to Soshified for more updates about this broadcast!
7. Girls' Generation Ranked First in Japanese Magazine
In the October issue of Nikkei Entertainment Magazine a poll was conducted ranking K-Pop groups. Girls' Generation edged out Kara for first place as the best girl girl group, ahead of other groups like 4Minute and 2NE1. Girls' Generation has been receiving a lot of love from Japanese fans due to their incredibly successful Arena Tour this summer. The girls have shown that they are indeed the leaders of the Korean wave in Japan.
8. Sunday from CSJH (The Grace) Tweets About Girls' Generation
Girls' Generation members visited Sunday from CSJH (The Grace) in her waiting room at SMTOWN, much to the delight of Sunday.  It looks like SM artists are having a great time together in Tokyo.  Translation of her tweet courtesy of meehyun@soshified.com: "Cute Soshi came to visit the waiting room.  They were the first guests to my newly purchased manicure and stickers.  Heh, quick art.  Sunday working overseas tomorrow.  Heuheuheu"
New Sets of Pictures
SPAO- Taeyeon, Jessica 1, Jessica 2, Jessica 3, Jessica and Leeteuk, Jessica, Yesung, Donghae, Jessica, Sunny, Hyoyeon, Yesung, Sungmin and Donghae, Jessica and Hyoyeon, Tiffany, Yuri, Seohyun, Heechul and Eunhyuk, Hyoyeon 1, Hyoyeon 2, Hyoyeon, Yuri, Sooyoung and Yoona 1, Hyoyeon, Yuri, Sooyoung and Yoona 2, Hyoyeon and Seohyun, Yuri and Sooyoung, Yuri, Sooyoung, Yoona and Seohyun, Yuri and Yoona 1, Yuri and Yoona 2Sooyoung 1, Sooyoung 2, Sooyoung 3, Sooyoung and Yesung, Sooyoung, Yoona, Yesung and Siwon
Vita500- Taeyeon 1, Taeyeon 2, Taeyeon, Hyoyeon and Seohyun, Jessica 1, Jessica 2, Jessica, Tiffany and Yoona, Sunny 1, Sunny 2, Sunny 3, Sunny, Yuri and Sooyoung, Tiffany 1, Tiffany 2, Tiffany 3, Hyoyeon 1, Hyoyeon 2, Yuri 1, Yuri 2, Yuri 3, Yuri 4, Sooyoung 1, Sooyoung 2, Sooyoung 3, Yoona 1, Yoona 2, Yoona 3, Yoona 4, Seohyun 1, Seohyun 2, Seohyun 3, Seohyun 4, Girls' Generation, Girls' Generation 2
Eider- Yoona 1, Yoona 2, Yoona 3, Yoona 4, Yoona 5, Yoona 6, Yoona 7, Yoona 8, Yoona 9, Yoona 10, Yoona 11, Yoona and Minho 1, Yoona and Minho 2, Yoona and Minho 3, Yoona and Minho 4, Yoona and Minho 5, Yoona and Minho 6, Yoona and Minho 7, Yoona and Minho 8, Yoona and Minho 9, Yoona and Minho 10, Yoona and Minho 11, Yoona and Minho 12, Yoona and Minho 13, Yoona and Minho 14, Yoona and Minho 15

SBS Star King- Sunny, Hyoyeon, Seohyun
SONE Picture/Video of the Week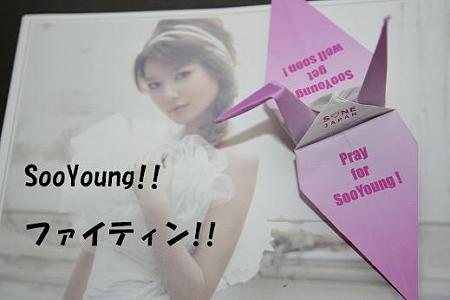 Following the unfortunate news that Girls' Generation's Sooyoung was hospitalised due to a car accident, SONEs all over the world has been trying to make Sooyoung feel better by wishing her a fast recovery and sending her encouraging messages. The SONEs in Japan, especially, have been gaining a lot of praise from fans all over the world. In Japan, there is a legend whereby a wish will be granted for every 1000 paper cranes folded. Because of this, J-Sones decided to fold 1000 paper cranes for Sooyoung so that they can wish for her to have speedy recovery. This very thoughtful gesture has left fans not only in Japan expressing their wishes to help in this touching event. Thank you to all who took part in this event, and let us continue praying for Sooyoung's full recovery.
If you have any pictures or videos you'd like to submit for SONE Picture/Video of the Week, please feel free to do so by sending them to the Soshified Writing Team at tip@soshified.com or posting at the official SONE Picture/Video of the Week thread
Credits: Soshified Photos Section, iradiofm96@youtube.com, aslotsuss6@youtube.com, wowow.co.jp, http://hintclick.com
Written by: gayqueenful@soshified.com, MoonSoshi9@soshified.com
Contributors: michaelroni@soshified.com, JeremyJay22@soshified.com
Graphic by: cioco@soshified.com
Have a news item that you think Soshified should know about? E-mail us at tip@soshified.com.
Follow us on Twitter: http://twitter.com/soshified for the latest on Girls' Generation.