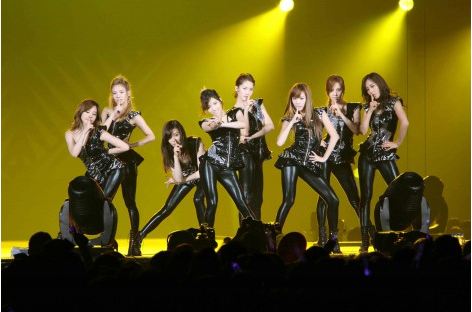 Today the website for the major music chart in Japan, Oricon, released articles praising the performances of Girls' Generation and other artists at "SMTown Live in Tokyo Special Edition".  The four and a half hour concert took place over a period of three days from September 2nd through September 4th at the Tokyo Dome in front of 150,000 cheering fans, and impressed everyone with passionate performances of a 56-song set list.
During Girls' Generation's performance, Seohyun mentioned Sooyoung, who was unable to participate due to being in a car accident on August 28th.  Seohyun apologized, saying, "We are also lonely (without her), but we are sorry to the fans who looked forward to today…The eight of us will do our best, including Sooyoung's portion."  The girls did not disappoint, and the fans were captivated by their performance.
The eight girls performed hit songs "Genie", "Mr. Taxi", "Gee", and more.  The performances included multiple outfit changes, like black mini skirts, white short pants, and black leather pants that showcased their trademark beautiful legs.
Over 240,000 fans have attended SMTown concerts in six countries.  Beginning in Seoul last year SMTown has traveled abroad to Los Angeles, Shanghai, Tokyo, and Paris, and this October 23rd will take the show to New York City's Madison Square Garden for an expected audience of 15,000.
Source: Oricon1, Oricon2
Translated by: arghninja@soshified.com
Written by: moonsoshi9@soshified.com
Have a news item that you think Soshified should know about? E-mail us at tip@soshified.com.
Follow us on Twitter: http://twitter.com/soshified for the latest on Girls' Generation.