The September issue of the Korean edition of Cosmopolitan magazine features an article discussing some of the aspects of the Korean wave that is sweeping its way across the world.  The article states that among the "Hottest 3 in America" Girls' Generation and Wonder Girls are ranked first.  Korean Cosmo recognized the impact that Soshified has had in helping Girls' Generation reach so many fans outside of Korea by showing a picture from the LA Soshified meetup at SM Town LA last year, and also interviewing Soshified's founder Oanh Nguyen (Soy):
Special Interview
Gathering 200,000 SNSD fans as one
Nguyen (Soshified administrator) (Editor's note: For whatever reason, they didn't list a full name, but they're referring to Soy here)
Soshified.com, meaning "Girls' Generation together", how did you come to make this fansite?
The fan sites I was active on, there was hardly any material for Girls' Generation.  So I decided to make a separate site, a place for many Girls' Generation fans like myself to gather and talk about them.
Please introduce Soshified. It's said there are quite a lot of members?
Yes, currently Soshified has 200,000 members and it's a community for Girls' Generation fans all over the world.  Girls' Generation members have even come on and left messages and it holds its place as the best fan site.  We have international fan meetings, fundraisers by members, fan meetups, and lead various activities.  We successfully arranged a large electronic billboard 30 second video promoting Girls' Generation in the middle of downtown Los Angeles.
To run this site you would need quite a lot of energy. Is it challenging?
The fact that I created a page that people who like Girls' Generation can express themselves as fans without any prejudice always makes me happy.  I want to do more Girls' Generation related projects.  I think it's Soshified's duty to support them wherever they go.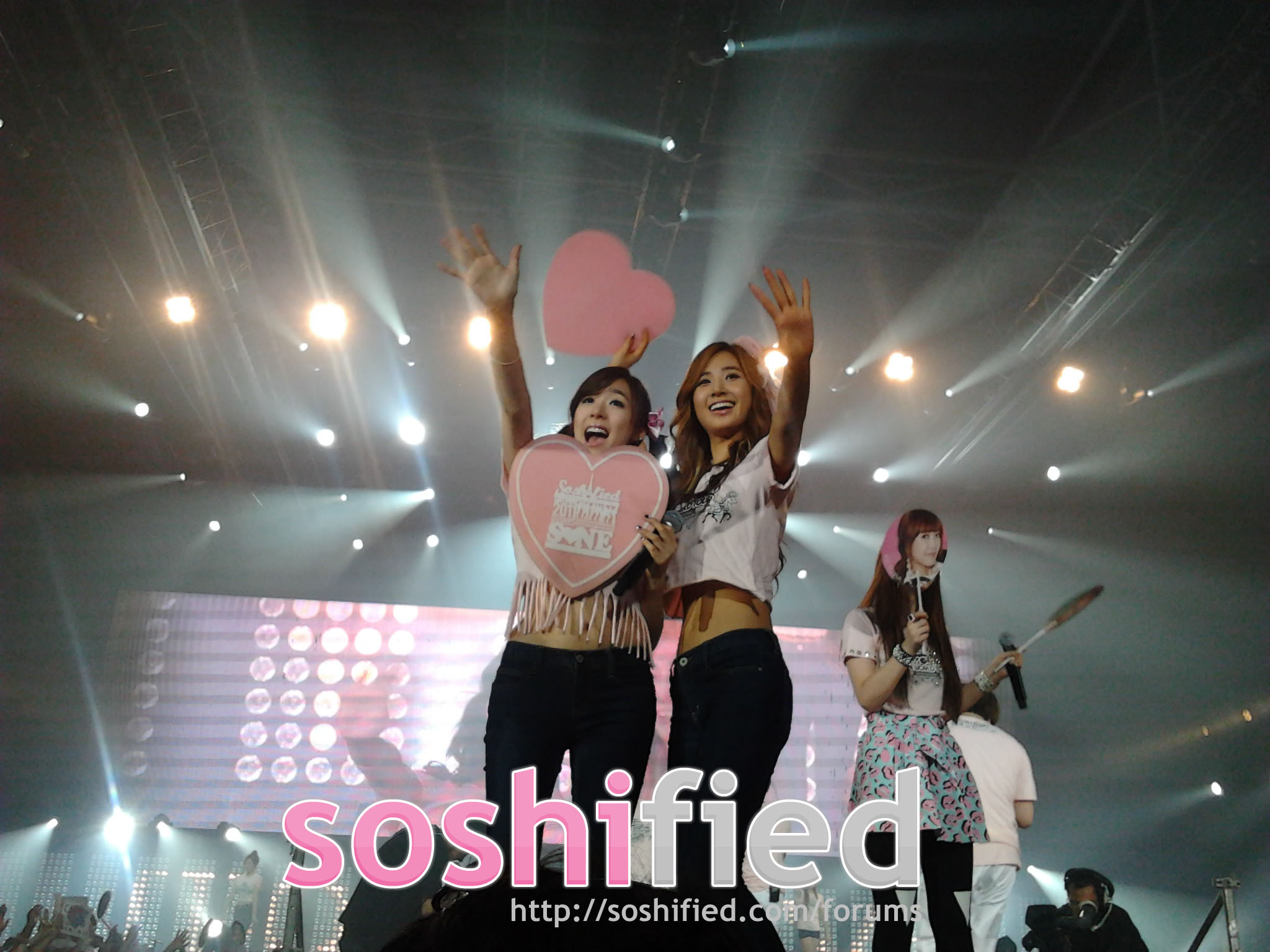 In addition to Ms. Nguyen's interview, Cosmo interviewed two other Americans regarding their thoughts on K-Pop and Girls' Generation:
"Right now the hottest ethnic music in the U.S. is, of course, Latin Pop, but Hallyu has the power to rival it.  If K-pop stars held a concert in downtown LA, I would totally think of going.  Nowadays people almost never listen to the lyrics but prefer music they can feel the melody and rhythm to, so even though K-pop is in Korean, there's no reason it can't dominate in the U.S."
–Kevin Garrett Hansel (28 years old, student)
"I really like Girls' Generation, and among them I'm a fan of Taeyeon.   Not long ago a friend who came back from Chile listened to my iPod and said he/she knew Girls' Generation's "Gee".  All over Chile Hallyu is spreading and when I hear a lot of people are going wild for it I think "Hallyu really has a far reach."  Korean music and the Korean drama style are contemporary but the feeling is Korean, so there's two sides to it, and in that respect I think it makes a perfect balance."
-Hannah Wade (20 years old, student)
The author of the article also analyzes some of the impact Hallyu has had in America and references Girls' Generation's "Hoot" as an example of a cultural craze:
Hallyu in America? It definitely exists!
"It feels like the most controversial topic regarding Hallyu in America is the argument that, "Hallyu is merely smoke and mirrors", that it mainly appeals not to the American culture but merely to Asians within Korea, or that popularity was exaggerated by certain management companies, etc.  Let's say it is.  Just based on the nation's size or inclinations, America, unlike Asian countries such as Korea, isn't a country where trends spread extremely quickly.  It's a place where a variety of culture and art take root in different regions centered around the current "craze".  In other words, even Lady Gaga couldn't be able to get their entire population singing "Hoot Hoot Hoot", and such things never happen.  In that vein, Hallyu crazes within the U.S. definitely exist, and they are certainly among those who react and change behavior quickly in contrast to other cultural crazes.  Quite interestingly, to those who have encountered Hallyu, there exists no concept of "enough".  They fall deeper and deeper in.  Sometimes they watch even more Korean dramas, memorize even more of the complicated K-pop group names, and update themselves on the recent news of the Korean entertainment.  There is a Hallyu in America.  The expectation of a upward boom is significant.  I am certain that if they finally abandon the idea of direct attack and devote effort into raising the mania-level, then the prestige of Hallyu will certainly overcome the 'bubble theory' and more."
-America (LA) Communication Kim Jinyoung
As anyone who is a fan will tell you, there definitely is no concept of "enough" when it comes to Girls' Generation.  Fans all over the world love to hear about them, watch them perform, write fan fictions, learn their songs and dances, etc.  They are sought after for performances and endorsements all over Asia.  Soshified has played an increasingly important role in spreading Girls' Generation outside of Korea since they are at the forefront of the Korean wave.  When the girls come to Madison Square Garden on October 23rd to perform at SM Town Live in New York, Soshified will continue to be right there with them supporting their path to a Global Generation.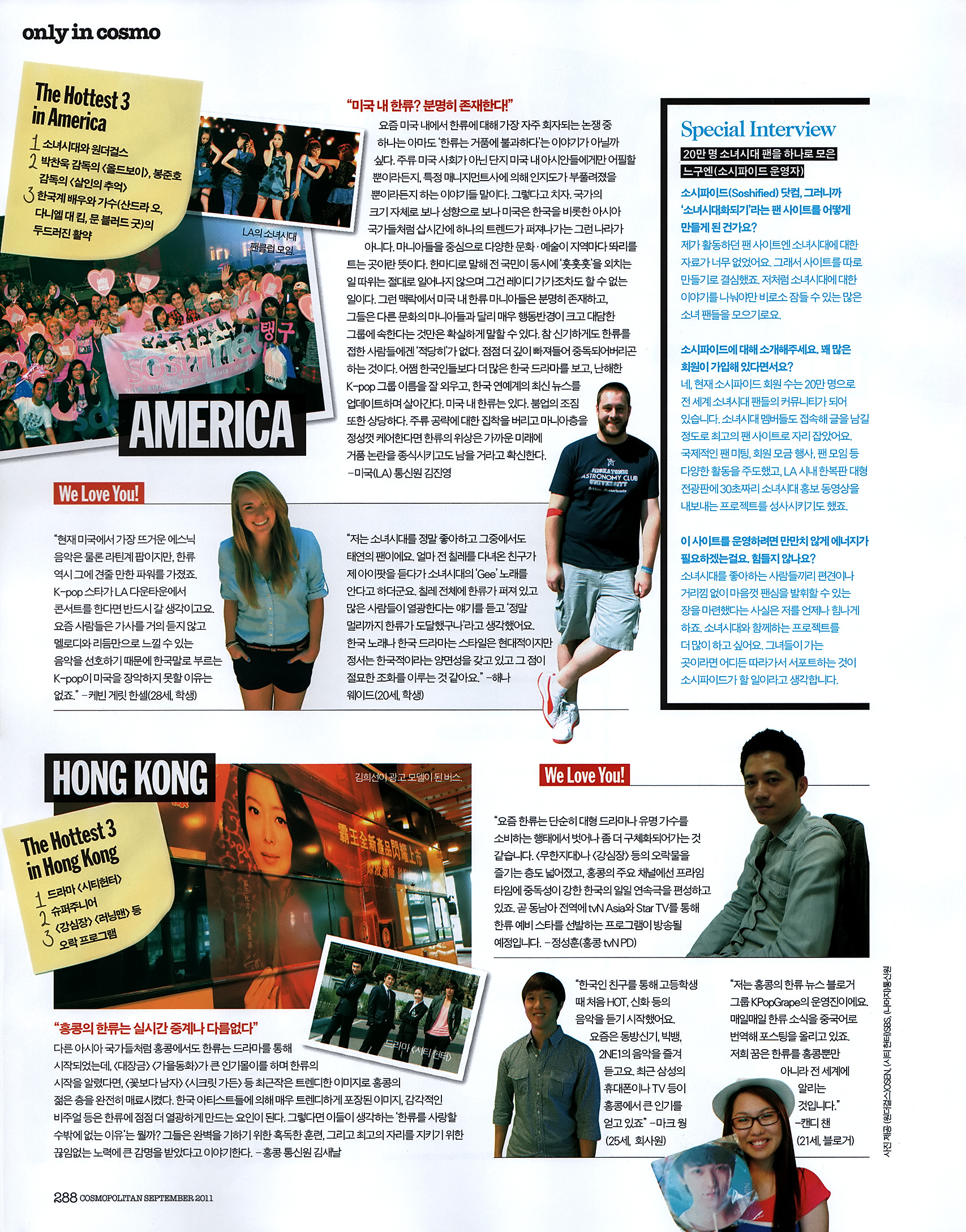 Source: Cosmopolitan Magazine scan by daveetron@twitter.com
Translated by: somaek@soshified.com, meehyun@soshified.com, 오이사랑싴@soshified.com
Written by: moonsoshi9@soshified.com
Edited by: michaelroni@soshified.com
Have a news item that you think Soshified should know about? E-mail us at tip@soshified.com.
Follow us on Twitter: http://twitter.com/soshified for the latest on Girls' Generation.