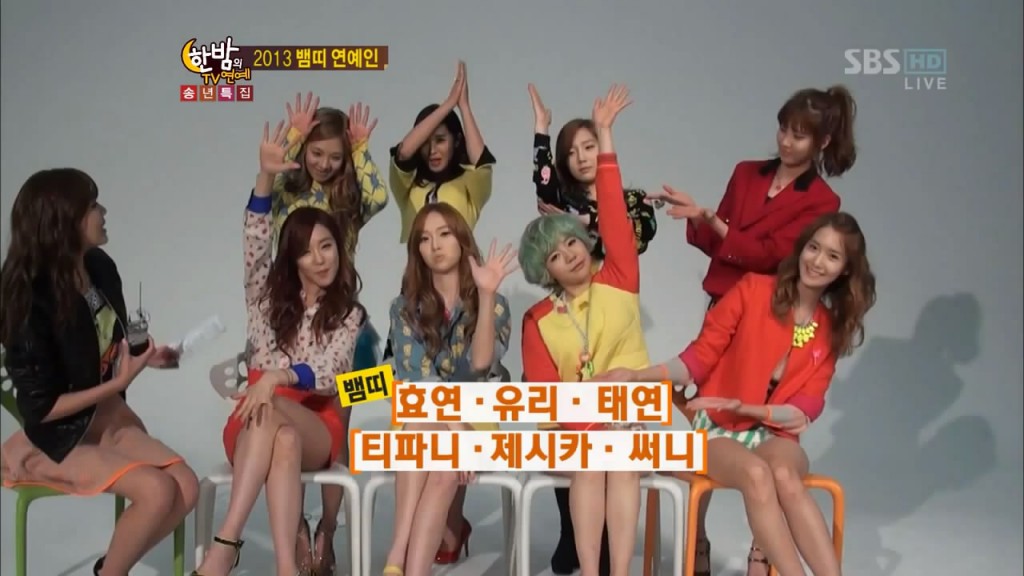 On December 26th, Girls' Generation made a special appearance on SBS's "Midnight TV Entertainment", a show hosted by Sooyoung and YB's Yoon Dohyun. In their short but very funny segment, the members of Girls' Generation were told their fortunes by Sooyoung, who revealed what Jessica, Tiffany, and Yuri could expect next year.
Sooyoung began by asking which of the members were born in the year of the Snake, which fell on 1989, and said, "The fortune for the snake zodiac in 2013 is in my hand." Taeyeon, Jessica, Sunny, Tiffany, Hyoyeon, and Yuri, all born in 1989, raised their hands.
Sooyoung then revealed Tiffany's fortune, saying that Tiffany would be offered a representative position in business. However, she continued, "Rather than starting something new, it would be better to wait it out a little longer."
Jessica was told, "You will have luck in dating. Your partner could be overseas." Sooyoung also added, "Is it by any chance, Daniel Henney?" Jessica quickly responded, "Yes~."
Finally, Sooyoung revealed to Yuri, "You will have good energy, and energy for a drama is especially great. There is a high possibility of you playing the main role."
Download Girls' Generation's appearance on SBS's "Midnight TV Entertainment" from Soshified's Video Downloads Section, or check it out below.
Source:
NEON TANG@YouTube.com
Written by: bhost909@soshified
Contributor: ch0sshi@soshified
Have a news item that you think Soshified should know about? Leave us a tip or e-mail us at tip@soshified.com.
Follow us on Twitter – http://twitter.com/soshified – for the latest on Girls' Generation.