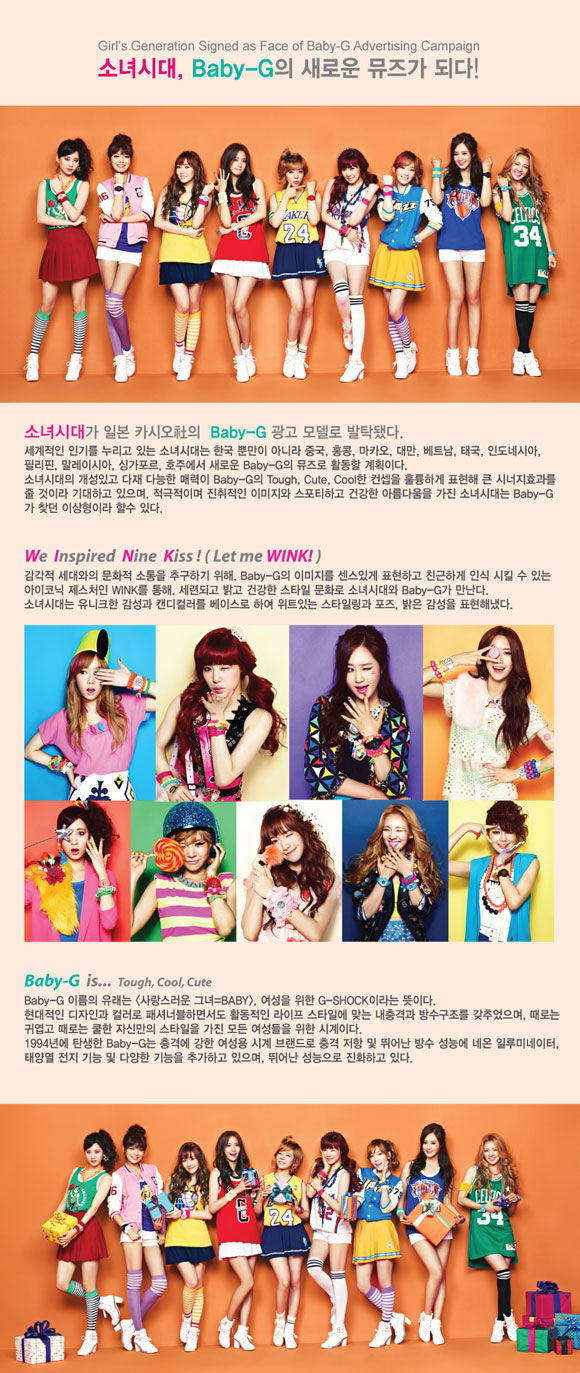 Updated with information from Casio:
Casio has just released additional information on Girls' Generation's endorsement of Casio's "Baby G" line of watches for young women. The members of Girls' Generation were chosen their embodiment of the tough, cute, and cool concept of "Baby G", a brand of watches which are meant to be shock-resistant. Girls' Generation will advertise for the "Baby G" brand in South Korea, China, Hong Kong, Macao, Taiwan, Vietnam, Thailand, Indonesia, the Philippines, Malaysia, Singapore, and Australia.
Previous article from 7/9/12:
Electronics maker Casio has appointed Korea's female idol group, Girls' Generation, as the image character for the wrist watch, "Baby G", in the Asia market for a limited time. There are also plans to sell a limited Girls' Generation model before the year ends. By appointing Asia's top idol group, the aim is to boost up the value of the brand.
Girls' Generation will be the image character in eleven Asian countries, including China, Korea, Indonesia, and many others. However, this excludes Japan. The plan is to have a 50% increase in sales for 2013 compared with 2011.
The promotion plans to advertise on the website, store fronts, newspapers, and magazines. The length of contract is planned for one year, starting in mid July.
Source: SankeiBiz, Casio International
Translated by: arghninja@soshified
Edited by: MoonSoshi9@soshified, bhost909@soshified
Have a news item that you think Soshified should know about? Leave us a tip or e-mail us at tip@soshified.com.
Follow us on Twitter: http://twitter.com/soshified for the latest on Girls' Generation.