Videos
Mnet 20's Choice Awards Show Releases Behind-the-Scenes Footage of Girls' Generation – TTS 
"Mnet Wide News" released behind-the-scenes footage of Girls' Generation – TTS's appearance at the Mnet 20's Choice Awards show. In the video, fans are treated to footage of before, during, and after the show, as well as getting short interviews with each member. Don't miss the ending either; Mnet found a way to have a little bit of fun with the girls and their managers.
Girls' Generation Featured on KBSWorld's "K-POP Selection"
"K-POP Selection", a short segment featured on KBS World's YouTube channel, recently highlighted Girls' Generation. The clip gave a brief introduction and history of the group, while also spotlighting some of their biggest hits.
"Elle Girl" Uploads Behind-the-Scenes Video of Girls' Generation – TTS's Photoshoot
Behind the scenes footage from Girls' Generation – TTS's "Elle Girl" photoshoot was released. In the short clip, the girls are shown picking out their outfits, posing for the camera, and of course, maintaining a very professional, yet fun atmosphere for the magazine. TTS's beauty shines in this close up look of their "Elle Girl" feature.
Jessica Ranked Seventh in Arirang's "Showbiz Survey"
Showbiz Arirang hosted a survey in which viewers picked the top seven stars viewers would want as their personal stylists. Jessica won her place in this survey with her chic fashion sense and looks. Her airport fashion and ordinary fashion sense have made Jessica a fashionista and seventh on Korea's Global TV show, Arirang's "Showbiz Survey".
Tiffany Ranks Third as Teacher "Pops in Seoul"  Staff Would Most Want
Arirang TV's "Pops in Seoul" staff placed Girls' Generation's Tiffany as third most wanted top star they wish were their teacher because of her fluency in English. Her perfect English due to her upbringing in the United States secured her third place out of ten.
Endorsements
Yoona Appears in Innisfree Advertisements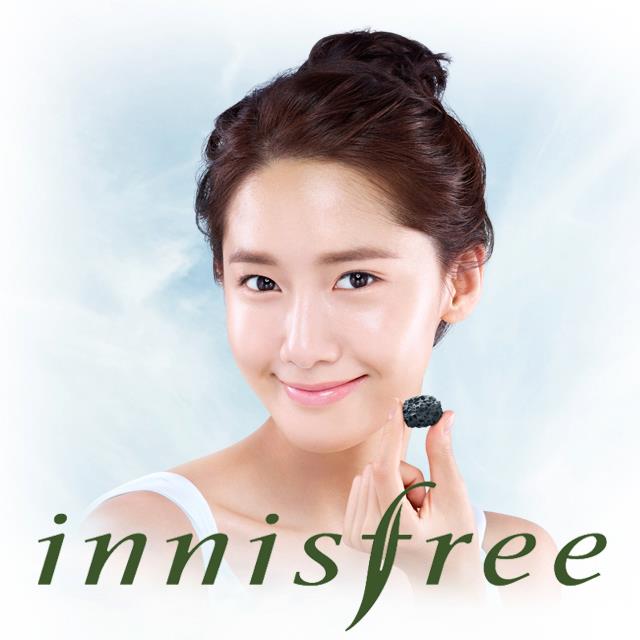 In this CF for Innisfree, Yoona endorses the company's "Jeju Volcanic Pore Clay Mask". The cute animated characters and Yoona's charming smile can make the commercial convincing for many viewers. The company also released a promotional photo of Yoona holding a small volcanic rock.
"The Face Shop" Releases Advertisement Featuring Seohyun and Holds a Fansigning Event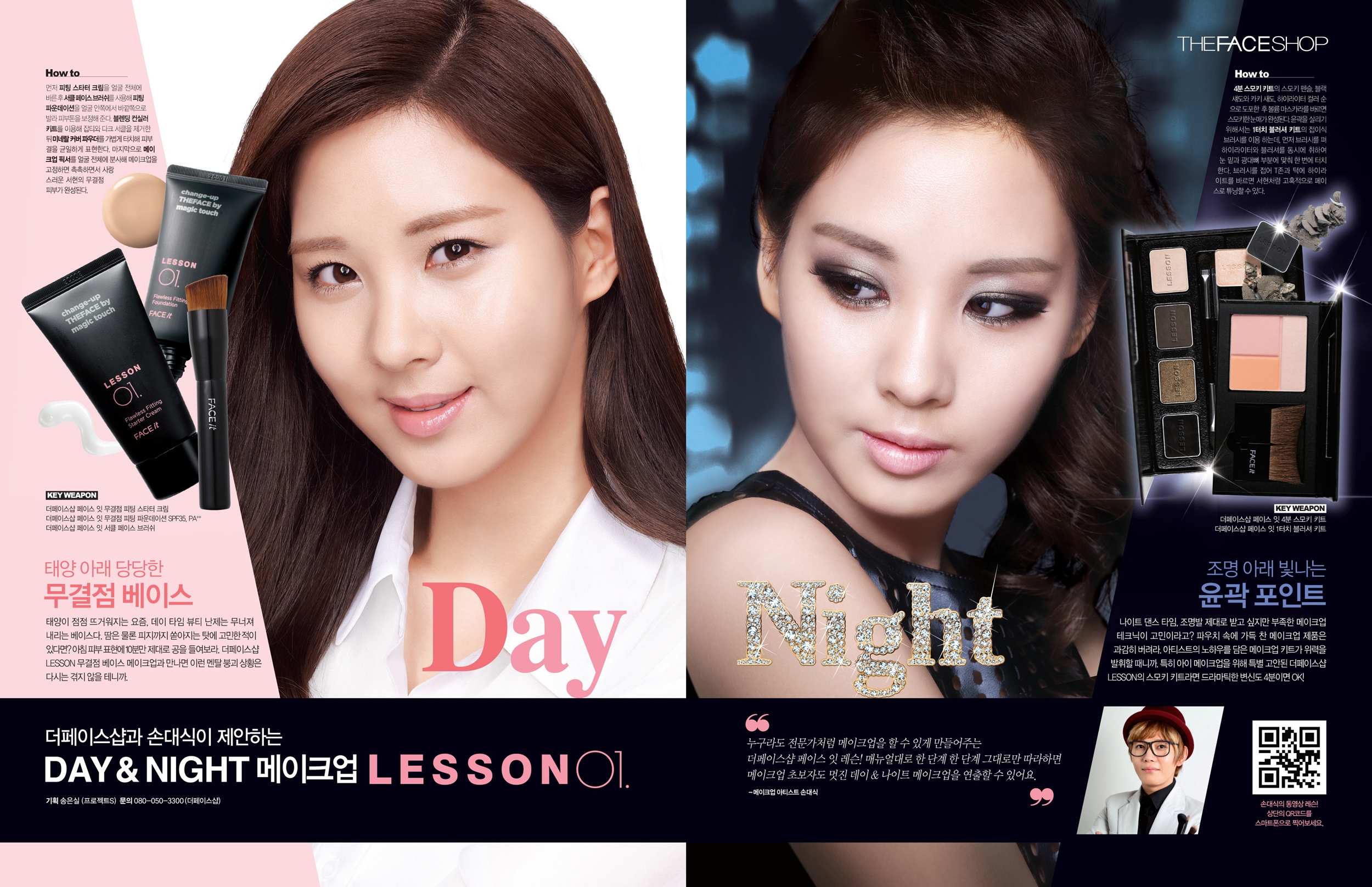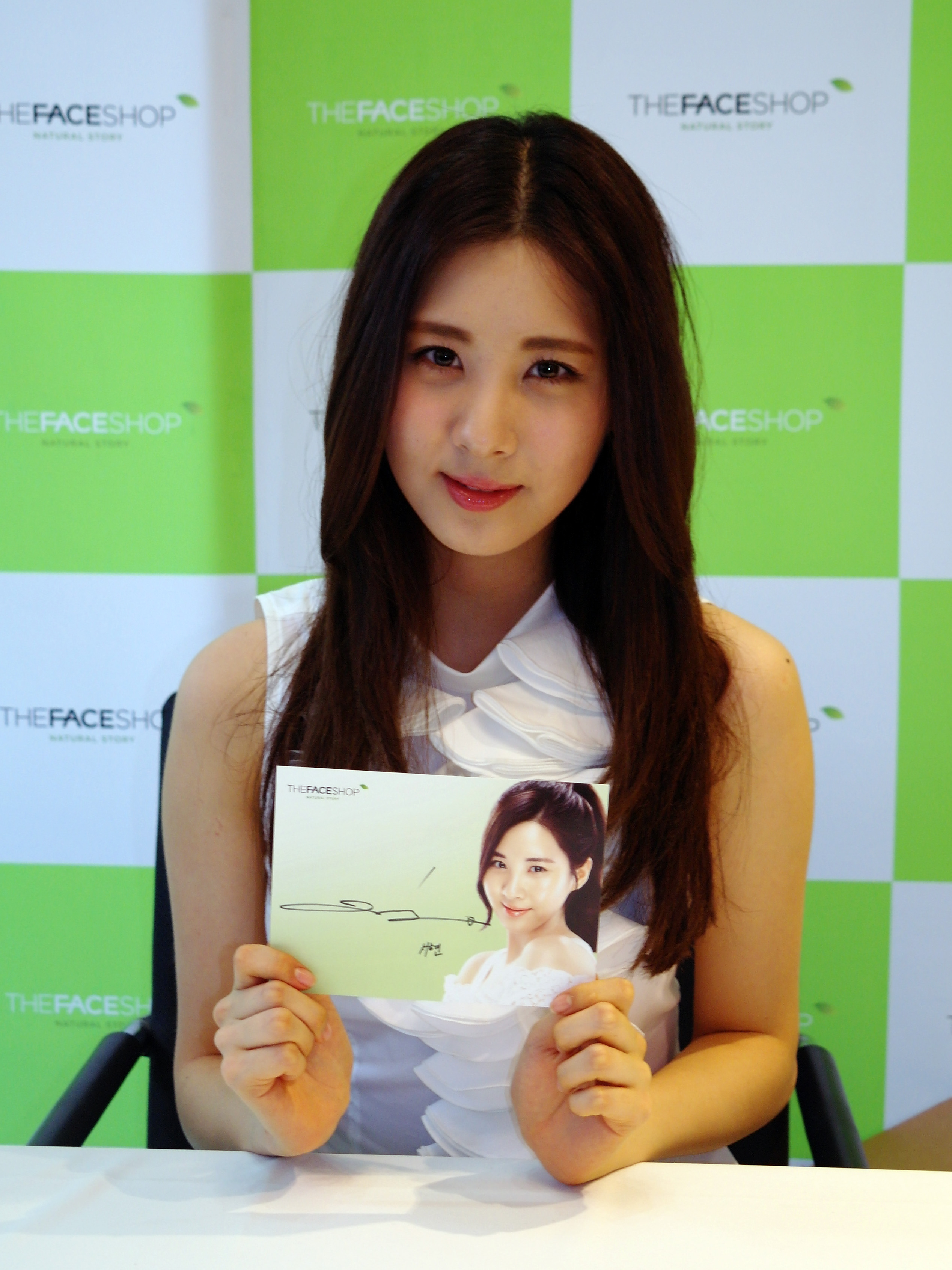 Seohyun's promotions for "The Face Shop" continue as she appears in another commercial for the company's products. This advertisement has a "Day/Night" concept, allowing Seohyun to show two contrasting looks, from her bright, innocent "Day" to her dark, alluring "Night". On July 4th, Seohyun attended an unannounced fansigning for "The Face Shop", and no photos were allowed.
Lotte Department Store Releases CF Featuring Girls' Generation
On June 29th, to advertise its ten-day "Challenge Sale", the Lotte Department Store revealed a commercial starring all nine of the girls. The ad included close-ups of a few members as well as shots of the entire group, all against a bright, flashing, silvery background.
Others
Sunny Attends "Deranged" Movie Premiere with SISTAR's Bora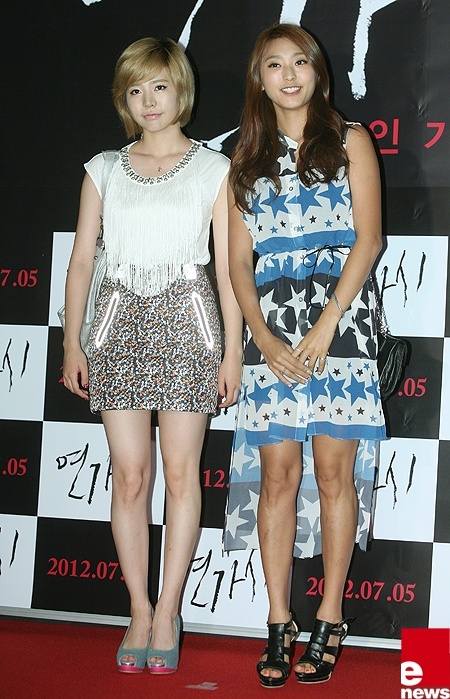 Sunny recently attended the movie premiere for "Deranged", a film directed by Park Jeongwoo. SISTAR's Bora, who is a fellow cast member on KBS 2TV's "Invincible Youth 2", arrived at the premiere with her. You can find press photos of Sunny at the event in Soshified's Photos Section.
Jessica Replies to UFO Messages
Jessica recently replied to several UFO messages from her fans. She showed off her playful and cute personality, yet also proved why she has the nickname "Ice Princess". Jessica answered questions about Girls' Generation's recent trip to Macau, the comparisons between her baseball pitch and Krystal's, and many more. You can read her replies in Soshified's Translated Goodies Section.
MyPaper Mentions Tiffany's Role in "Fame"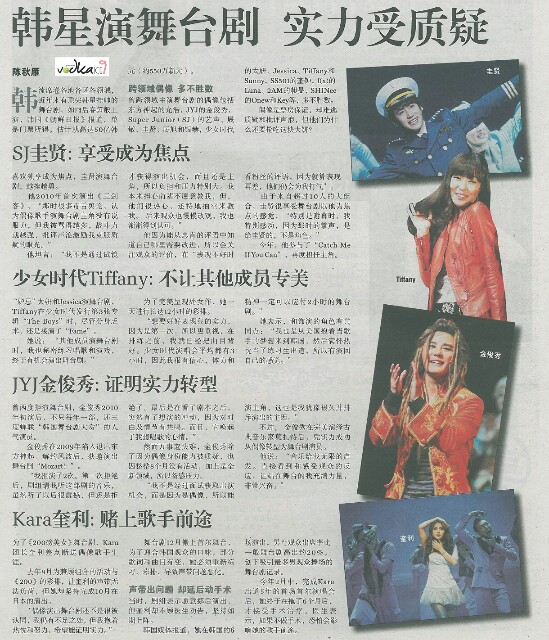 A daily newspaper in Singapore, "MyPaper", reported on the influx of Korean idols trying their hand at musicals. Among the idols, Tiffany's recent participation in "Fame" was included.
"I AM" Twitter Account Posts Picture of Sooyoung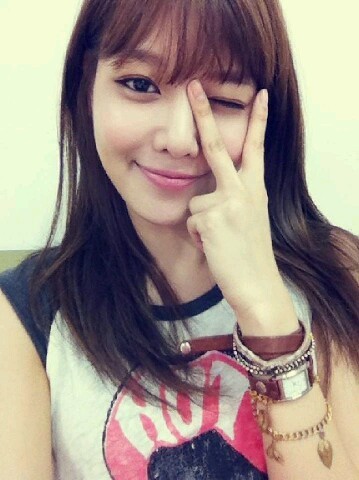 Sooyoung took a quick selca for the "I AM" official Twitter account. She gave a cute v-sign pose with a wink.
 Yuri Goes Scuba Diving in Jeju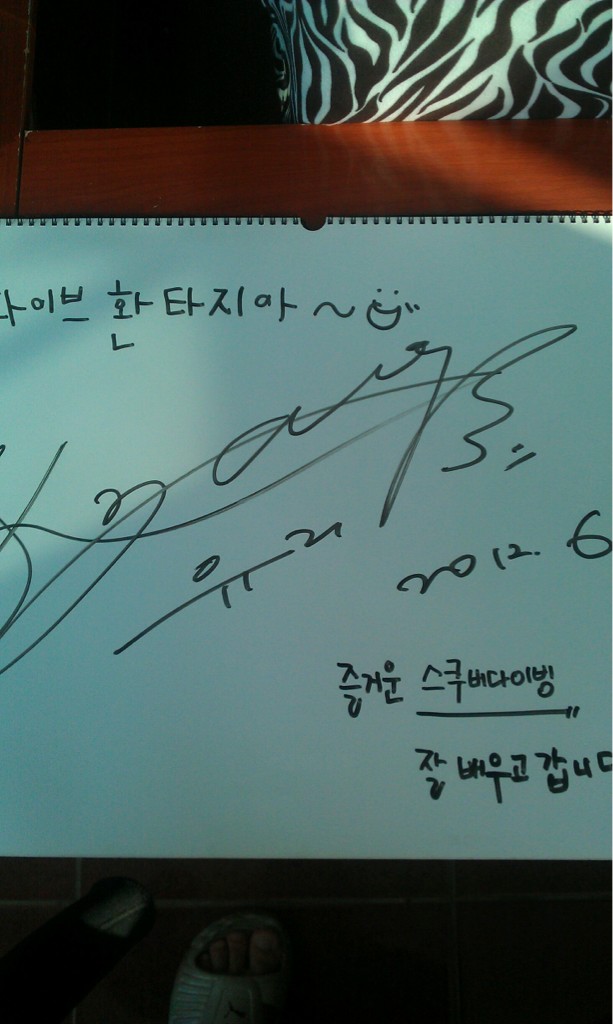 Yuri learned scuba diving last week during her time off in Jeju. She left a short message along with an autograph for her fans. The message read: "dive fantasia~ fun scuba diving, I'm learning well."
Girls' Generation Featured in Singapore's "U-Weekly Magazine"
Girls' Generation was featured in Singapore's "U Weekly Magazine". A brief summary of their recent activities and commentary on their dedication to success was mentioned.
Yuri Responds to UFO Messages
Yuri recently made a long-awaited visit to UFO Town and replied to messages from fans. Her answers were bright and playful as she discussed her trip to Jeju, gave advice and encouragement, and revealed her favorite childhood manhwa (comic) character. Translations of all her UFO messages can be found in Soshified's Translated Goodies Section.
Jessica and Tiffany Attend "Kolon Sport 2012 Fall/Winter Collection Fashion Show"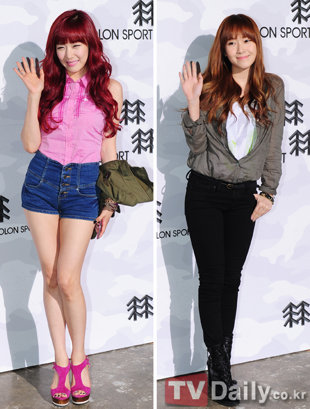 Jessica and Tiffany recently attended the "Kolon Sport 2012 Fall/Winter Collection Fashion Show". Jessica sported a combination of dark colored outer shirt and a white inner shirt, both neatly tucked in, while Tiffany was dressed in a pink sleeveless blouse and denim shorts, showcasing her famed honey thighs. You can check out more photos from the fashion show in Soshified's Photos Section.
Wonder Girls Share Their Thoughts on Girls' Generation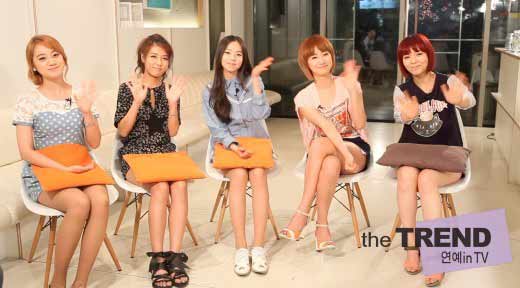 In the June 30th episode of TV Chosun's "Celebrity in TV – the TREND", Wonder Girls were asked questions on their rival, Girls' Generation. Wonder Girls' Yenny then said that the members of Wonder Girls often keep in contact with members of Girls' Generation through calls and texts. Since both Girls' Generation and Wonder Girls debuted around the same time, they can easily empathize with one another and eventually bonded.
f(x)'s Krystal Wants to Duet with Jessica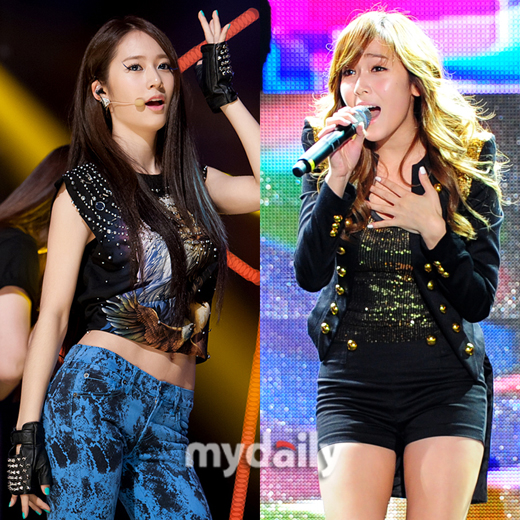 f(x) recently appeared on Younha's MBC radio show "Starry Starry Night" and were asked a question on whether they have ever imagined themselves doing a duet with another group's member. In reply to this, Krystal chose her own sister, Girls' Generation's Jessica. She touched on the exciting moments of being on the same stage with Jessica while performing a song on SMTOWN concerts and expressed her desire to do a duo unit with her sister.
Hyoyeon Slips During "Dancing with the Stars II" Performance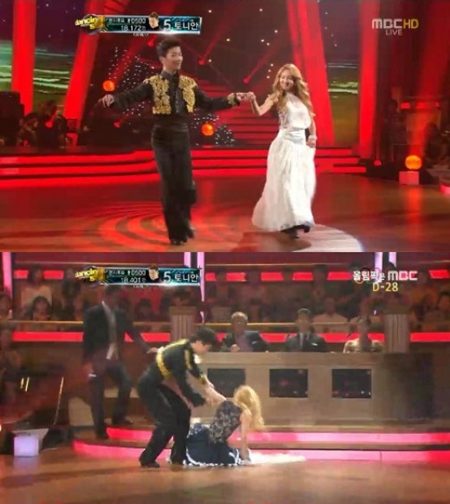 With five teams left, the eighth round of "Dancing with the Stars II" was broadcast on June 29. Hyoyeon and her partner, Kim Hyungsuk, decided to dance the foxtrot. Unfortunately, in the middle of their performance Hyoyeon stepped on the dress she had thrown on the floor earlier and fell to the ground. Her partner quickly pulled her up again and the two finished the dance with the same energy as before. The judges praised Hyoyeon for continuing with the performance despite her accident and also complimented the pair's exceptional teamwork.
Sooyoung Attends Busker Busker Concert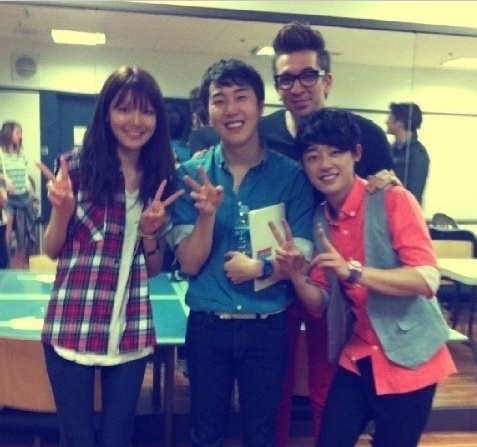 Sooyoung recently attended a Busker Busker concert. She took a quick selca with the group backstage, giving a cute double v-sign pose.
Yuri, Yoona, and Seohyun Attend "K-League All Star Soccer Match"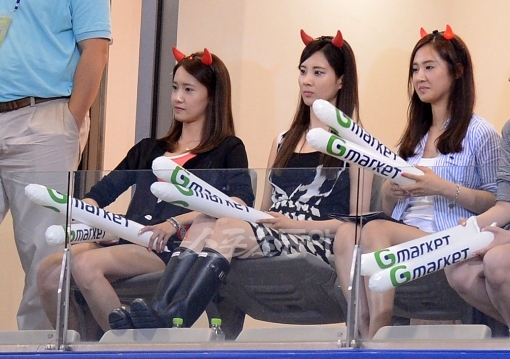 Yuri, Yoona, and Seohyun attended the "K-League All Star Soccer Match" on July 5th in Seoul. The girls can be seen intently watching the game, each with different facial expressions.
Tiffany and Seohyun Attend Salvatore Ferragamo Flagship Store Launch
Tiffany and Seohyun attended the Salvatore Ferragamo flagship store launch on July 5th. Both ladies looked stunning wearing the outfits of the brand itself, despite the rainy weather. For photos of the event, check out Soshified's Photo Section and Soshified Styling.
Dongbu Robot Plans to Launch Girls' Generation Robots
Dongbu Robot, a South Korean robot manufacturer, recently announced plans to work with other robot engineering companies to create mechanical versions of popular K-Pop stars, such as Girls' Generation and Super Junior. These robots will be able to mimic the dances performed by the idols, and will have details such as artificial skin in order to look more like the stars in question. Users will be able to purchase and download the latest songs and dances for their robots to perform. Dongbu Robot and its associates hope to complete this project by the end of this year. You can read the full article here.
Pixie Lott Mentions Girls' Generation
Singer Pixie Lott spoke about Girls' Generation in a recent feature for "InStyle Magazine". In the interview, she said, "K-pop has many songs that are passionate. I heard Girls' Generation's music when I went to Japan, and I thought it was amazing. I hear that Girls' Generation sang one of my songs on TV? It feels great."
Kids in Nepal Watch "The Boys"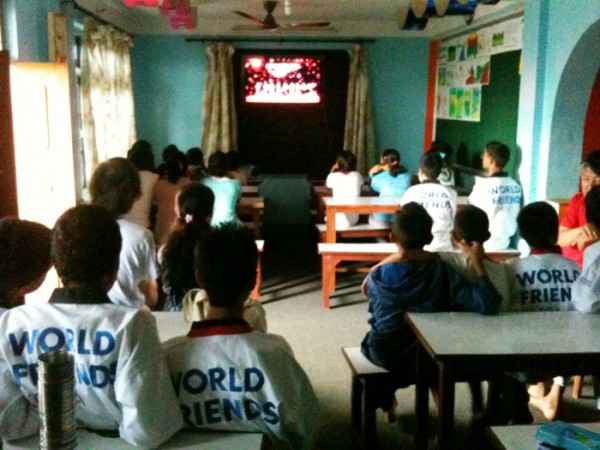 A group of kids in Nepal were recently shown watching "The Boys English Version". The kids were especially captivated by Girls' Generation's beauty, even saying, "They're the prettiest!"
Tiffany and Seohyun Attend "Wonder World: Tour in Seoul 2012"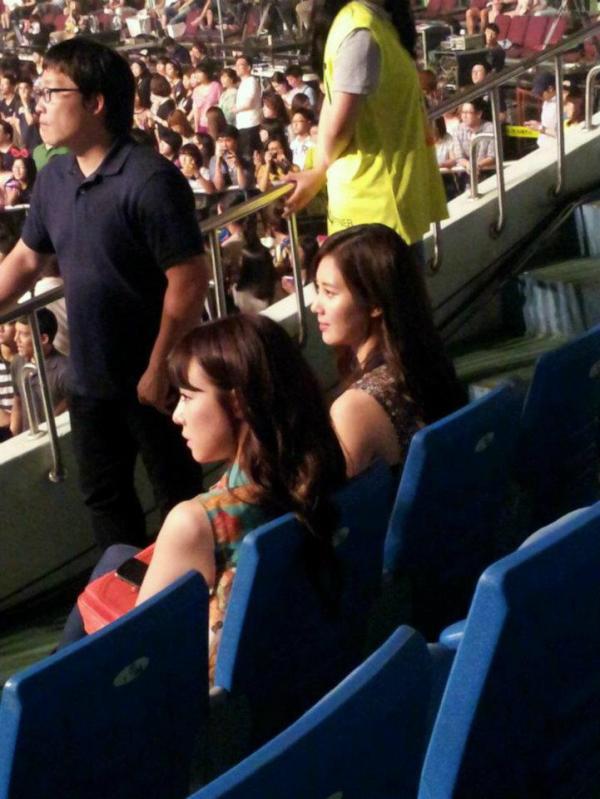 Tiffany and Seohyun were seen attending the Wonder Girls concert on July 7th. In the picture, the girls can be seen attentively watching the show. It's great to see fellow artists support one another, and even better, seeing good friends do so.
Yoona Attends Jang Geunsuk's "Crishow"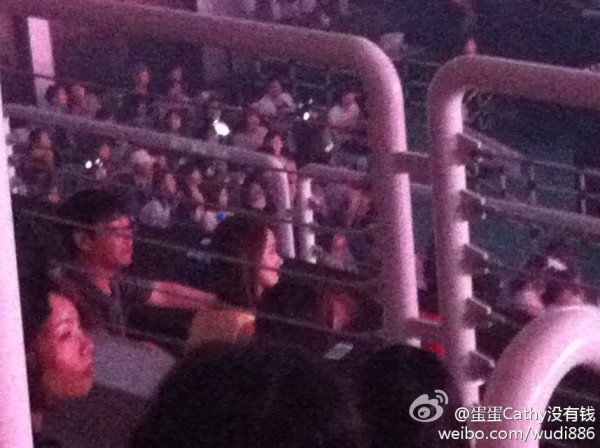 On July 7th, Yoona was spotted attending Jang Geunsuk's "Crishow" along with fellow label mate Heechul of Super Junior. Yoona not only went to enjoy a little time off from her busy schedule, but also to show support for her former "Love Rain" co-star.
Taeyeon Leaves Message on Girls' Generation's Official Website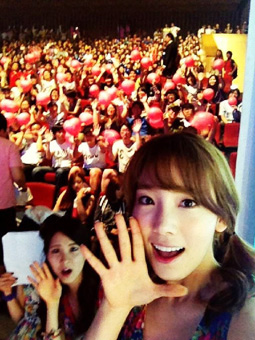 Recently, Taeyeon posted two selcas of herself and a crowd of cheering SONEs. Along with the pictures, she left a message saying that she was looking forward to more of these photo-taking opportunities in the future. To see both selcas and the full translated message, visit Soshified's Translated Goodies Section.
Photos
Jessica Uploads New UFO Picture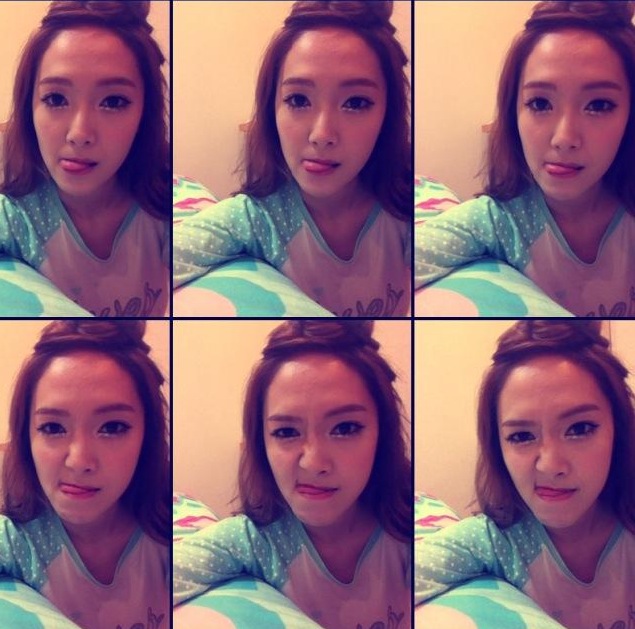 Recently, Jessica posted a new set of pictures on her UFO account. The six frames show her making cute expressions at the camera while sticking her tongue out.
New Sets of Pictures
GiRL de Provence – Taeyeon, Jessica, Tiffany, Hyoyeon, Yoona

LOOK – Tiffany1, Tiffany2, Tiffany3

@Star1 – Sooyoung, Group1, Group2, Group3
SONE Picture/Video of the Week
Since it was recently Seohyun's birthday on June 28th, fans were encouraged to send in essays and FMVs dedicated to Girls' Generation's maknae. The grand-prize winning essay, written by Soshified user ITCHYSOCKS, explores Seohyun's development personality-wise. ITCHYSOCKS notes that Seohyun was the "silly but cute 4-dimensional girl" during her debut days, but began to mature as she spent more time as a member of Girls' Generation, from her role on the show "We Got Married" to her latest activities promoting as part of a subunit with Taeyeon and Tiffany. Also, the winning FMV was made by inroxd, and showcased the many sides of Seohyun. Visit the
Seohyun Projects Thread
in Soshified's forums for a look at all the winning essays and FMVs.
If you have any pictures or videos you'd like to submit for SONE Picture/Video of the Week, please feel free to do so by sending them to the Soshified Writing Team at tip@soshified.com or posting at the official SONE Picture/Video of the Week thread.
Sources: vodkaice9@twitter.com 1, GiRL de Provence Facebook 1, GiRL de Provence Facebook 2, GiRL de Provence Facebook 3, AASNSD@YouTube.com, iam_movie@twitter.com, jejuseasky2011@twitter.com ecoinnisfree11@YouTube.com, yoon_duck@twitter.com, UFO Town, Yurui, vodkaice9@twitter.com 2, _Yunie108@twitter.com, TVDaily, Chosun, Mydaily, yuldori1205@YouTube.com, bntnews, The FaceShop, SoneHD@YouTube.com, IamCutePokemon@YouTube.com, js_yuri125@twitter.com, Naver, sonekiho0418@YouTube.com, SSTVnews@YouTube.com, Straits Times, starjn, arirangworld@YouTube.com, InStyleKorea, Lotte, Innisfree Facebook, DC Gallery, js_yuri125@twitter.com, Twiteettay@twitter.com, intoxd9@youtube.com
Written by: kt9823@soshified, moonrise31@soshified, Best Served Soup@soshified, amipiai@soshified, m a k n a e@soshified
Contributors: jyhwang@soshified, minigiglo@soshified, SNSDDani@soshified, ch0sshi@soshified
Have a news item that you think Soshified should know about? Leave us a tip or e-mail us at tip@soshified.com.
Follow us on Twitter: http://twitter.com/soshified for the latest on Girls' Generation.