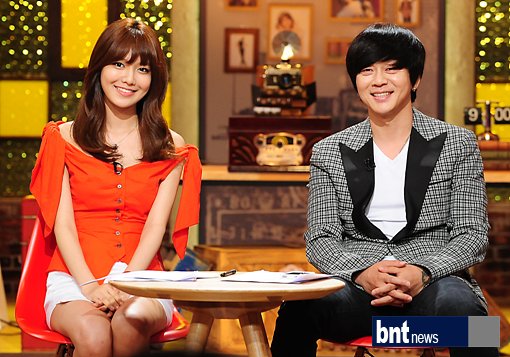 Girls' Generation's Sooyoung and YB's Yoon Dohyun showed off their stable teamwork when they emceed "Midnight TV Entertainment" for the first time.
On June 6th, Sooyoung and Yoon Dohyun appeared as the new MCs of the SBS celebrity news program "Midnight TV Entertainment", succeeding Seo Kyungseok and Yoo Inna.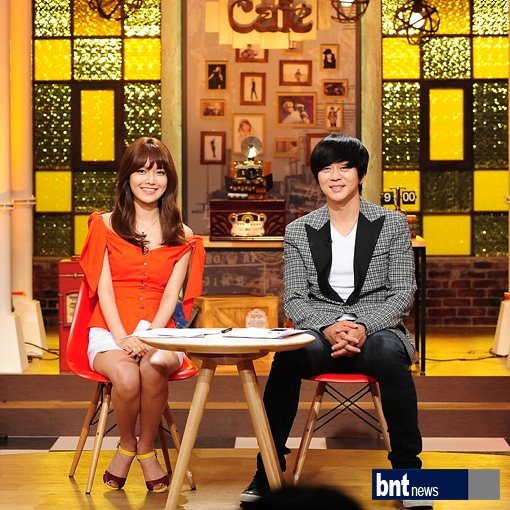 When asked about how she felt when she was offered the position as MC, Sooyoung revealed, "I immediately said yes."
Yoon Dohyun replied, "I had difficulties deciding. Because we're delivering word about other people, you can't help but be careful. I will take it on with the mindset of sharing both happiness and sorrow."
After revealing their thoughts, Yoon Dohyun and Sooyoung added more energy to their first program with a strong chant. Despite it being their first broadcast, they led the program safely and calmly without any mistakes.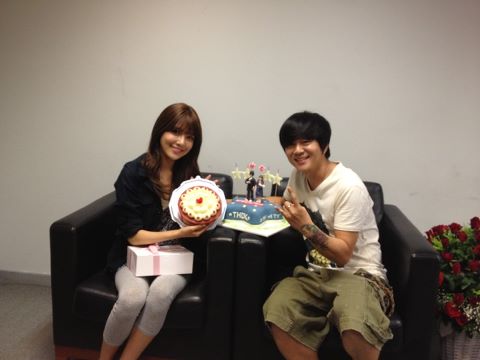 Yoon Dohyun tweeted a picture of himself and Sooyoung with a couple of cakes celebrating their first shows as MC's. Yoon tweeted, "We were lacking today, but thank you for your support. Because Sooyoung doesn't have SNS (social networking site), I'm delivering thanks to both Sooyoung's fans and YBF (Yoon Dohyun Band Fans). 'Hanbam' (the shortened way to say 'Midnight TV Entertainment') on Wednesdays!!!"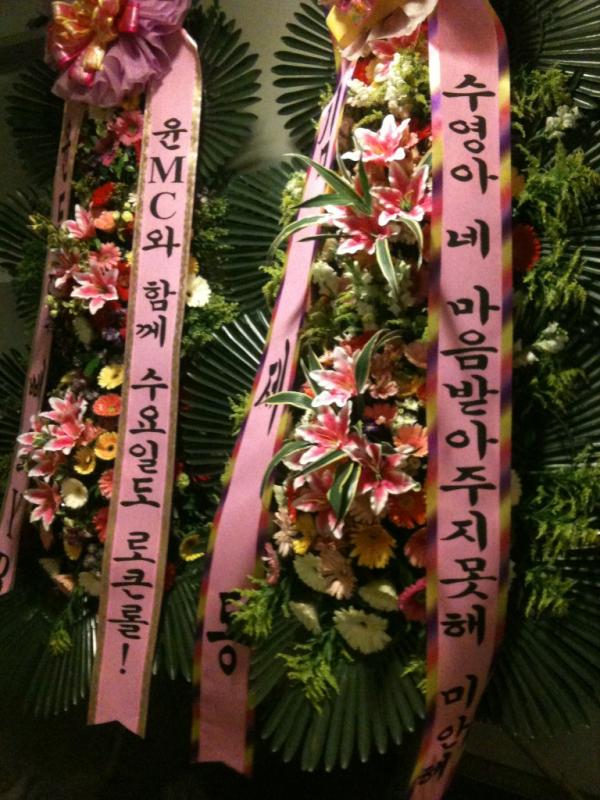 Comedian Kim Jaedong also sent Sooyoung and Yoon Dohyun wreaths to commemorate their first show as hosts of "Midnight TV Entertainment". Sooyoung's wreath, on the right, says, "'Congratulatory wreath for "Hanbam"'s new MC! Sooyoung-ah~ I'm sorry I couldn't accept your feelings.' -Kim Jaedong-"
Sources: StarNews, bntnews, ybrocks@twitter.com, hontono_watashi@twitter.com
Written by: residentbenchwarmer@soshified
Translated by: ch0sshi@soshified
Contributor: bhost909@soshified
Have a news item that you think Soshified should know about? Leave us a tip or e-mail us at tip@soshified.com.
Follow us on Twitter: http://twitter.com/soshified for the latest on Girls' Generation.