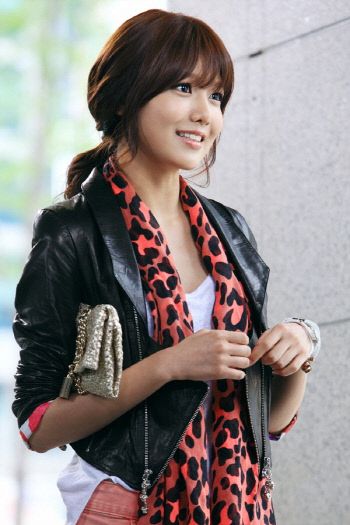 Updated with new video:
On June 9th, Sooyoung made her cameo appearance on "A Gentleman's Dignity". Acting as herself, Sooyoung enters a scene in a cafe as the three of the four main characters are discussing the best member of Girls' Generation. Kim Minjong's character, Choi Yoon, who previously was embarrassed seeing his friends arguing about their favorite members, runs to ask Sooyoung for an autograph and performs parts of the dances for Girls' Generation songs such as "Hoot", "Gee", and "Genie".
Check out Sooyoung's cameo appearance below.

Previous article from 06/07/12:
Girls' Generation's Sooyoung will be making a special appearance in "A Gentleman's Dignity", a drama starring Kim Minjong, who is represented by the same management company as Sooyoung.
On June 9th, Sooyoung will be adding humor to the fifth episode of the SBS weekend drama "A Gentleman's Dignity" by making a cameo appearance as herself. During the episode, "middle-aged flower boys" Jang Donggun, Kim Sooro, Kim Minjong, and Lee Jonghyuk are arguing with serious faces over which Girls' Generation member they like more. The scene will have Sooyoung appear all of a sudden, making the four men freeze. Kim Minjong expresses embarrassment over his friends talking about Girls' Generation and will cause laughter by acting unexpectedly after meeting Sooyoung.
Last month, when the filming took place in Nonhyeon-dong, Seoul, Sooyoung wore shorts that emphasized her slim legs and a black, leather jacket. She personally greeted each actor, showing her well-mannered posture and creating a pleasant atmosphere. Sooyoung also showed off her natural, perfect acting with her company senior, Kim Minjong, whom she is normally close with.
As soon as Sooyoung appeared on the set, all the staff members were busy pulling their phones out, trying to take pictures of her. Sooyoung greeted each of the staff members and gave a friendly vibe, earning her compliments such as, "She's really an angel." As a way of commemorating Sooyoung's drama filming, Kim Sooro also tweeted a photo of himself with Sooyoung and the cast of the show.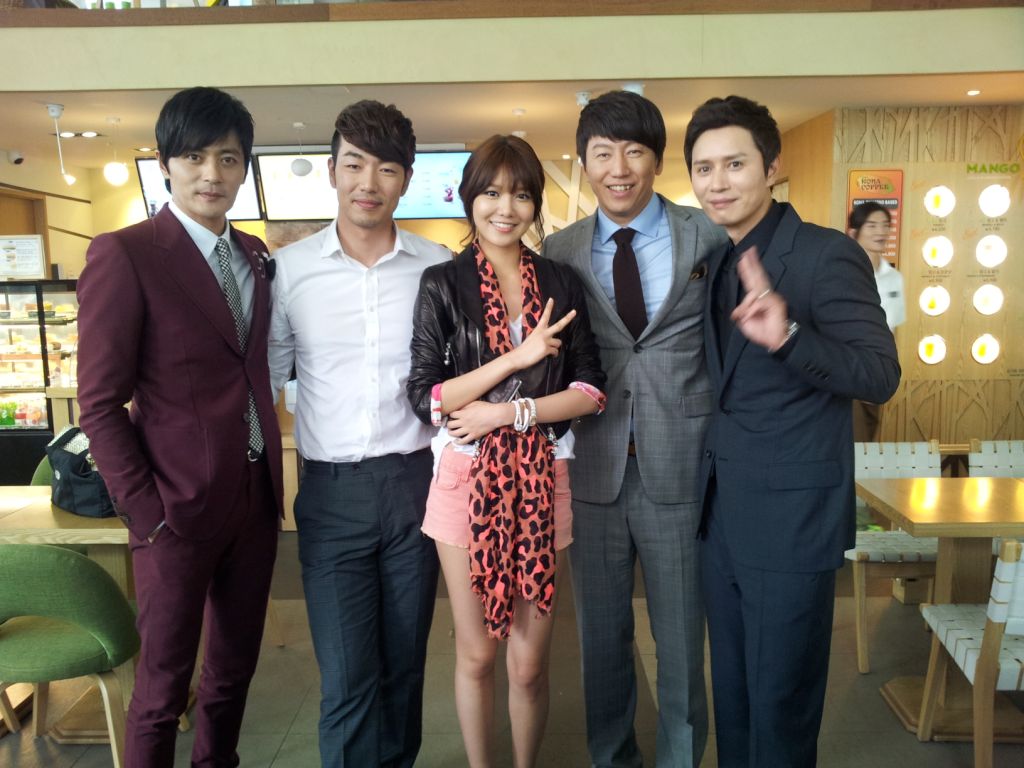 Sooyoung's cameo appearance was made possible due to her friendship with Kim Minjong, who has a reputation for knowing many people. Kim Minjong is known for keeping close relationships with his junior singers. While speaking about Girls' Generation with the drama's writer, Kim Eunsook, Kim Minjong suggested the appearance of Sooyoung herself, to which Sooyoung agreed without any hesitation.
The drama's production company, "Hwa & Dam Pictures", revealed, "Girls' Generation Sooyoung's appearance alone had the staff going wild, and she showed great energy on the set. Sooyoung and Kim Minjong's acting is expected to deliver entertainment to the viewers."
Check out a preview of Sooyoung's cameo appearance below.
Source:
SportsSeoul
,
iheartsooyoung2@YouTube
,
bug fany@YouTube.com
Translated by: ch0sshi@soshified
Written and Edited by: bhost909@soshified, residentbenchwarmer@soshified
Have a news item that you think Soshified should know about? Leave us a tip or e-mail us at tip@soshified.com.
Follow us on Twitter: http://twitter.com/soshified for the latest on Girls' Generation.