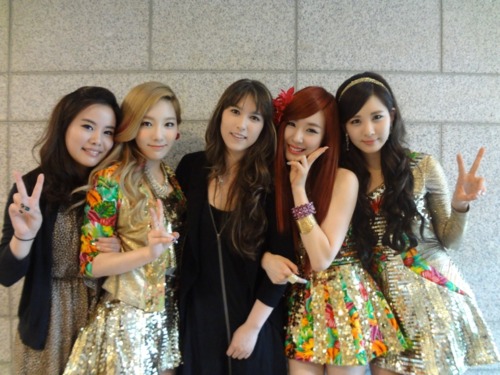 Girls' Generation – TTS was featured on Arirang Radio's "K-Poppin'" in the "Star Close Up" segment on June 8th.
The radio show, hosted by fellow SM Entertainment artist DJ Isak, was broadcast from noon to 2PM KST. Although the interview with Girls' Generation – TTS was only played in the second half of the radio show, so many SONEs tuned in to listen to the show and leave a comment on the message board that the server crashed. In the end, DJ Isak had to resort to using Twitter to reply to the messages left for her.
DJ Isak also took the chance to share about her friendship with the girls. She revealed that she first met a cute, pig-tailed Tiffany in Los Angeles when Tiffany approached her at a concert. Also, she said that during their trainee days, Taeyeon was given the nickname, "Tae Tae", and up till this day, Isak's mother still calls Taeyeon that.
During the interview, the girls talked about a wide variety of topics and mentioned that they are currently working on a Korean album scheduled to be released at the end of this year. Also, Tiffany shared that she would like to go backpacking in Europe, while Taeyeon and Seohyun said that they would like to visit Egypt.
You can check out the cute interview with Girls' Generation – TTS below, or download the interview section from Soshified's Audio Downloads. The full audio clip of the radio show can also be downloaded here.
Source: hangthienbao1@YouTube.com, realISAK@Twitter.com
Written by: letaengbutt@Soshified
Edited by: MoonSoshi9@Soshified, bhost909@Soshified
Have a news item that you think Soshified should know about? Leave us a tip or e-mail us at tip@soshified.com.
Follow us on Twitter: http://twitter.com/soshified for the latest on Girls' Generation.