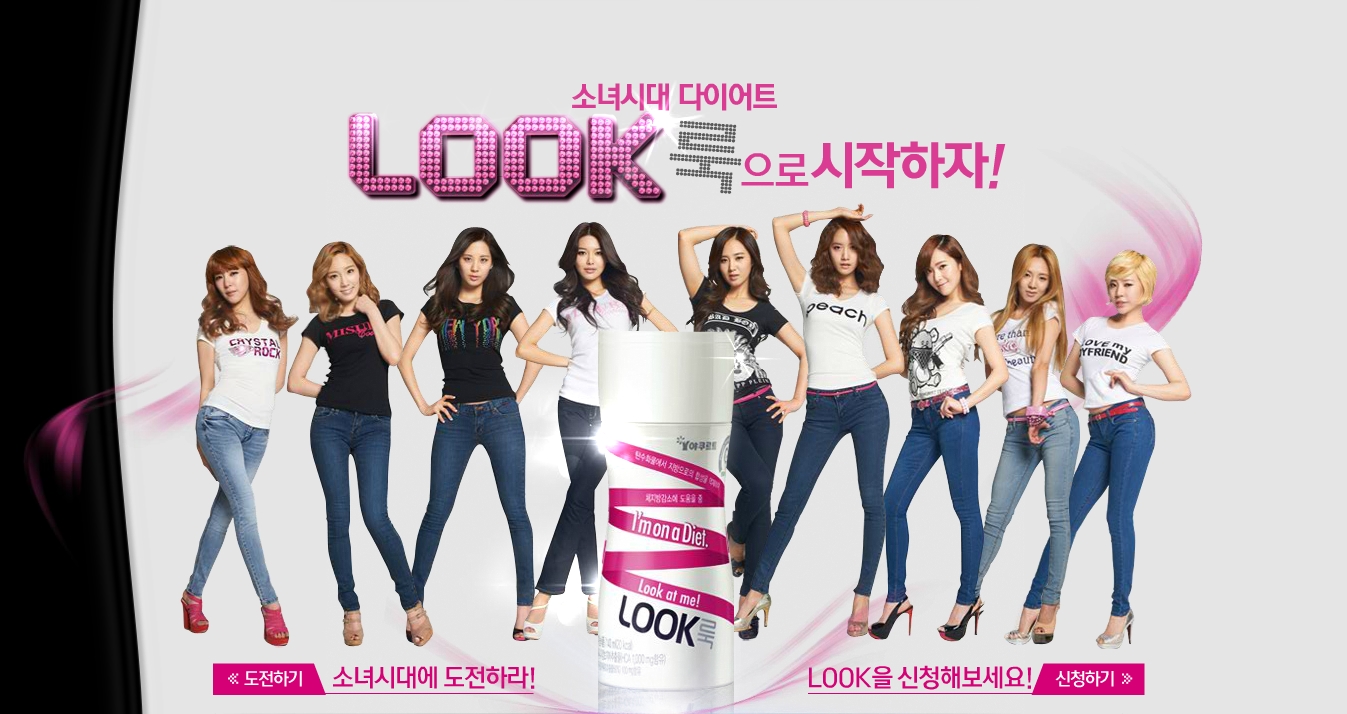 One of Girls' Generation's latest endorsement deals is with Korea Yakult. In the spirit of the coming summer season, during the first week of June the company began revealing videos of each member promoting Yakult's "LOOK" diet drink. Every girl has something slightly different to say about the product, so check out all the videos and their descriptions below:
Taeyeon starts by asking the viewers if they know that constant management is essential to dieting, which is the reason why "LOOK" is a good choice for a day to day diet routine. She also advises that some exercise helps improve the diet. At the end of the video, Taeyeon kindly asks viewers to experience "LOOK" for themselves.
Jessica observes that with summer quickly approaching, dieting season has begun. She encourages viewers to drink "LOOK" to help meet their diet goals.
In this CF, Sunny sympathizes with viewers, acknowledging that dieting can be difficult. But she encourages them to continue, saying that drinking "LOOK" once every day, along with exercising to fun music, will make the entire process quicker and less monotonous.
Tiffany starts by asking if viewers will be prepared when summer arrives. If they're not, then "LOOK" is the way to go: it's easy to get and easy to drink as well.
Throughout the video, Hyoyeon offers several tips for dieting. The first piece of advice she offers is to take pictures of your body while you are on a diet, which helps with keeping track of your progress and boosts motivation. She also advises that going out on weekends with family or friends, and even taking short walks helps with dieting. However, Hyoyeon says that the most important thing is to eat three meals a day and to make sure they're balanced meals, and to not over eat. Hyoyeon ends the video by encouraging everyone to try hard, and that they can achieve a balanced and beautiful body.
Yuri cheers viewers on, telling them that despite all the hardships that come with getting in shape for the summer, the final result will be worth it. So don't give up: by working out even a little bit everyday, a more beautiful self will begin to emerge.
Sooyoung, along with other Girls' Generation members, is often asked how she keeps her figure with such a packed schedule. For her, drinking "LOOK" everyday along with exercising and eating well are all crucial steps to keeping her body healthy and slim.
Yoona spends some time discussing the ingredients of "LOOK", which help suppress the intake of trans fats. She also explains how the drink can be delivered to the viewers.
Seohyun informs viewers that "LOOK" is promoting a twelve-week diet program. During that time period, participants may also receive support messages from Girls' Generation. She encourages viewers who are curious about how much can change in twelve weeks to try the "LOOK" diet.
Source: dietlook@YouTube.com
Written by: moonrise31@soshified, SeraphKY@soshified
Contributors: ch0sshi@soshfied, dongie@soshified
Edited by: michaelroni@soshified
Have a news item that you think Soshified should know about? Leave us a tip or e-mail us at tip@soshified.com.
Follow us on Twitter: http://twitter.com/soshified for the latest on Girls' Generation.