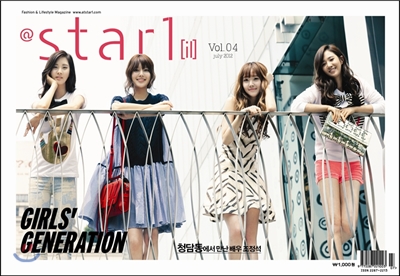 Girls' Generation's Jessica, Yuri, Sooyoung, and Seohyun have been featured in the July issue of celebrity lifestyle magazine, "@star1". The magazine and the members worked together for a paparazzi concept photoshoot. In order to promote the magazine, "@star1" has released several behind-the-scenes videos of the four members during the photoshoot, which took place in Cheongdam flagship store of American fashion designer Tory Burch. The photoshoot was also held in the Seoul Cheongdam district branch of the life style concept store, 10 Corso Como, which currently offers the "GiRL de Provence" perfume line, endorsed by Girls' Generation. The Seoul Cheongdam district is known as the center of fashion in Korea.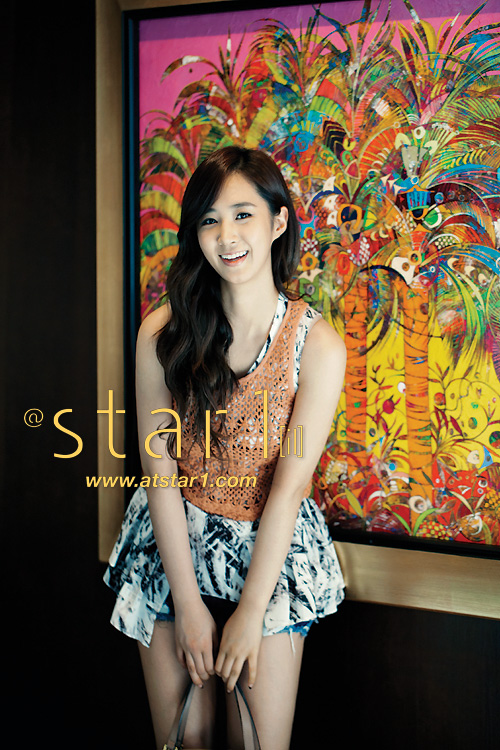 In addition, "@star1" magazine also conducted an interview with Girls' Generation during the photoshoot. Yuri spoke about acting in "Fashion King", saying that it was her first time acting and that it was more difficult than she thought it would be. However, despite the difficulty, she still enjoyed her experience. She continued by saying, "After starring in 'Fashion King', the one thing that's changed a lot is that a lot more older ahjummas and ahjusshis
(translator's note: older women and men)
have been recognizing me than before. At restaurants or on the streets, a lot of people have been recognizing me as Yuri from 'Fashion King'. It was really amazing. I could see the power of dramas." Yuri also expressed her desire to continue to pursue acting, saying, "I hope there are more chances for me to act in the future. I want to continue acting." More photos of Yuri in "@star1" magazine can be found in
Soshified's Photos Section
.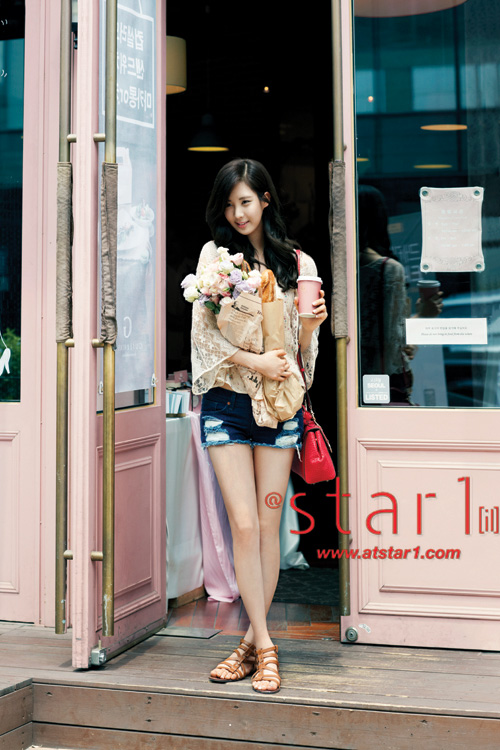 "@star1" magazine also interviewed Seohyun, who spoke about her time promoting in Girls' Generation – TTS. Seohyun revealed, "It was a bit unfamiliar promoting as three members instead of nine, but as time went by, it became really fun and I learned a lot." Seohyun then talked about the differences caused by promoting with fewer members, saying, "Because we were only a group of three, there were more things I was responsible for, and through that, I was able to learn more about singing and stage manners." Photos of Seohyun from "@star1" magazine can be found in
Soshified's Photos Section
.
Check out the behind-the-scenes videos of the "@star1" magazine photoshoot below.
Sources:
yes24
, Newsen via
Daum
1, Newsen via
Daum
2,
atstar11@YouTube.com

Written by: bhost909@soshified
Contributor: SNSDDani@soshified, ch0sshi@soshified
Edited by: michaelroni@soshified
Have a news item that you think Soshified should know about? Leave us a tip or e-mail us at tip@soshified.com.
Follow us on Twitter: http://twitter.com/soshified for the latest on Girls' Generation.