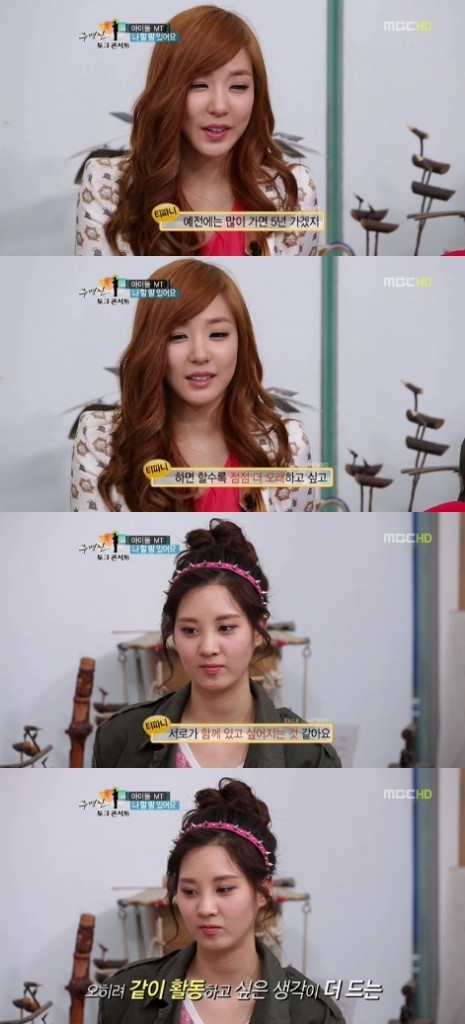 On May 10th, Tiffany and Seohyun appeared on MBC's "Joo Byungjin's Talk Concert", along with labelmates Leeteuk and Eunhyuk from Super Junior and TVXQ's Yunho and Changmin. On the show, Tiffany and Seohyun talked about the life span of girl groups and their hope to continue promoting as Girls' Generation, as well as Seohyun's troubles with her "proper lifestyle" image.
Tiffany stated, "When Girls' Generation first debuted, it's true that I thought, 'We'll probably last about five years, tops.' But as we continued to promote, I wanted to be active as Girls' Generation even more and wanted to continue on together." She added, "One would expect to become greedy for individual activities, but I want to promote together as a group more."
Seohyun added, "There are a lot of people who don't think girl groups last very long, but Girls' Generation wants to break that theory."
Later in the show, Seohyun discussed the difficulties that come with her "proper lifestyle" image. She admitted, "People think of my entire image as a kid who lives a straight and narrow life, so I can feel myself not being able to act comfortably. I've been thinking that I want to go through some different life experiences and have been learning a lot while living with my other members."
She continued, "People think, 'That girl Seohyun sleeps at twelve o'clock, is strict on herself, and has a lot of things she shouldn't do'. At one point, I felt like I was holding myself down too much. I have had a lot of worries lately."
TVXQ's Changmin reassured her, saying, "As another person who lived as the youngest member of an idol group at such a young age, there are a lot of things that I agree on and can sympathize with."
Sources: Newsen, Star
Translated by: ch0sshi@soshified
Edited by: bhost909@soshified, bethlyhem.@soshified
Have a news item that you think Soshified should know about? E-mail us at tip@soshified.com.
Follow us on Twitter: http://twitter.com/soshified for the latest on Girls' Generation.