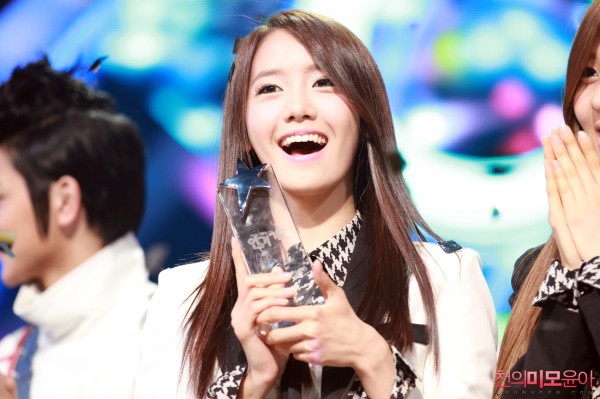 I won this award for singing "Happy Birthday" to myself. Don't judge.
It is no small feat to be named the face of Girls' Generation, to be in the center of each group photo and the center of attention at many public events. Out of a group of nine beautiful girls, Yoona nonetheless deserves the spotlight. A gorgeous goddess, she has been the group's visual front and center from the start. She has also taken this job and run with it, expanding the group's renown while broadening her own capabilities.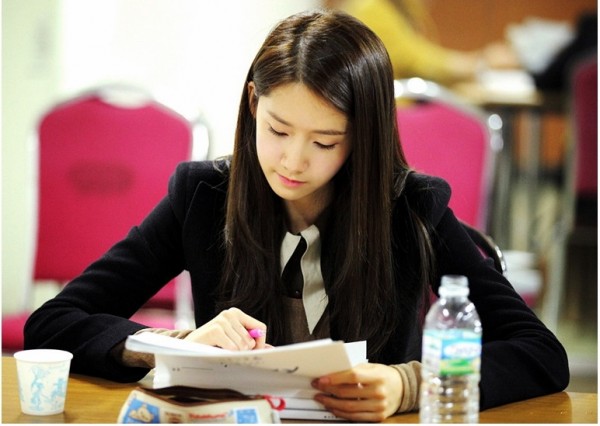 Just looking over what I should do next.
Like any good employee, Yoona dutifully completes any requests that SM Entertainment has for her, including being the center of Girls' Generation, as was mentioned before. However, it's a testament to Yoona's character that for someone who is in the public spotlight day in and day out, Yoona does not bask in the fact that she is officially the face of the group. She does her best with what she has to do, however, and while Girls' Generation was still getting its footing, the most famous member at that point was always introducing herself as "Girls' Generation's Yoona", trying to bring more attention to the group as a whole.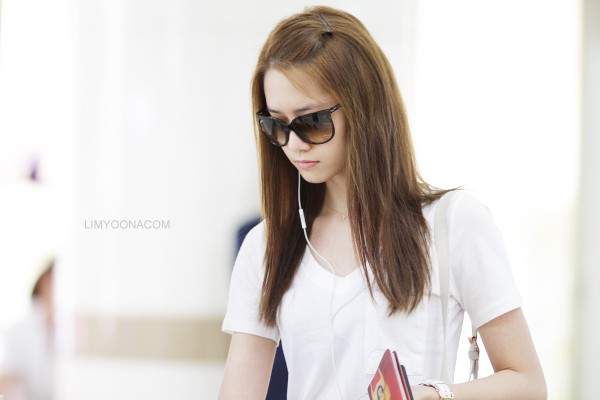 Maybe if I acted nonchalant, people will notice the other girls more.
It's no wonder Yoona has succeeded in this task, with all of the activities she has participated in. Outside of being a part of Girls' Generation, Yoona may be best known for acting in TV shows. After her guest appearance on "Unstoppable Marriage" with all of the other members, Yoona got to star in her own program, taking on a lead role in "You Are My Destiny". Even though this role was her first major acting experience, Yoona received quite a few awards, including the Best New Actress Award and Popularity Award from the 2009 45th Baeksang Arts Awards, the Netizen Award from the 2008 Drama Festival, and the Netizen Award and Best New Actress Award from the 2008 KBS Drama Awards. The next year, Yoona drastically changed her appearance, cutting her long hair short and dying it red, when she took on another lead role in "Cinderella Man". It was in this show that she officially became the first Girls' Generation member to be seen kissing someone else, breaking many people's hearts, so much so that the Girls' Generation official website had to issue a statement the following day reminding people that Yoona was merely acting, and providing a candid photograph of Yoona to appease her fans. After a break in acting to rejoin her fellow Girls' Generation members on tours, Yoona returned to the small screen in the recently completed "Love Rain", taking on not one, but two characters at the same time in the drama.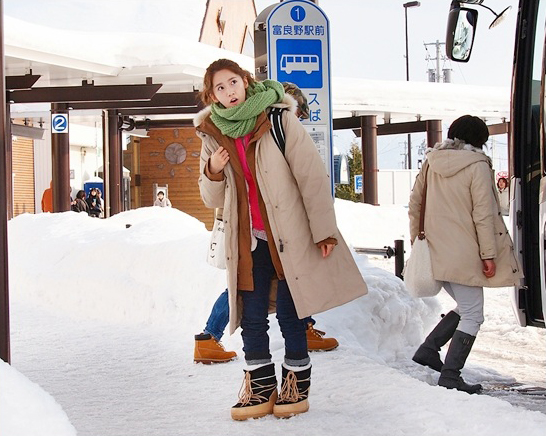 Wait, I have to play two characters???
Yoona is obviously very professional in her work and very thoughtful. But we all know she has her silly, or "choding" side. She is a notorious prankster, perhaps most known for feeding her fellow members salty kimbap on "Hello Baby". She has performed her "ssanti" (cheap) dance or made her flounder face on various variety shows. While she is known for her beauty, especially her deer eyes, Yoona is also compared to a completely different type of animal, opening her mouth as wide as an alligator when she laughs, becoming a supposedly weird yet cute hybrid animal called "Alligateer".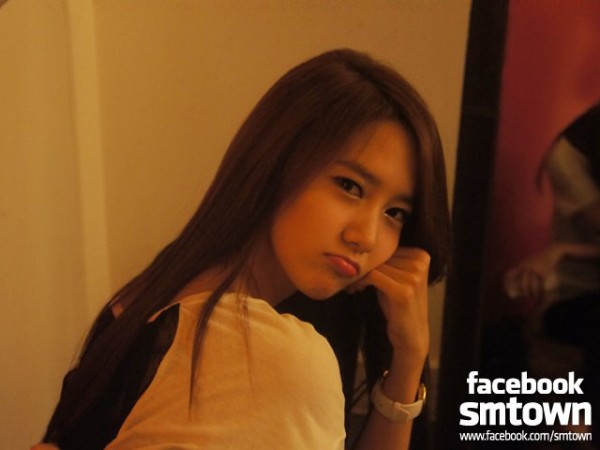 This is how an "Alligateer" pouts.
Now all of these are a few of the reasons why we love Yoona. But her dedication to her craft and her continuous endeavor for improvement make us respect her. When she first came on the scene, she was known as just a pretty face, someone SM could plug into the middle of photos to get people to take notice. Her singing was not the best, but she has worked on it so much the past five years that it has improved drastically. She has been featured as a dancer since the beginning, and she has tried to perfect that aspect of her performance as well, so much so that she has been featured along with the other dancers in the group on dancing shows. Yoona's acting has also gotten better as time has gone on, showing that she is willing to improve in every aspect she can. Yoona has become so versatile that she has been featured in many different types of media. Of course, she has modeled for various magazine photoshoots. She is a widely sought-after spokeswoman for various companies, including Eider, Innisfree, Carribean Bay, S-Oil, and many others. She participated in "Family Outing 2", showing off her variety chops. She has emceed a few awards shows. And she has shown her witty self through many UFO's.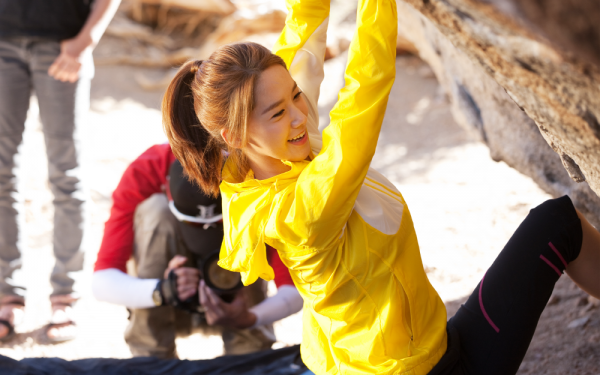 I'ma keep climbing as I get older.
Yoona is known as the most popular member among those who are not fans of Girls' Generation, if only because of all the attention she garners during the girls' promotions. But how she has handled them and converted outsiders into SONEs is a testament to her character and work ethic. She may not be the most innately talented of any of the members, but she works just as hard, and deserves every bit of success she has gotten over the years. Hopefully, with the wisdom of another year, more success will continue to come her way.
Sources: chunyoon, Eider, Limyoona, Love Rain, Soshified Gallery, SMTOWN Facebook
Written by: residentbenchwarmer@soshified
Contributors: bhost909@soshified, michaelroni@soshified
Have a news item that you think Soshified should know about? Leave us a tip or e-mail us at tip@soshified.com.
Follow us on Twitter: http://twitter.com/soshified for the latest on Girls' Generation.