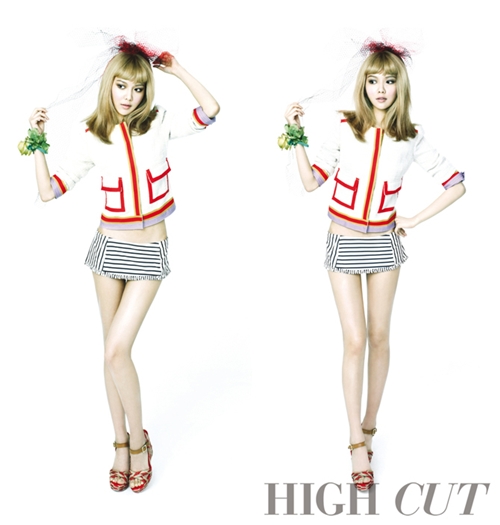 In a photoshoot for the May 17th edition of "High Cut" magazine, Sooyoung donned a blonde wig and showed off her Barbie doll-like beauty.
This pictorial features the 2012 S/S Tory Burch collection which was inspired by Deauville, a popular French beach vacation spot in the 1920's. The refreshing resort look, elegant dress, and feminine red color show off Sooyoung's perfect fashionista appearance.
After the photoshoot, Sooyoung spoke in an interview about her upcoming drama debut in tvN's "The 3rd Hospital". She revealed, "Even though I have no aegyo, I have to act as 'Euijin', who has lots of aegyo, and it's tiring." She also said, "Girls' Generation members have no aegyo towards men, so I can't learn from them."
Sooyoung then talked about the members' lives as Girls' Generation, saying, "I succeeded in life because of the other members. While different people my age are working part-time jobs to afford tuition, I'm riding in a 'dream car' with eight people." She also showed her humble side, confessing, "I am given more than what I should be given for my abilities and receiving so much love."
Finally, Sooyoung spoke about her recent reputation as a fashionista, saying, "I have always had an interest in fashion, so thank you for acknowledging that." She complimented Jessica as well, adding, "Truthfully, I didn't know that Jessica was so interested in fashion. When we were young, she just wore t-shirts and jeans. She has a naturally beautiful figure and now that she's looking for clothes that suit her, I think she has really become a fashionista."
Other photos from Sooyoung's photoshoot for "High Cut" can be found in Soshified's Photos Section.
Source: Newsen
Translated by: jyhwang@soshified, minigiglo@soshified
Edited by: bhost909@soshified, michaelroni@soshified
Have a news item that you think Soshified should know about? Leave us a tip or e-mail us at tip@soshified.com. Follow us on Twitter: http://twitter.com/soshified for the latest on Girls' Generation.