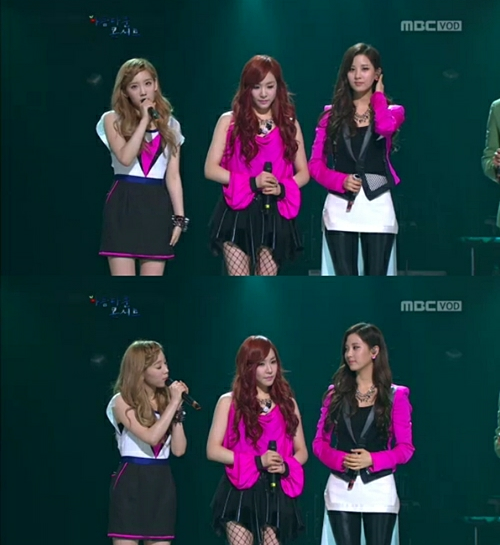 During the May 22nd broadcast of MBC's "Beautiful Concert", Girls' Generation – TTS performed and held an interview session with the show's MC, Hong Kyungmin.
After performing their hit songs "Twinkle" and "Baby Steps", the members were asked on how they were selected for the unit amongst the other Girls' Generation members. They replied that, while other members were involved in acting, the three of them (Taeyeon, Tiffany and Seohyun) wanted to focus more on music.
In addition, Hong Kyungmin asked Seohyun which member she would pick from Girls' Generation if she could add another member to Girls' Generation – TTS. Seohyun replied, "It would have to be Hyoyeon. The reason being that I think it would be great if Hyoyeon danced while the three of us sang."
Tiffany added, jokingly, "Lately, Hyoyeon is competing on MBC's 'Dancing with the Stars 2'. I think it would be fitting if she danced the rhumba to this song."
Source: Yahoo! OMG Philippines
Written by: bethlyhem.@soshified
Edited by: michaelroni@soshified
Have a news item that you think Soshified should know about? Leave us a tip or e-mail us at tip@soshified.com.
Follow us on Twitter: http://twitter.com/soshified for the latest on Girls' Generation.