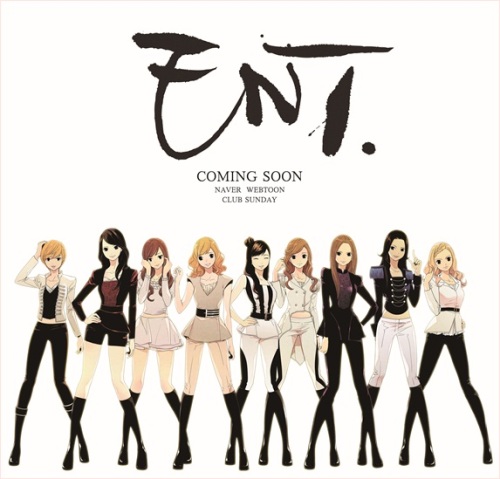 Girls' Generation will make cameo appearances as cartoon characters for the webtoon "ENT". "ENT" is a new upcoming webtoon production by Yoon Inhwan, author of "The New Undercover Royal Inspector", and is also co-produced by SM Entertainment. The second illustration of the webtoon was released on April 30th, showcasing the nine girls in their "The Boys" promotional outfits. The girls are to have cameos in order to add a sense of realism to the series.
"ENT" is a fictional story about two people. The first person is A (fake name), a normal high school student who is the vocal singer of an SM rookie group called "Born on 4th of July". The second person is Foxstar, a famous fanfiction writer. This webtoon will be about the fanfiction that Foxstar writes based on insider information that she obtains from A about SM, and the incidents that follow after its publication.
The CEO of "Ylab", the production company of "ENT", approached SM Entertainment about this webtoon when production first started. SM Entertainment has since fully cooperated in the production of this webtoon, viewing its purpose in a positive light.
SM Entertainment's artists will appear with their real names in the webtoon, and it is predicted that the series will garner the attention of both manhwa and K-Pop fans alike.
The webtoon "ENT" will be publicly released in black and white through a website belonging to Club Sunday, one of Japan's biggest manhwa publishing companies. It will then be opened to the Korean public on July 4th through Naver's webtoon services.
Source: Herald Media
Translated by: minigiglo@soshified
Edited by: Litney@soshified, NeonCyro@soshified, Best Served Soup@soshified, residentbenchwarmer@soshified
Have a news item that you think Soshified should know about? Leave us a tip or e-mail us at tip@soshified.com.
Follow us on Twitter: http://twitter.com/soshified for the latest on Girls' Generation.