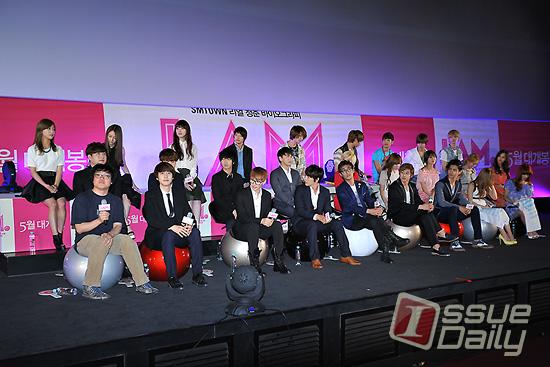 On April 30th, Girls' Generation and their fellow SM Entertainment artists attended an event showcase for SM Town's upcoming film, "I AM", a documentary about SM Entertainment's artists from their pre-debut days until today. The showcase included a question-and-answer session, revealing the idols' thoughts and various experiences as part of the company.
In the question-and-answer session, MC Byun Kisoo asked the Girls' Generation members various questions, ranging from thoughts about their trainee days to friendships and regrets – showcasing the girls' strong bonds and how far they've matured since their pre-debut days.
Jessica was asked if she had any special friends, and she revealed them to be Hyoyeon and Sooyoung, stating that they became trainees at the same time. When asked what the movie meant to her, Sooyoung showed a positive reaction to the movie, saying that "I AM" took her back to her rookie days. She said that she saw clips of herself that she didn't remember, and that it reminded her of all the hard work she had done to get to where she's at today. She also added that the movie is not only a gift to the fans, but a gift to the artists themselves, thanking the director of the documentary, Choi Jinsung. Hyoyeon mentioned that she regretted not being able to see her parents much during her trainee days, a situation that she shares with fellow artist Sulli.
Towards the end of the showcase, MC Byun Kisoo, a popular comedian in South Korea, jokingly told Sooyoung to move to the back during the photo-op as she was too tall. After the interview segment, autographed items were handed out to five raffle winners, and the entire event wrapped up with 'The Boys" playing in the background.
The press photos from the event can be viewed here, and the showcase video can be downloaded here.
Source: Excentrique1106@YouTube.com
Written by: bethlyhem.@soshified
Edited by: Best Served Soup@soshified, NeonCyro@soshified
Contributors: minigiglo@soshified, residentbenchwarmer@soshified
Have a news item that you think Soshified should know about? Leave us a tip or e-mail us at tip@soshified.com.
Follow us on Twitter: http://twitter.com/soshified for the latest on Girls' Generation.