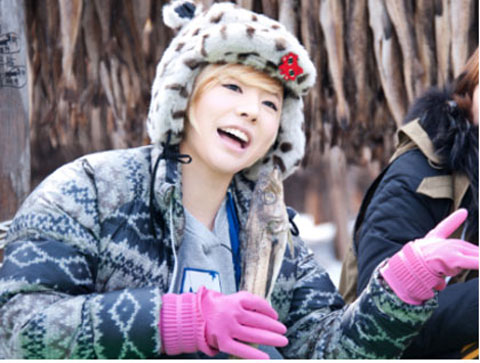 Girls' Generation's Sunny showed off her hidden CEO-like instincts. (
Editor's note: a "CEO" is a "Chief Executive Officer", the highest position in a company or corporation.)
In the upcoming episode of KBS2's "Invincible Youth 2", scheduled to air on the 17th, the members of G8 were given a mission to develop a self-sufficient item or idea. They all went out to find successful and unmarried farmers who were millionaires.
With one million won in farming development funds on the line, the G8 members did their best to come up with an idea. It was said that Sunny received a standing ovation from staff members by showing CEO-like instincts, which made it seem like the staff were seeing a second Lee Sooman, the founder and former CEO of SM Entertainment.
Sunny went to see the bachelor of "Hwangtae Dukjang". She suggested the idea of manufacturing mullets, stingrays, and gobies, which all can easily be found in the fishing village of Daebudo.
She revealed her three-part idea of learning how to dry the hwangtae (dried pollack), how to create commonly sold dried pollack strips, and how to use the pollack to create dishes. Sunny added her idea of creating processed goods for children, such as instant noodles or other snacks.
Sunny's exceptional CEO-like talents didn't stop there. Her idea was just the start, as she went on to show her capabilities as a CEO by writing down even the smallest know-hows from the "Hwangtae Dukjang".
The March 17th 11:05 pm broadcast of "Invincible Youth 2" will reveal whether or not CEO Sunny wins the farming development funds.
Source: Hankooki via Daum
Translated by: ch0sshi@soshified
Edited by: bhost909@soshified, taengsoshi@soshified
Have a news item that you think Soshified should know about? Leave us a tip or e-mail us at tip@soshified.com.
Follow us on Twitter: http://twitter.com/soshified for the latest on Girls' Generation.