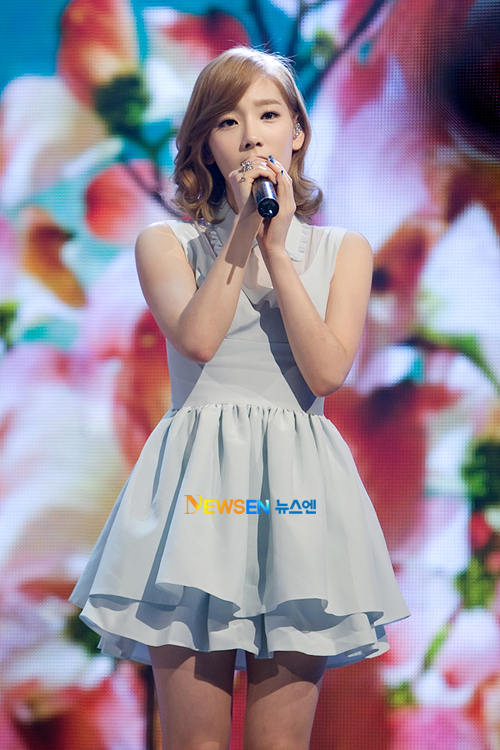 Girls' Generation's Taeyeon received praise when she injured her toe and continued to emcee the Gaon Chart Awards.
Taeyeon injured her toenail while she performed her MC duties with Joo Younghoon in "The First Gaon Chart K-pop Awards" that was held at the Samsung Card Hall in Blue Square.
Girls' Generation's Taeyeon and Yoona accepted the "Special Oricon Award" on behalf of all the members. After Yoona's acceptance speech, she asked Taeyeon to deliver her own speech. At this time, Taeyeon said her acceptance speech despite still being in the MC stands.
At this, Joo Younghoon explained, "Taeyeon has ripped her toenail during the awards and she is still doing her duties as an MC while fighting through the pain."
Taeyeon replied by saying, "You don't have to say that with so much detail. I've only gotten hurt a little bit," and eased the fans' hearts.
But Taeyeon had to put on slippers instead of high heels because of her injury.
Fans expressed their sadness by saying, "If her toenail was flipped then the pain would be horrible", "There should be limitations to dancing", "Taeyeon is really admirable. She didn't show her pain..She has more than enough rights to be the kid leader", and, "Make sure to get medical attention for it".
Source: newsen.com
Translated by: minigiglo@soshified
Edited by: SeraphKY@soshified, residentbenchwarmer@soshified
Have a news item that you think Soshified should know about? Leave us a tip or e-mail us at tip@soshified.com.
Follow us on Twitter: http://twitter.com/soshified for the latest on Girls' Generation.