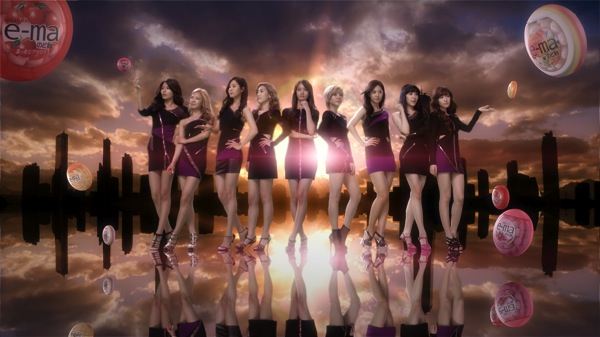 The third e-ma Nodoame
(Translator's note: nodoame means throat candy)
commercial featuring Girls' Generation is set to air on February 25th in Japan.
The theme for the first e-ma commercial was "dinner party", which was accompanied by the Japanese version of "Gee". The second commercial's theme was "dollhouse", while the song "Bad Girl" was playing in the background. For the latest commercial, the theme will be "a flower that blooms in the city" with the new song from the re-packaged Japanese album "Time Machine" being used as the background track.
The members of Girls' Generation represent a "refreshing flower", which draws comparison to the refreshing feeling a customer will experience when eating the candy. During the commercial, the girls are flower petals that eventually become a "beautiful flower" when all nine members gather together. The commercial ends with the girls standing in a row before a large metropolis as dawn approaches. In that ending moment, the theme is complete as the "flowers" bloom beautifully and with pride.
Filming for the commercial took place in the outskirts of Seoul in order to accommodate the increasingly busy schedules of Girls' Generation. Throughout the entire filming session, the girls never complained and continued to work diligently with smiles on their faces.
Source: barks.jp
Written by: SeraphKY@soshified
Edited by: taengsoshi@soshified, residentbenchwarmer@soshified
Have a news item that you think Soshified should know about? Leave us a tip or e-mail us at tip@soshified.com.
Follow us on Twitter: http://twitter.com/soshified for the latest on Girls' Generation.