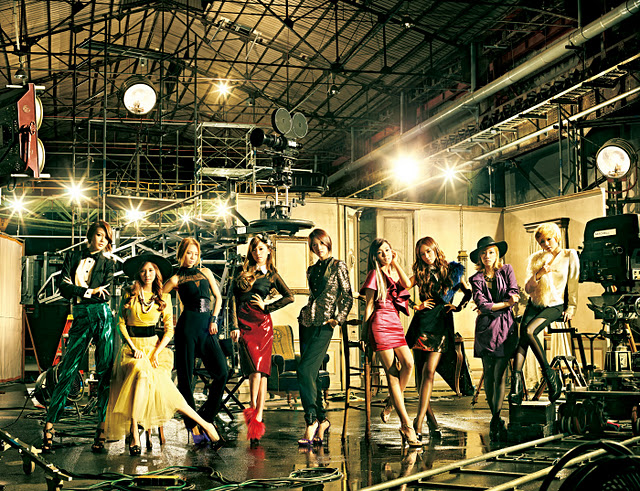 Girls' Generation's first Japanese album "Girls' Generation", which was released last year on June 1st, surpassed the one million copy shipments mark on January 11th, half a year later.
The only other albums to pass this mark were BoA's "Listen to My Heart" in 2002 with 1.29 million copies, "Valenti" with 1.4 million copies in 2003, and "Best of Soul" with 1.2 million copies in 2005. Being a Korean girl group, surpassing the one million copy shipments mark for the first time is an amazing accomplishment for Girls' Generation.
Girls' Generation took the top spot on the Oricon chart in their first appearance, and stayed in the top ten for thirteen weeks, a record for a "long-seller" (artists usually stay in the top ten on the Oricon chart for an average of one to two months, so thirteen weeks is especially long for a foreign artist).  With the repackaged version of the girls' first Japanese album being released on December 28th, the album came back onto Oricon's weekly chart at number two, and with this passed the one million shipments mark.
In response to this, the members of Girls' Generation said, "The feeling hasn't hit us yet, but we are really happy that a lot of people listen to our music. We want to continue to do our best in order to provide amazing songs for our fans who have supported us and not disappoint fans' expectations."
The Limited First Press and the Normal editions of Girls' Generation's repackaged Japanese album, "The Boys", may be purchased by clicking on the links.
Sources: Asahi
Translated by: arghninja@soshified
Edited by: LetsGo@soshified, residentbenchwarmer@soshified
Have a news item that you think Soshified should know about? Leave us a tip or e-mail us at tip@soshified.com.
Follow us on Twitter: http://twitter.com/soshified for the latest on Girls' Generation.