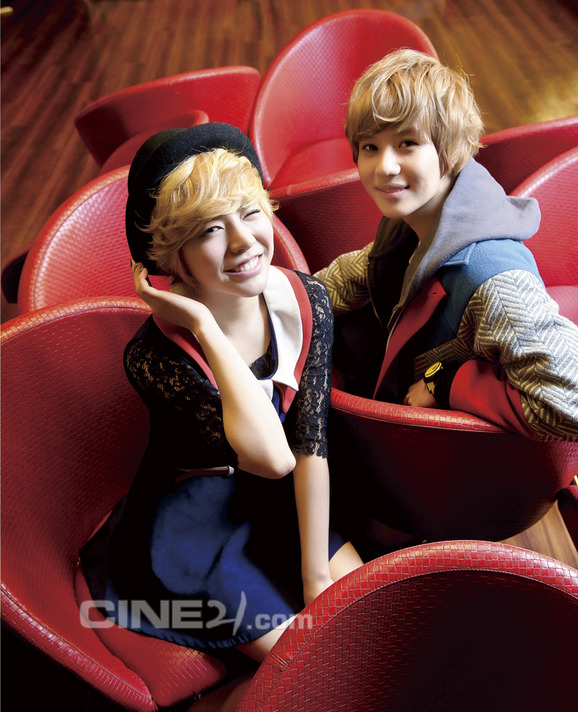 Cine21, a Korean website that delivers news on movies, recently interviewed Sunny and SHINee's Taemin on their new movie "Koala Kid: Birth of a Great Hero". Sunny and Taemin voice the main characters in this animated film, and talked about their thoughts on dubbing the movie and the movie itself.
(Editor's Note: Only questions with Sunny's answers were included in this translation. Non-Sunny parts were omitted.)
-I think Sunny would have been told that she looks like a koala.
While dubbing, I was told many times that I looked like a koala, but after hearing what Taemin said, I think our habits are more similar. I also sleep a lot and eat a lot. (Laughs) (TL note: In the previous question that was omitted, Taemin was asked if he liked koalas. He stated how koalas sleep twenty hours a day and eat or relax for the other four hours.)
-How did you feel when you were cast for a voice appearance?
Honestly, at first, I thought of it as something easy. I think it's because I enjoyed watching Disney animations when I was little, so I only thought of it as something good. But after watching the video the staff gave me and reading the script, I couldn't do it. I was surprised. I wondered and worried about how I would do this, but when I went to record, the staff was really nice. Normally, I'm reserved, so it was a relief that they were kind and were patient with my voice acting.
-That's surprising, because you don't seem shy at all on variety shows like "Invincible Youth".
Sunny: I have a bit of a switch for (TV) shows.
Taemin: As expected, a true celebrity!
-Other Girls' Generation members, Taeyeon and Seohyun, did voice acting for "Super Bad". Did they give you any help?
They recorded for four days. I really didn't have enough time so I had to complete everything (Sunny's recording) in two days. When I told them that (I only had two days), they told me to practice a lot, and that overreacting will be more natural for animated films and more fun for viewers.
-Johnny (Taemin's character) has a bit of a shy and hesitant personality, whereas Miranda is assertive. Were there any special requests made by the director for your voices to fit the different characteristics?
Miranda is charismatic and a bit of a strong character. It was really difficult expressing that with just my voice. It'd be a different story if I was showing the actions. When I first listened to it, it sounded stiff and awkward. But the director and staff explained the situation to me well, asking what I thought about certain scenes, so I was able to grasp the character.
-Johnny and Miranda constantly bicker and end up falling in love. I heard you recorded this separately. I think your fingers would curl a bit at that scene.
Sunny: I heard what Taemin recorded first. I recorded over that, but I laughed a lot when I first heard Taemin's voice. The director asked me why I was laughing, so I said, "Nothing. But how did Taemin record this? It's so embarrassing."
Taemin: I recorded embarrassingly. [Laughs] After Sunny Noona's recording, I re-recorded for edits. The first recording was a lot worse than what will be shown on screen.
-I heard the toughest thing when dubbing for the first time are the exclamations. How was it?
There's a scene in which Johnny and Miranda fall riding a lizard, as if they're bobsledding. Taemin recorded a three-stage "Eu-ah~ Eu-ah~ Eu-ah~" stiffly. I laughed a lot when I heard it. After hearing my recording of it, the director said, "Sunny, you're not one to be laughing at someone else." (Laughs)
-Is there a memorable scene from "Koala Kid"?
Taemin: Hm. The ending was most memorable. There's a kissing scene between Miranda and Johnny. It came out really beautifully.
Sunny: The first time I watched it, I got kind of angry when I saw that during the last scene. How could a koala have a kiss scene… I've never even had one… (Laughs) I went to watch the scene again when I went to record, and thought, "Ah~ That scene was beautiful."
-Do you have any desire to actually act, not just dub?
Girls' Generation members will be acting in many dramas and such early this year. I want satisfaction from watching that. I actually don't have any thoughts on traditional dramas, but I have received similar questions. If I say, "I wouldn't dare try out serious acting", I don't know if it's a good comparison, but it's like saying, "I don't want to marry (South Korean actor) Won Bin." (Laughs) It's like I'm taking the cake before it's been offered, so I'm careful when speaking about it. I want to try acting when I get a little more confidence. I couldn't receive as many acting lessons as compared to other members. I think it's only right to do so after learning the basics.
Source: Cine21
Translated by: ch0sshi@soshifed
Edited by: residentbenchwarmer@soshified
Have a news item that you think Soshified should know about? Leave us a tip or e-mail us at tip@soshified.com.
Follow us on Twitter: http://twitter.com/soshified for the latest on Girls' Generation.