Videos
Special Trailer for "Koala Kid" Released
A longer teaser for "Koala Kid: Birth of a Hero" has been released.  As expected of Sunny, her voice is filled with aegyo, and the movie gives her a chance to do without having to worry about punches being thrown! Links to previous teasers can be seen here and here.
Behind the Scenes of Girls' Generation in Goobne CF
Behind-the-scenes footage has just been released for the Goobne CF that starred Taeyeon, Yuri, Sooyoung, Yoona, and Seohyun.  The footage showed off the girls' cute and dorky sides as the CF required them to act in slow motion, which caused the girls and the whole set to laugh.
A Quick Look Behind the Scenes of M! Countdown with Girls' Generation
This behind the scenes video, provided by Mnet, reveals footage of Girls' Generation before and during their rehearsal for "MR.TAXI" on M! Countdown.  Despite having to wait to perform, the girls' playful banter keeps them occupied and seems to make time fly by faster.  Also shown is their mandatory all-hands-in cheer, "Jigeumeun So Nyuh Shi Dae!"
Fanta Playtime Presents Girls' Generation Tour in Bangkok
With the confirmation of the girls holding a concert in Bangkok, Thailand on February 12, 2012, Fanta "Playtime" recently released a video that presents the Girls' Generation tour coming to Bangkok.
FreeStyle Releases Video of Gameplay Featuring Girls' Generation
As previously
reported
, Girls' Generation will be endorsing a new video game brand named "FreeStyle Sports", which has recently released a video of gameplay featuring animated versions of Tiffany, Yuri and Sooyoung.  The animated characters can be seen playing basketball and celebrating scores by striking poses from "Gee" and "The Boys".
Others
MAMA's Private Party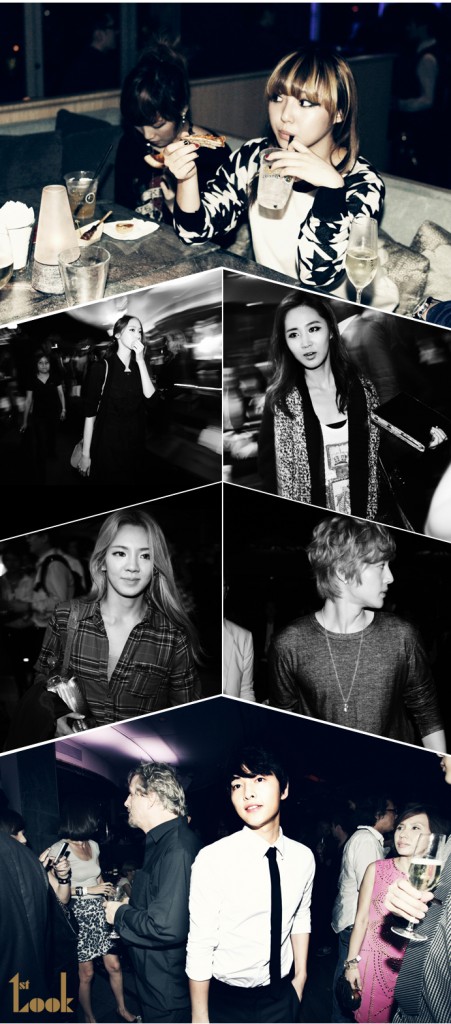 After the 2011 Mnet Asian Music Awards on November 29, 2011, where the girls won Best Female Group Award and Artist of the Year Award, an after-party was held for the Hallyu stars.  MAMA's "private party time" was featured in "First Look's" People Issue.  Hyoyeon, Yuri, and Yoona  can be seen in this classy photo of the party.  Let's hope the girls enjoyed it!
Girls' Generation Appears in "Borneo Bulletin"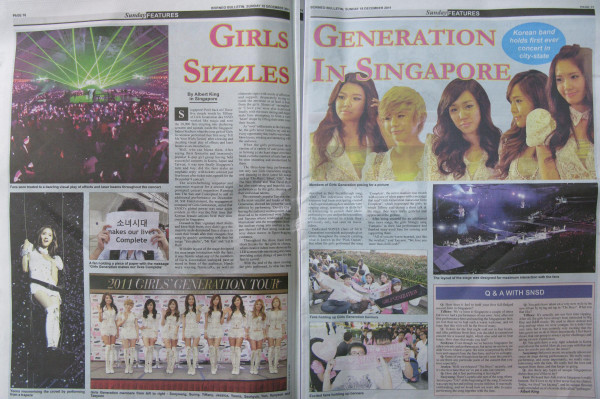 On December 18th, Girls' Generation was featured in an article in the Sunday edition of the "Borneo Bulletin" newspaper, which is published in Brunei.  The girls popularity is continuing to soar around the world with no end in site.
Yuri's New Selca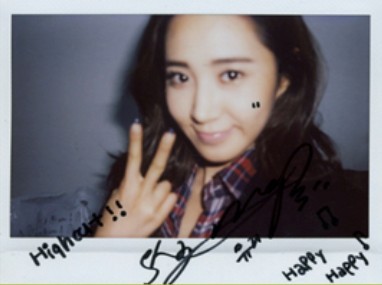 An autographed selca of Yuri from High Cut Magazine has recently emerged.  As reported earlier, Yuri appeared in the October-November issue of High Cut Magazine, the photos from which can be seen here.
Yoona Gets Chance to Be on Same Stage as Kimura Takuya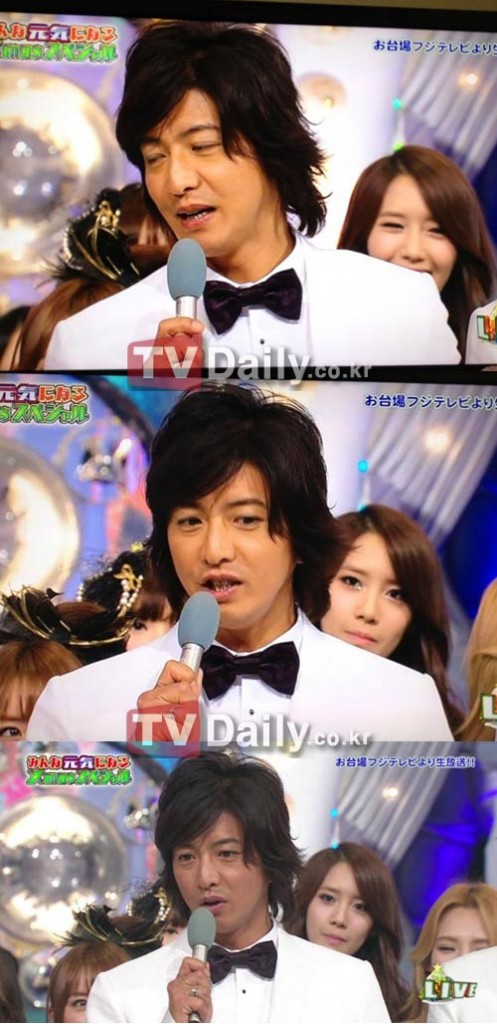 With the girls' appearance on "Hey Hey Hey" on December 19th, Yoona finally got to meet the crush of her life, Kimura Takuya.  Throughout the show, Yoona constantly made curious glances at Kimura while he was emceeing and could only smile at the fact that she finally got to meet her ideal guy, which she revealed on an episode of Kim Jungeun's "Chocolate" in 2010.
"The Dangerous Boys with Girls' Generation" Records Highest Ratings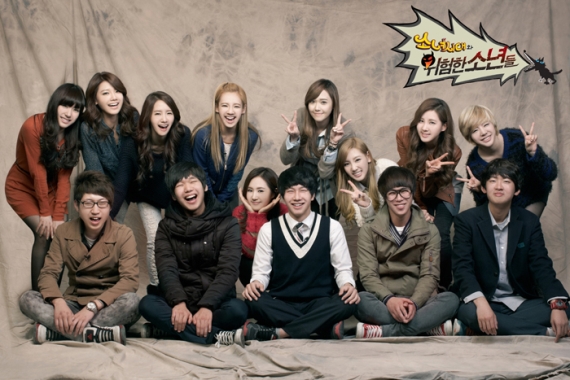 As expected of a program lead by Girls' Generation, the first episode of "Dangerous Boys", which aired on December 18th, took first place in terms of viewer ratings.  The first episode recorded 1.299% of the daily national viewers' ratings.  Good job girls!
Girls' Generation Among Top Earning Artists in Japan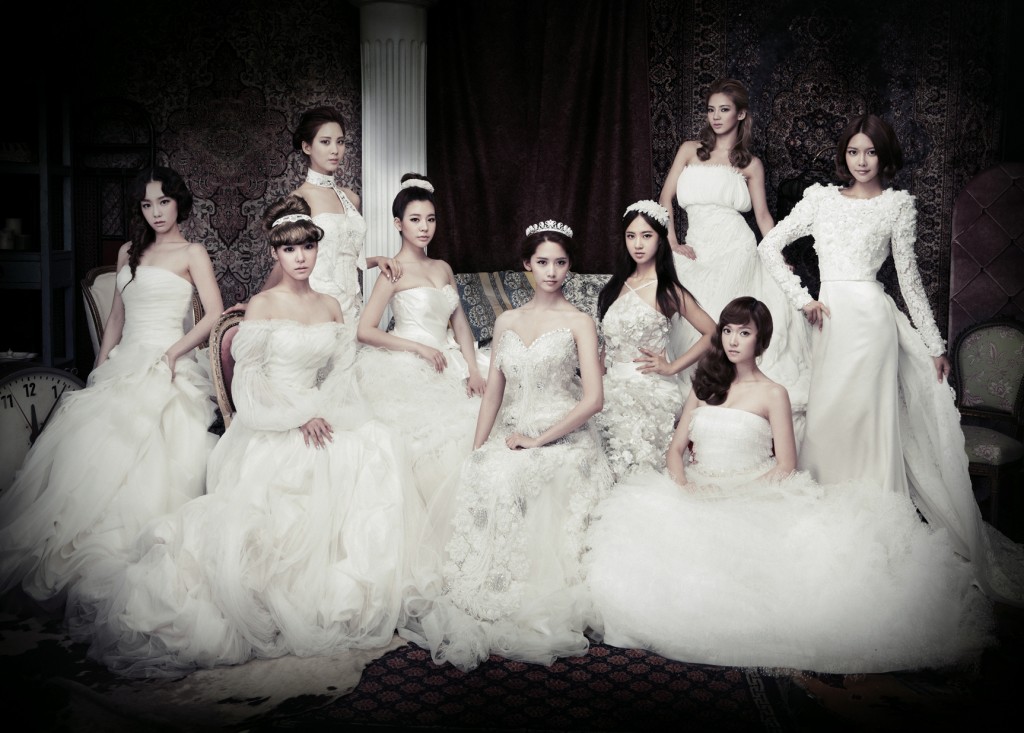 Girls' Generation ranked fifth for the top-earning artists (second among Korean artists) in Japan's Oricon Charts with a total revenue of 4.05 million yen.  Their album, "Girls' Generation", placed fifth in terms of sales with 642,054 sold, which makes it the top album sold in Japan for Korean artists.  It looks like the girls' popularity in Japan is still going strong.
Innisfree Releases New Yoona Ad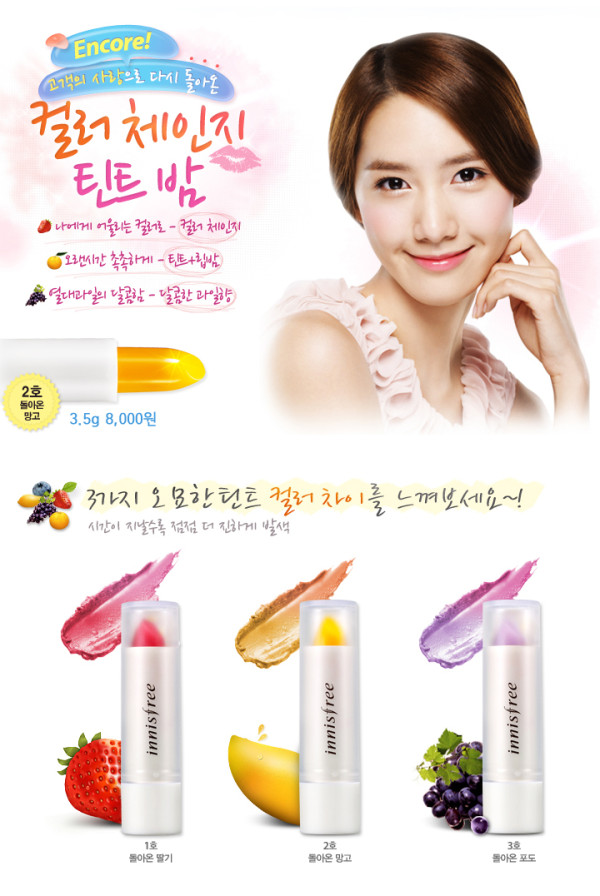 Innisfree released a new advertisement through their official twitter account, @ecoinnisfree.  This new advertisement promotes several lip balms that moisturize lips, add a tint of color, and come in several fruity flavors.
Girls' Generation to Release Official Diary for 2012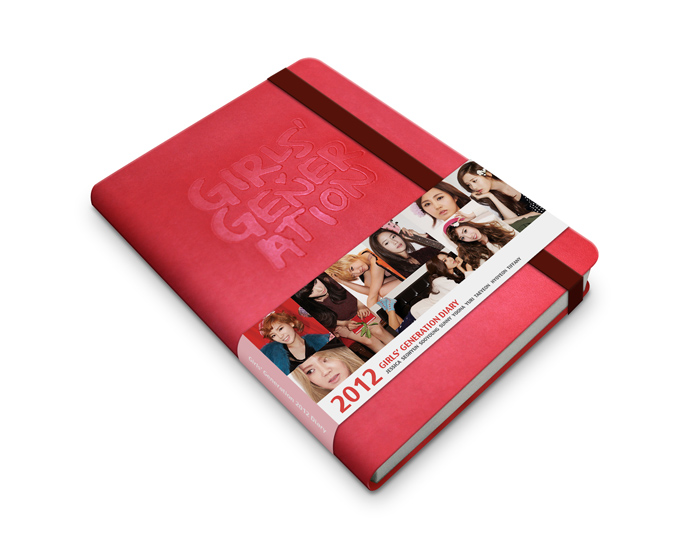 In addition to wall and desk calendars, Girls' Generation will also be releasing an official diary for 2012.  The diary comes in pink and will also include nine postcards, one for each member of Girls' Generation.  Pre-orders have already begun for the diary, and it will be released on December 27th.
New Girls' Generation SSKIN "Winter Gift" Theme for iPhones Released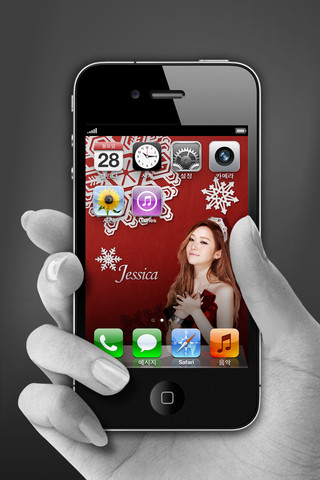 A new SSKIN Girls' Generation theme, titled "Winter Gift", has been released for the iPhone.  The theme is just in time for the holiday season and can be purchased for $1.99 in the iTunes App Store.
Jessica Attends Press Event for Launch of New Music Service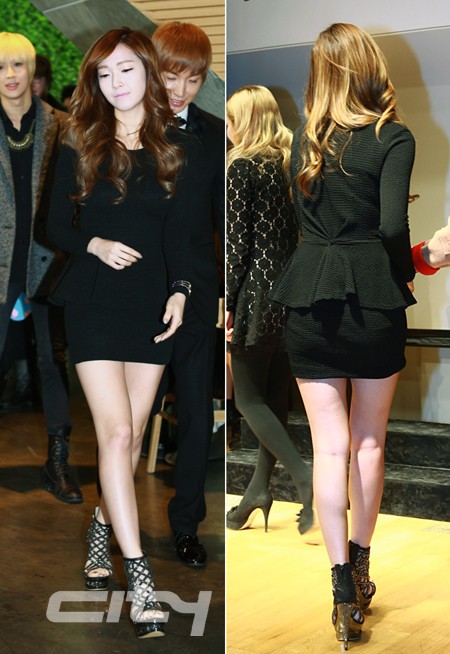 On December 21st, Jessica attended a press event for the launch of a new digital music service called "Genie", organized by Korea Telecom and several large entertainment companies in Korea.  She looked stunning dressed in black and wowed all those in attendance.
Female Netizens Vote Girls' Generation as Number 1 Female Artist of 2011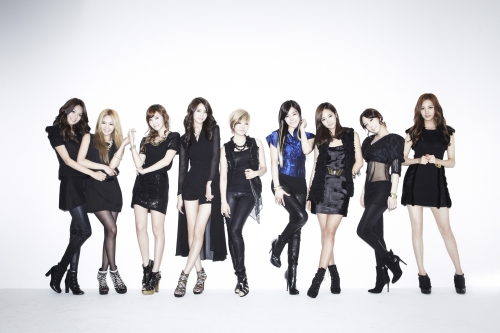 Girls' Generation was voted as the best female artist of 2011 in a poll of 1,446 female netizens, receiving 29.1% of the votes.  With two full albums, their "First Japan Tour" and their "Second Asia Tour" all in 2011, Girls' Generation has been demonstrating their talents not as idols, but as talented artists.
New Pictures of Taeyeon and Hyoyeon Released on Japan Mobile Fansite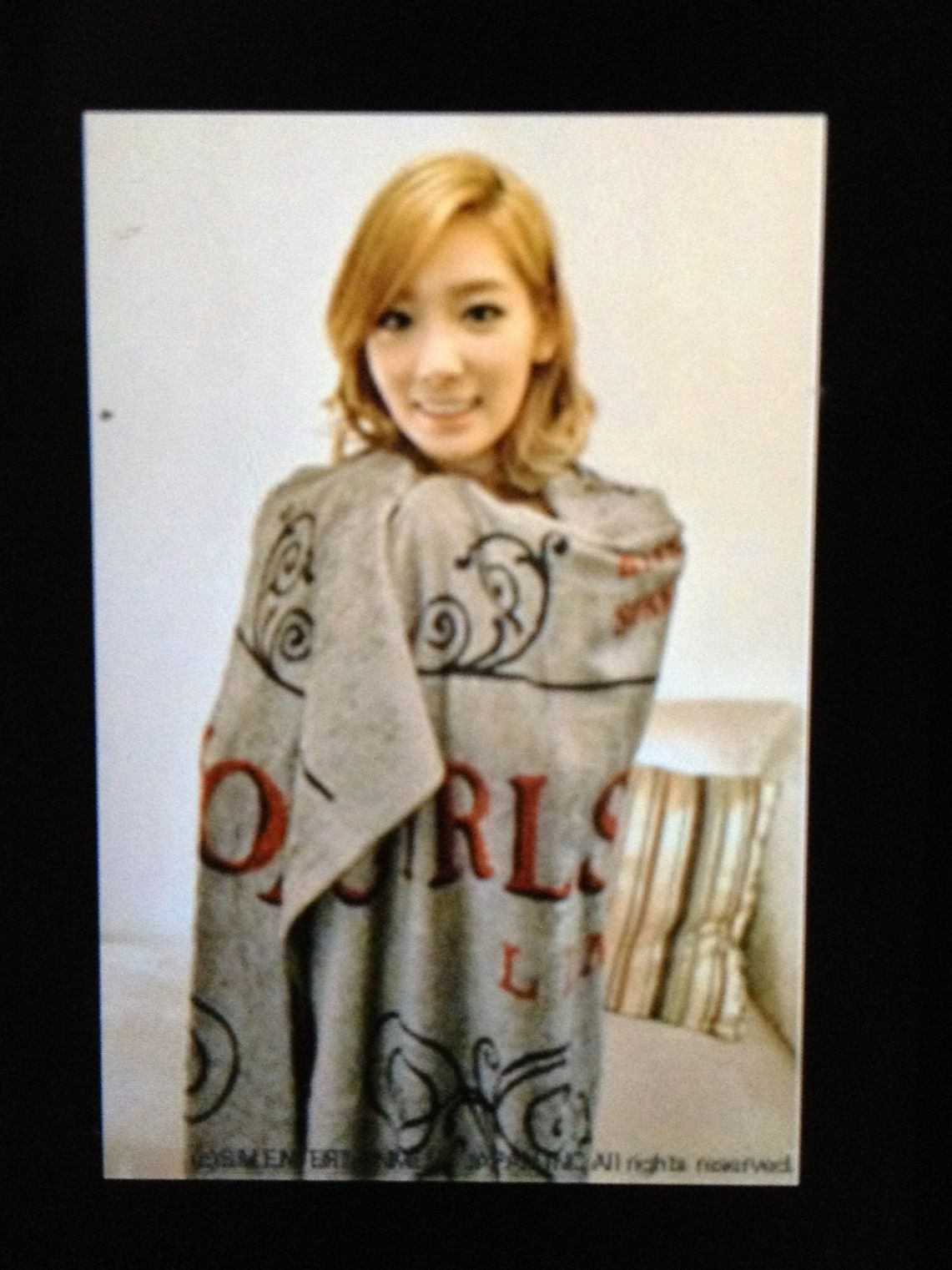 Pictures of Taeyeon and Hyoyeon were recently released on a Japan mobile fansite.  Taeyeon poses while wrapped in a large warm blanket that is being sold by the Japanese mobile fansite, while Hyoyeon can be seen making a peace sign.  Hyoyeon's new outfit has fans interested in whether this outfit would be for their promotion of "MR.TAXI".
Girls' Generation Voted as the "Top Star Who Shined in 2011"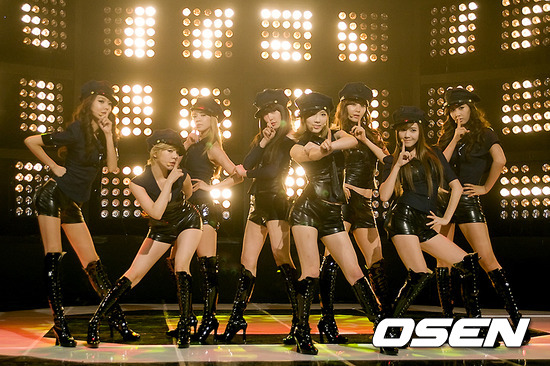 A survey of 48 people in the broadcasting, movie, and music industries run from December 12th through December 15th found that Girls' Generation was the "Top Star Who Shined in 2011".  They won first place in the survey with 31% of the votes.
M Countdown's Twitter Account Posts an Image of Girls' Generation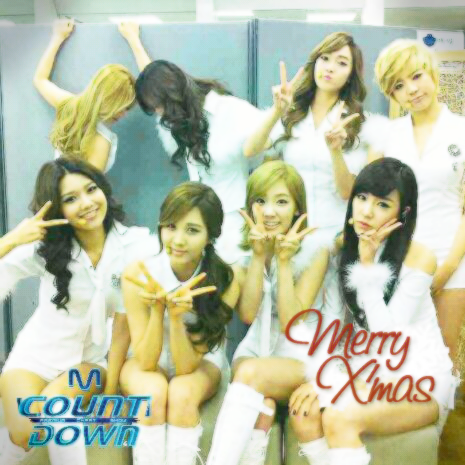 The official Twitter account for
M Countdown
tweeted an image of Girls' Generation to promote M Countdown's Christmas special, which took place last Thursday.  The members looked stunning in their white outfits as Taeyeon, Jessica, Sunny, Tiffany, Sooyoung, and Seohyun made cute poses, while Hyoyeon and Yuri chose to face away from the camera.  They wished everyone a Merry Christmas in this
video
.
Super Junior's Eunhyuk Tweets a Picture of Tiffany from Backstage of "Fame"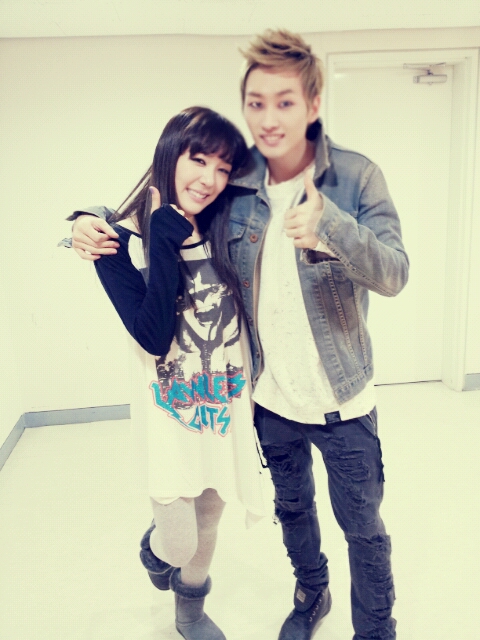 Following Tiffany's first performance in "Fame", fellow castmate Eunhyuk from Super Junior tweeted an image of himself and Tiffany while they were backstage.  In his message, he congratulated Tiffany on her first performance, and said "You did really well~ Fanyting for the rest of the performances!"
Girls' Generation's "Gee" and "MR. TAXI" Rank in the Top Ten for Ringtones Downloaded
The Japan Record Association released the rankings for the top-paid ringtones for the year 2011 in Japan.  "Gee" ranked in at seventh and "MR. TAXI" came in tenth place.  "Run Devil Run" also came in at 71st. Girls' Generation, along with KARA, are the only Korean artists to have songs ranked in the top twenty in the chart.
Girls' Generation Featured in "Teenage", "EPOP", and i-Weekly Magazines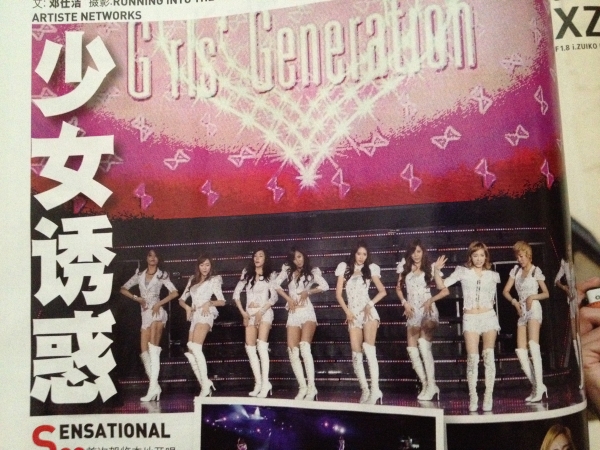 Following a successful concert in Singapore, the girls have been making headlines in news.  With appearances in "Teenage", "EPOP" and "i-Weekly" magazines, they are once again proving their popularity worldwide.  For full scans of Girls' Generation's appearance in "Teenage" and "EPOP" magazines, click here.
Girls' Generation J.Estina Ad in "Vogue" Magazine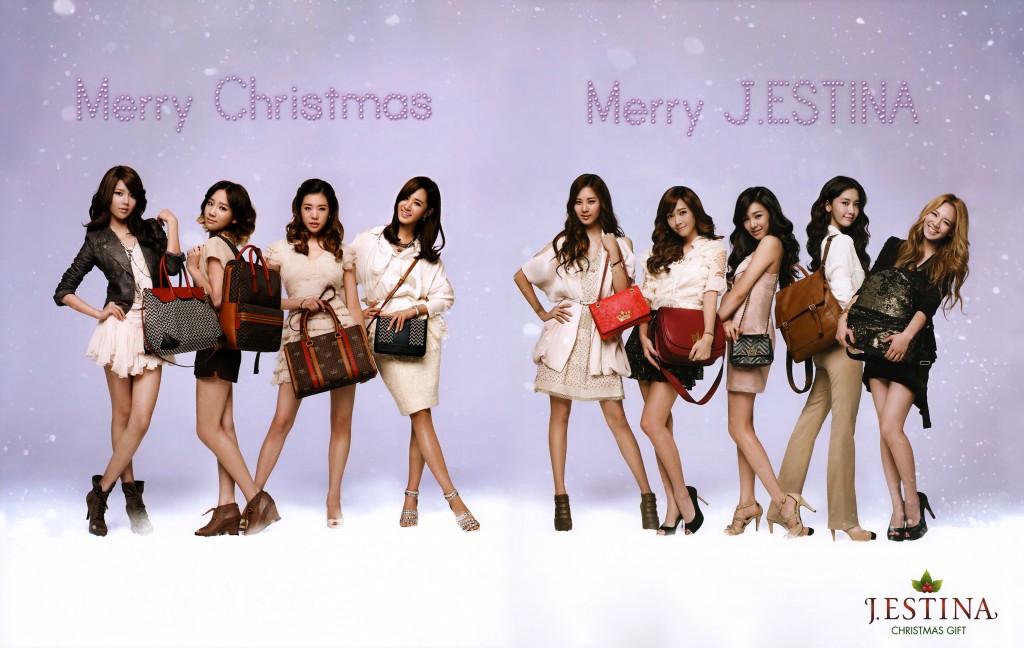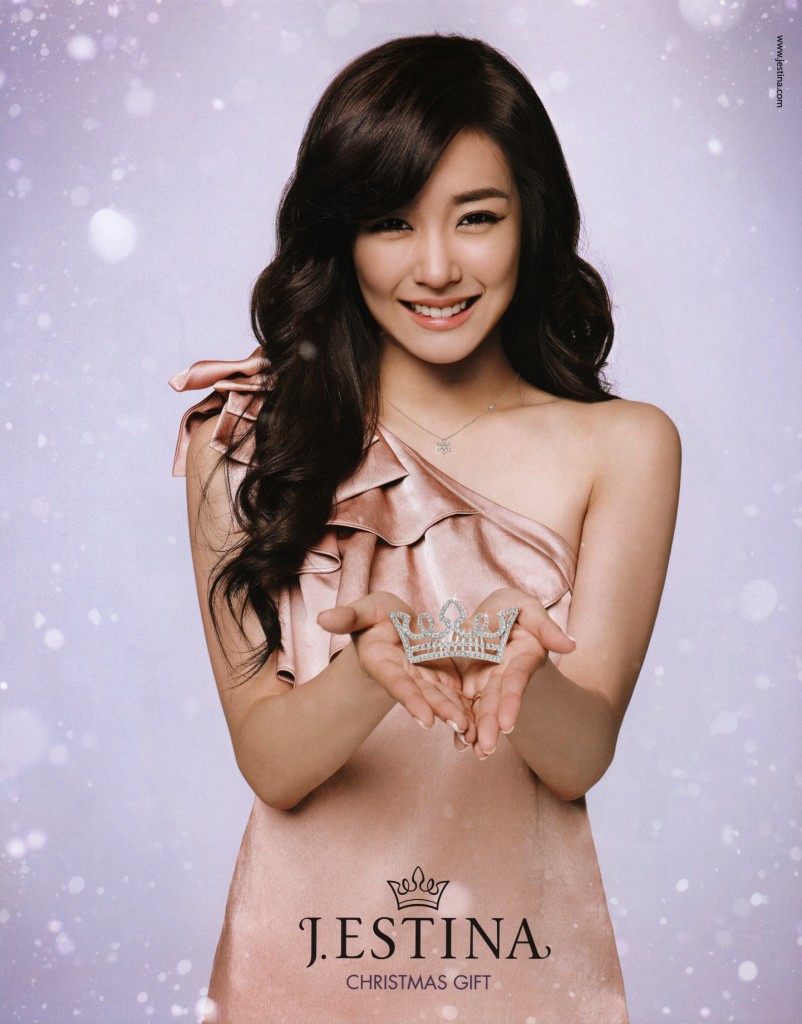 J.Estina placed a group Christmas ad and also one with Tiffany in the December issue of "Vogue" magazine.  As expected, J.Estina bags are proving to be very popular with Girls' Generation as campaign models.
Netizens Want to Make Memories with Girls' Generation
In a poll conducted by the portal site "Seven Edu", Girls' Generation was voted as the number one girl group netizens want to make memories with on Christmas day.  The poll was conducted from December 6th to 22nd, with 523 people participating.  The girls came in first with 159 votes.  What a Christmas it would be to have memories to cherish with Girls' Generation!
Girls' Generation Teddy Bears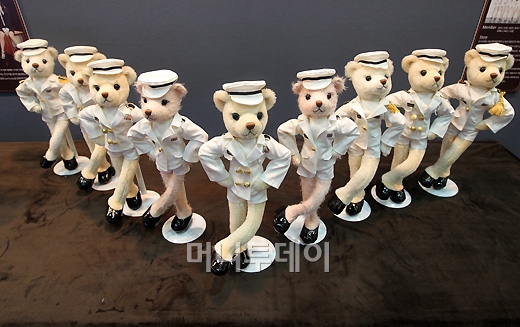 Girls' Generation teddy bear dolls were up for display at the 2011 Seoul Doll Exhibition.  Dressed up in "Genie" outfits, these dolls have everyone exclaiming how cute they are and how much they want one for themselves.
New Sets of Pictures
Vita500 – Taeyeon1, Taeyeon2, Taeyeon3, Jessica1, Jessica2, Jessica3, Sunny1, Sunny2, Sunny3, Tiffany1, Tiffany2, Tiffany3, Hyoyeon1, Hyoyeon2, Hyoyeon3, Yuri1, Yuri2, Yuri3, Sooyoung1, Sooyoung2, Sooyoung3, Yoona1, Yoona2, Yoona3, Seohyun1, Seohyun2, Seohyun3
Koala Kid – Sunny
Free Style – Taeyeon, Tiffany, Sooyoung, Yoona, Group1, Group2, Group3, Group4, Group5, Group6, Group7, Group8, Group9,
Girls' Generation's MBC Christmas Special – Taeyeon1, Taeyeon2, Jessica1, Jessica2, Sunny, Tiffany, Yuri, Sooyoung, Yoona, Seohyun1, Seohyun2, Group1, Group2, Group3, Group4, Group5, Group6, Group7, Group8, Group9, Group10, Group11, Group12, Group13, Group14, Group15, Group16, Group17, Group18, Group19, Group20
Girls' Generation Japan Website Profile Pictures – Taeyeon1, Taeyeon2,  Jessica1, Jessica2, Sunny1, Sunny2, Tiffany1, Tiffany2, Hyoyeon1, Hyoyeon2, Yuri1, Yuri2, Sooyoung1, Sooyoung2, Yoona1, Yoona2, Seohyun1, Seohyun2, Group1, Group2
You've reached the end of the last Soshi News Wrap of 2011!  Whether you celebrate Christmas, Hanukkah, Kwanzaa, anything or nothing at all, have a happy and safe holiday season.  See you next year!
Sources: www.firstlook.co.kr, KoalaKid2012@twitter.com, Yuni108@twitter.com, Bestiz, TV Daily, Kwangdongpharm@twitter.com, SoshiSoshiSoshi3@youtube.com, http://www.star.mt.co.kr, http://www.mb.com.ph, ecoinnisfree@twitter.com, leesmusic, SMTOWN@youtube.com, Yurui912@twitter.com, JoyCity,  TheSoneSource029@youtube.com, sogogies@youtube.com, ClubCity, Newsen, SMTOWN@youtube.com, Star News, Bestiz , KUSH1205@twitter.com, Mnet@youtube.com, Osen, MnetMCountdown@twitter.com, AllRiseSilver@twitter.com, sports.chosun.com, cinderella@yoona@soshified, daveetron@twitter.com, Fanta MBC Concert@facebook.com, AbqpdA@youtube.com, www.mt.co.kr, soneHD@youtube.com, girlsgeneration.co.jp, MasterTerminator@soshified.com
Written by: taengsoshi@soshified, bhost909@soshified, residentbenchwarmer@soshified, LetsGo@soshified, catfat@soshified
Contributors: minigiglo@soshified, SeraphKY@soshified, 오이사랑싴@soshified, SunnyStawr@soshified, ch0sshi@soshified
Have a news item that you think Soshified should know about? E-mail us at tip@soshified.com.
Follow us on Twitter: http://twitter.com/soshified for the latest on Girls' Generation.