After keeping fans waiting for more than a year, SM Entertainment has finally released Girls' Generation's "The First Asia Tour: Into The New World DVD". With that said, fans have been eagerly grabbing the goodies off the shelves, and Soshified Writers are no exception. With the prettily packaged DVD in mind, let's dive in and see if it was worth the money, shall we?
Firstly, let's start off with the DVD packaging.
In my opinion, the packaging was a little plain on the whole. The colour is very cute and pleasing, but the designs were a little too simple. There could have been more pictures on the disks themselves like the CD version of the concert. That is one of my all time favourite Girls' Generation disks because it was very well decorated, and it captured the "Pink Ocean" very well.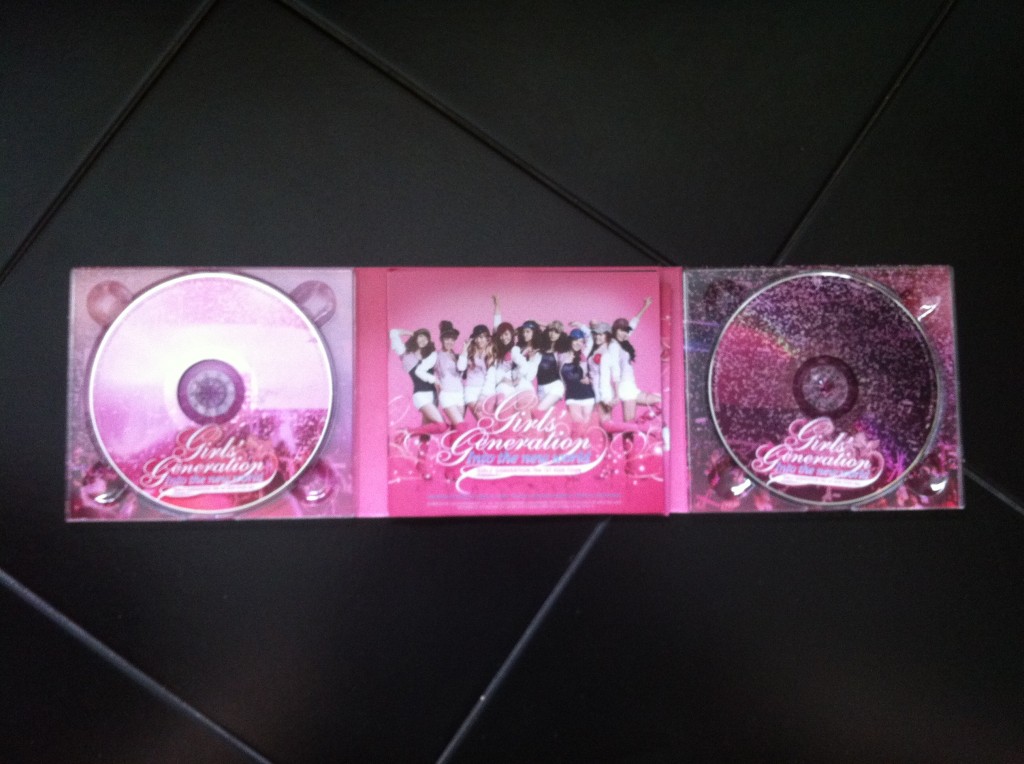 Photo of CD version of the Into The New World Concert
Let's move on to the performances put up during the concert. Overall, I think it was a pretty impressive stage considering the fact that it was their first ever solo concert. The concert started off with an awe-inspiring performance of "Tell Me Your Wish", and I really liked the stage props like the propellers and the pyrotechnics. Of course, the remixed version with the extra dance break just made everything better. "Tell Me Your Wish" is one of my favourite Girls's Generation songs, so a longer, newer version of it is always welcomed by me. My favourite part of the dance break was when the nine members broke up into groups of three and had a "Pass It On" sort of dance
The solo stages as a whole were, in my opinion, nothing to shout about. Of course, we got to see a different side of the girls as compared to their usual innocent or cute concepts. But I felt that as singers, they should have pushed for a song which showed off their vocal capabilities rather than something like "Barbie Girl". In my opinion, "Barbie Girl" is a song which doesn't highlight Jessica's ability to sing, but instead portrays her as a stereotypical blonde. However, there were a few stages which I thought were pretty good. Out of the nine performances, Taeyeon's, Tiffany's and Yuri's solo stages were my favourites. They had great stage presence (not that I'm saying the others didn't), and their singing wowed me too. Although I thought the other members' song choices or singing were just so-so, they still handled their stages pretty well. Yoona's stage was especially fun to watch because she interacted with the fans, and it also featured Leetuk's and Shindong's hilarious rapping. Yuri's rapping was not fantastic, but I do applaud her for rapping the whole song in English even though we all know that languages aren't her forte.
The group performances on the other hand were fun to watch, especially during songs like "Kissing You" when the girls ran around the stage interacting with fans. Personally, I think that it's a much better experience when the artists run around and rile the crowd up instead of simply dancing at the front of the stage, and Girls' Generation definitely didn't disappoint. Even though the concert was about three hours long, it was obvious that the girls put in tons of effort to make the concert a success, and I really like that.
Overall, I think that for their first solo concert, it was a huge success. The girls no doubt got a better feel of how it's like to run a concert on their own, and the success of their second concert definitely showed lots of improvements.
Packaging Rating: 6/9
Content Rating: 8/9
Overall Rating: 7/9
Also, stay tuned to the next review about the individual performances!
Written by: letaengbutt@soshified.com
Contributors: MoonSoshi9@soshified.com, residentbenchwarmer@soshified.com, michaelroni@soshified.com
Have a news item that you think Soshified should know about? E-mail us at tip@soshified.com.
Follow us on Twitter: http://twitter.com/soshified for the latest on Girls' Generation.