Videos
 Singapore SONEs Choose Their Favorite Member
Yahoo! Singapore conducted a street poll asking Singapore SONEs to choose their favorite Girls' Generation member and their reasons why. Looks like all the girls are loved in Singapore, but can you figure out who came out on top?
Endorsements
J.Estina Screen Saver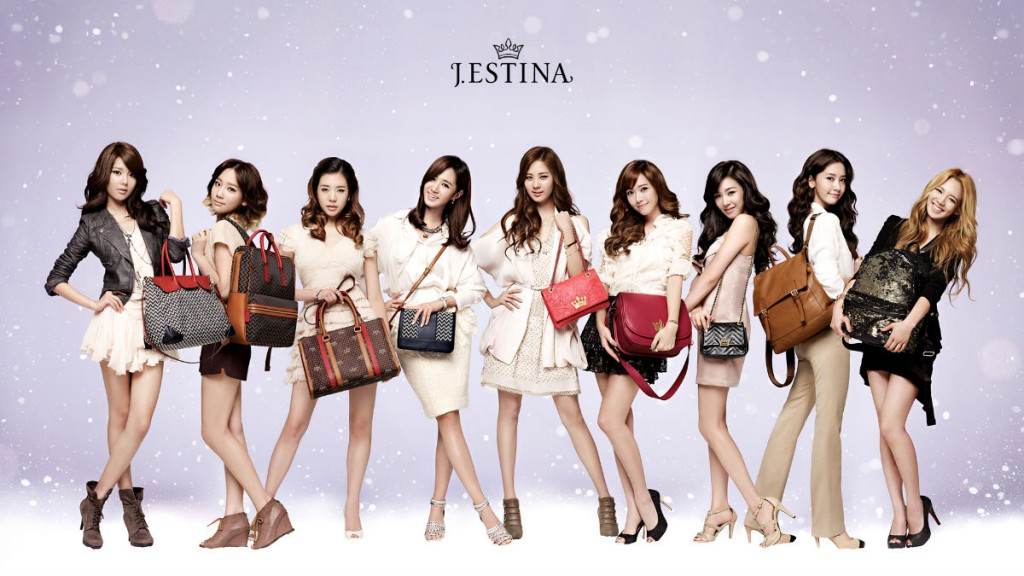 J.Estina shared a screen saver of the girls. They look fresh and cute carrying their promotional choice bags. You can download the screen saver here.
Others
Girls' Generation Chosen as "Most Wanted at Year-End Parties"
In a poll taken by 980 office workers, Girls' Generation was selected as their number-one female celebrity they would like to invite to a Year-End Party. It would sure be a phenomenal party if the girls do show up!
Tiffany's New Selca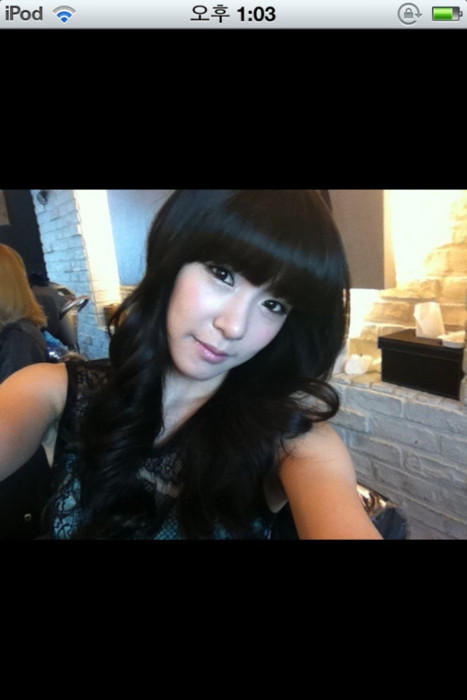 Tiffany's new selca has been spreading on social networking websites and has everyone commenting on how cute and beautiful she looks. The photo shows Tiffany's innocent charms, and it even shows a tiny bit of the back of Taeyeon's head. What do you guys think of the photo?
Isak Tweets Selca of Herself with Tiffany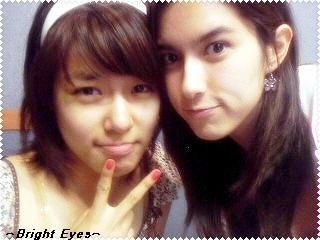 Isak tweeted an old picture of herself with Tiffany in the studio posing sweetly for the camera. Their close friendship can be seen in this photo, which was taken when Girls' Generation first debuted. Looks like Isak was reminiscing old memories!
Girls' Generation's Japanese Mobile Fansite to Release New Goods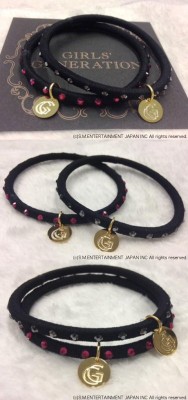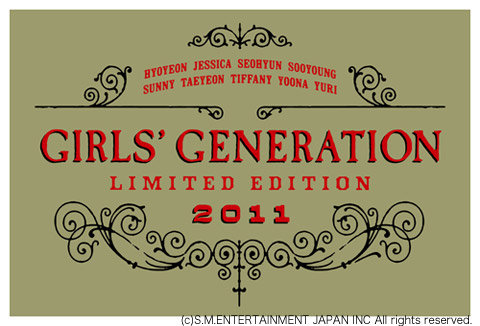 After announcing the release of a new album, Girls Generation's Japanese mobile fansite recently announced that they will be releasing limited edition items made for the holidays. The first of two items is a cute and gorgeous Swarovski bracelet plus hairband which were specially designed for this event. The second item is a cute blanket to keep you warm during the winter. They are both for sale now, so be sure to pick them up quick.
Girls' Generation's "Gee" Ends the Party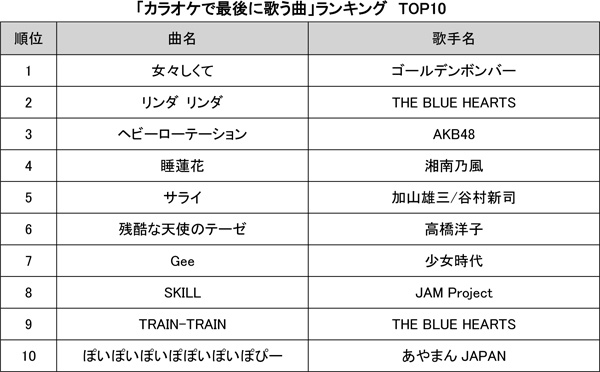 JOYSOUND, a Japanese company, recently did a study on "Which song do you sing most often at the end of a karaoke party?". Girls' Generation's "Gee" ranked in at seventh on the chart. A seventeen year old female fan said, "Since everyone already knows the song, we can sing, dance, and get pumped up right through till the end of the party."
Sooyoung's Father Starting Campaign to Help the Blind
Recently, Sooyoung's father mentioned that he will be starting a campaign to help cure blindness. Even though he himself is experiencing trouble with his eyesight, that does not seem to affect his kind-heartedness. Tiffany, Yuri, Sooyoung and Seohyun will be helping Sooyoung's father in this note-worthy campaign by providing him with the materials needed for the genetic research to cure blindness. It looks like not only are the girls thoughtful, but compassion seems to run in Sooyoung's family too!
Girls' Generation Tops Gaon Chart

Girls' Generation's "The Boys" album continues its popularity. It came out on top for album sales on the Gaon chart for the month of November with 65,048 sold, bringing the total to 293,042. Good job girls!
New Girls' Generation Theme for iPhones and Androids
There is a new SSKIN Girls' Generation theme out for iPhones and Androids! It is centered around "The Boys" comeback pictures, and you can download it for $1.99 in the iTunes Appstore or for free in the Android Market (iPhone, Android). Wouldn't it be awesome to have the girls set as the theme in your phone?
Preparations Behind a Girls' Generation Concert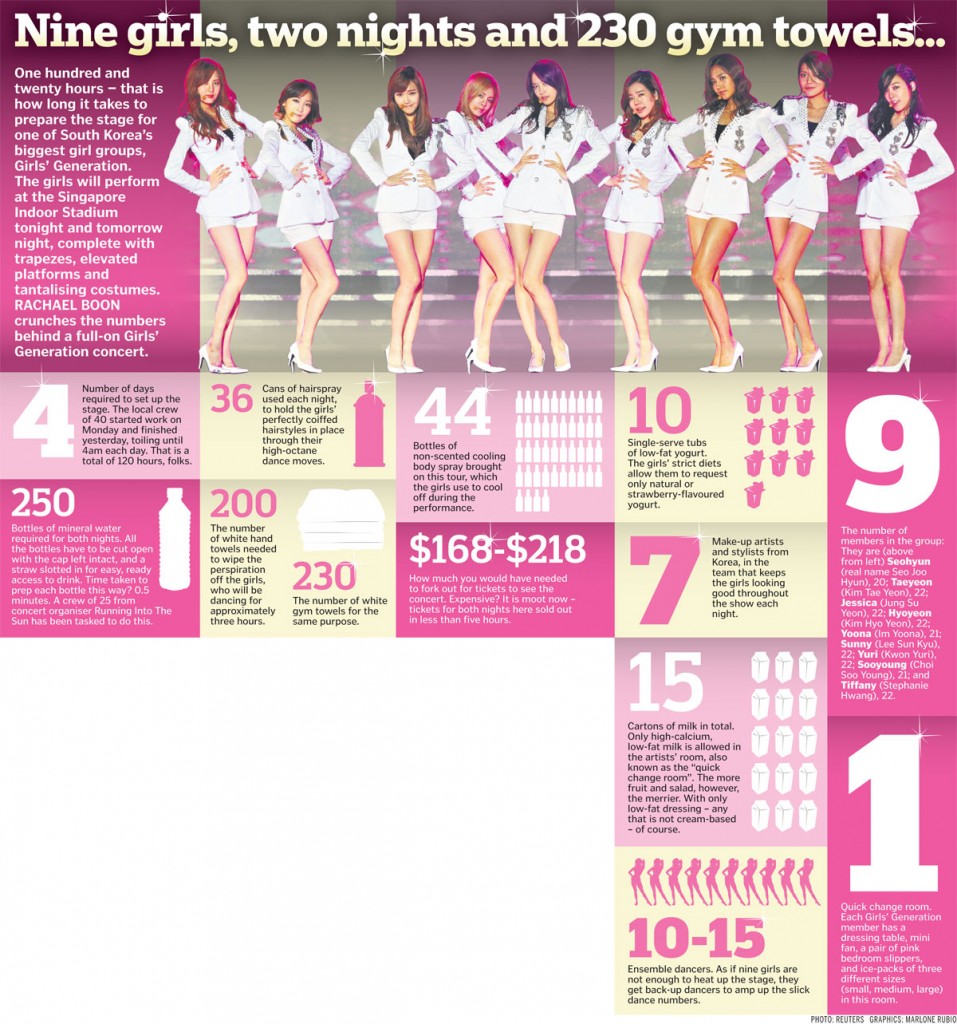 Girls' Generation recently appeared on the website of The Straits Times, a newspaper published in Singapore. With Girls' Generation set to perform at the Singapore Indoor Stadium for two nights, the Straits Times revealed several behind-the-scene necessities for a successful Girls' Generation Tour concert. Now, who gets those towels?
"Koala Kid" Movie Poster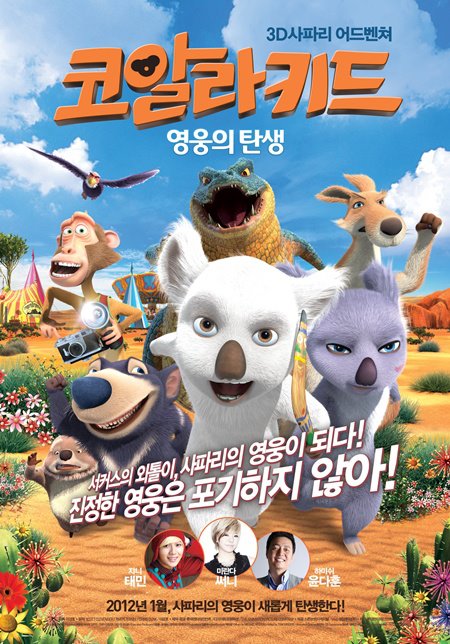 @KoalaKid2012, the official Twitter account for the upcoming movie "Koala Kid", shared this cute movie poster on their Facebook page. If you haven't heard the news yet, Sunny will be voice-acting for the character, Miranda. Look forward to the movie in the beginning of next year!
Girls' Generation Wins Best New Artist in iTunes Japan's "Rewind 2011"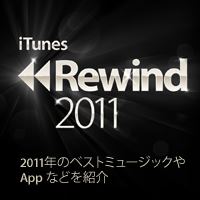 Japan iTunes recently released their "Rewind 2011" rankings, which features categories in music, movies, podcasts and apps. Girls' Generation won top spot for "Best New Artist" with their debut Japanese album "Girls' Generation".
Soshified Philippines Celebrates Yuri's Birthday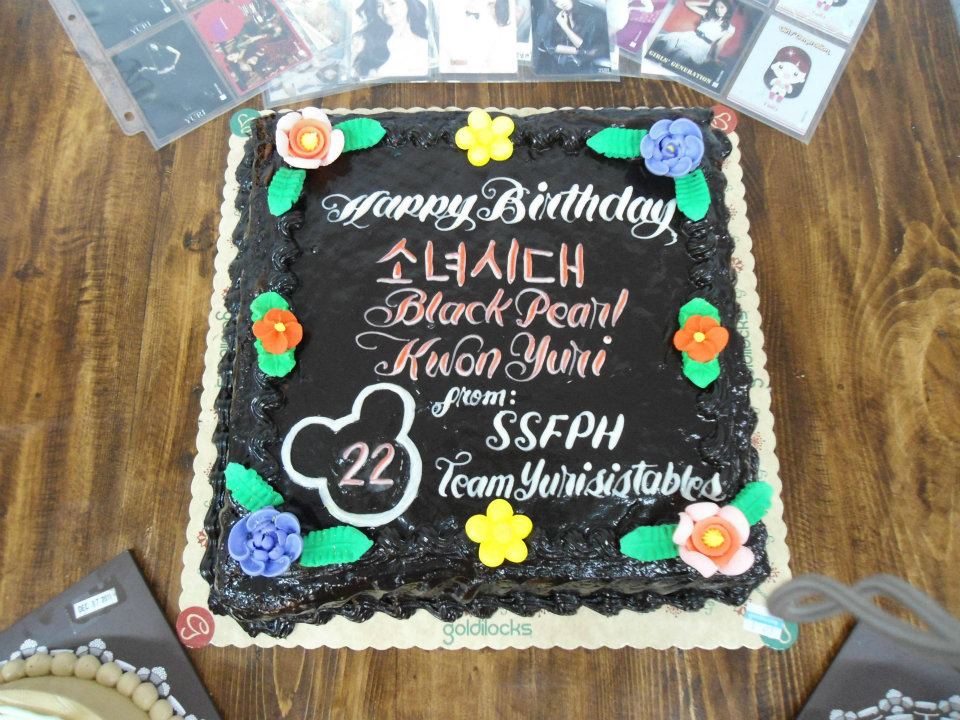 Soshified Philippines recently celebrated Yuri's birthday with several birthday cakes. From posters to collectible cards, they displayed Yuri-related goodies for all to see.
Jessica Takes Selca with Krystal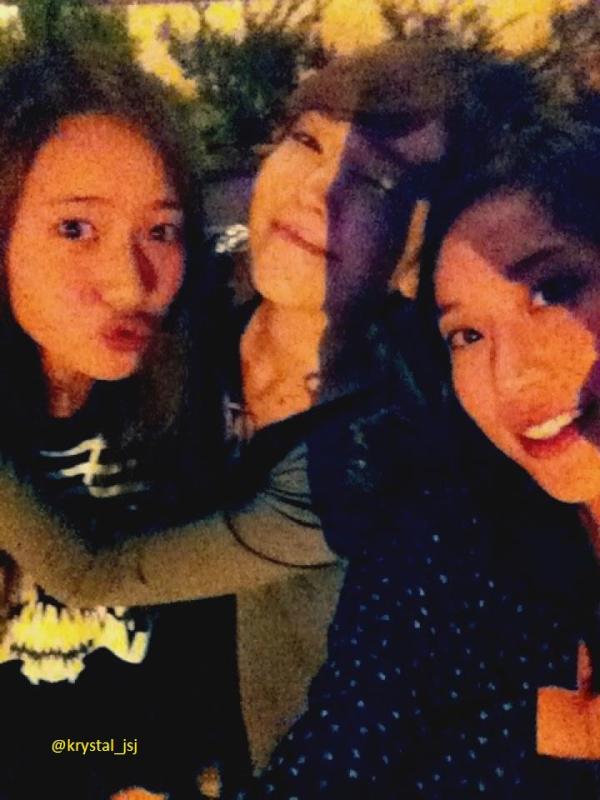 A selca of Jessica and Krystal popped up online. With her arms wrapped around her sister, Jessica gave a wink for the camera while Krystal puckered up. The two beloved sisters are no doubt growing closer to each other with every passing second.
Hyomin Tweets Picture of Sunny Vita500 Bottle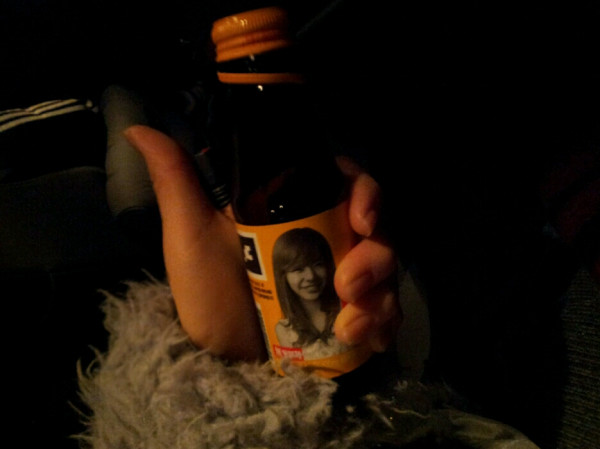 Hyomin tweeted a picture of a Sunny Vita500 bottle in her hand. The two, also known as the "Subyung" couple, remain close even after the first season of Invincible Youth. Seems like Hyomin misses her Sunny.
Tiffany Posts Selca on Japanese Fansite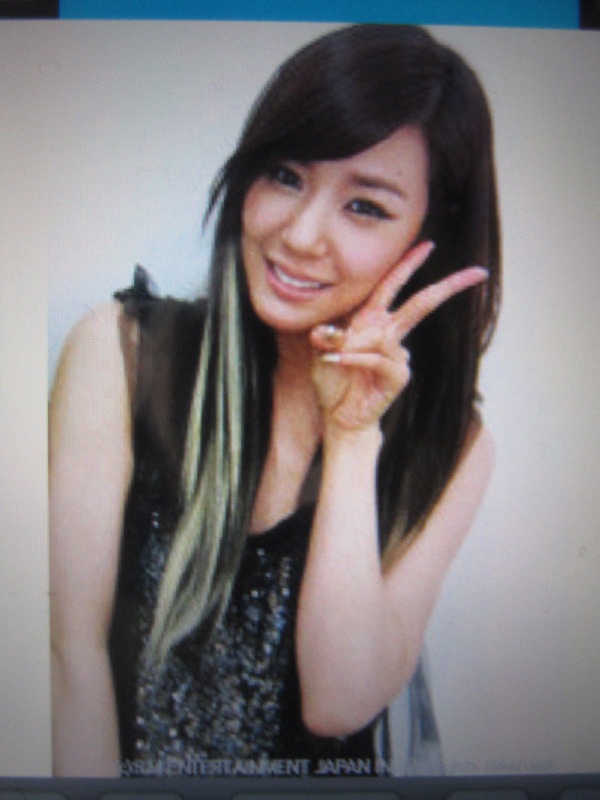 Tiffany posted another selca on a Japanese fansite. She smiled sweetly for the fans as she is seen dressed in her outfit for "The Boys" and with the distinct white streak in her hair. She also left a sweet message which can be read here.
Soshified Mentioned in "The New Paper"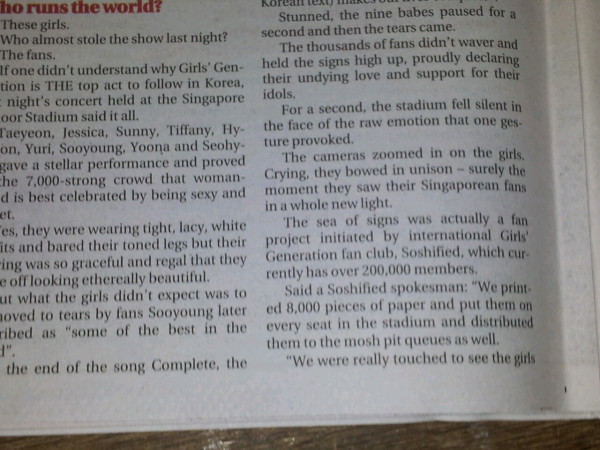 Soshified was mentioned in "The New Paper", a newspaper published in Singapore. The Soshified spokesman (none other than our very own cedge) talked about the fan event for the song "Complete". The girls were sincerely touched by the love shown by SONEs in the Singapore concert. For the full scan of the article, click here.
New Sets of Pictures
Vita500 – Taeyeon, Jessica, Sunny, Tiffany, Hyoyeon, Yuri, Sooyoung, Yoona, Seohyun
J.Estina – Taeyeon, Jessica, Sunny, Tiffany, Hyoyeon, Yuri, Sooyoung, Yoona, Seohyun
SelCa – Yuri SelCa
SONE Picture/Video of the Week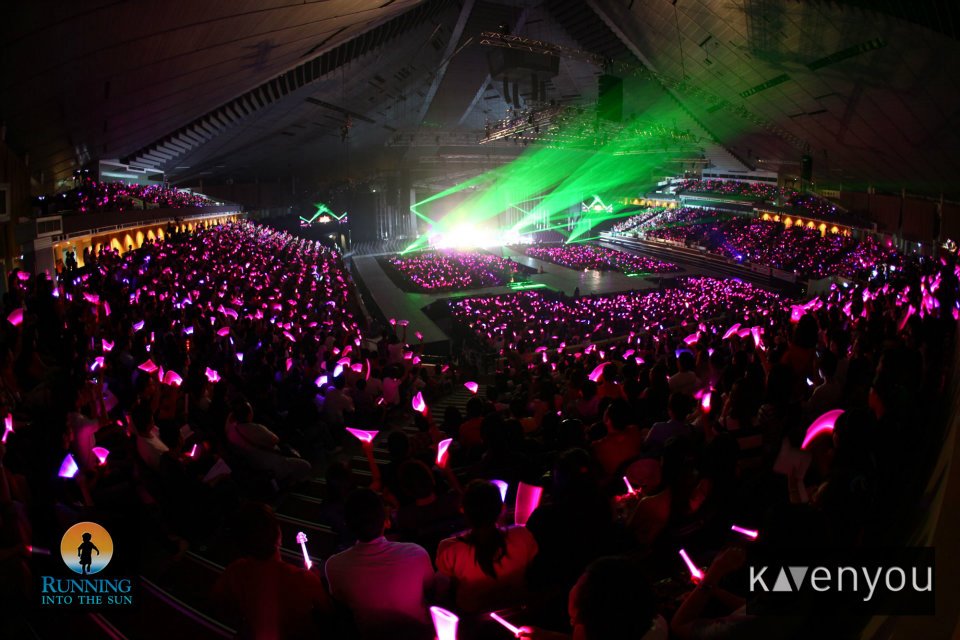 The "Pink Ocean" has spread over to Singapore! The whole stadium was filled with a sea of pink throughout the entire three-hour concert held in Singapore Indoor Stadium on December 9th and 10th. SONEs were tireless, giving 110 percent for the girls on both days. From roaring fanchants to loving cheers, the never ending support from SONEs was both beautiful and touching.
If you have any pictures or videos you'd like to submit for SONE Picture/Video of the Week, please feel free to do so by sending them to the Soshified Writing Team at tip@soshified.com or posting at the official SONE Picture/Video of the Week thread.
Sources: pinksabers@twitter.com, english.chosun.com, hyo32@soshified.com, realISAK@twitter.com, Yahoo! Singapore, redsunset@soshified.com via Japanese mobile fansite, Barks Japan, J.Estina, http://news.kukinews.com, http://www.gaonchart.co.kr/, GirlsGeneration@twitter.com, http://straitstimes.com, KoalaKid2012@twitter.com, SSFPH@facebook.com, krystal_jsj@twitter.com, b89530@twitter.com, Soshified translations, alwaysawkward@twitter.com, KAvenyou@twitter.com
Written by: taengsoshi@soshified.com, SeraphKY@soshified.com, LetsGo@soshified.com, letaengbutt@soshified.com, bhost909@soshified.com
Contributors: residentbenchwarmer@soshified.com, arghninja@soshified.com, minigiglo@soshified.com, MoonSoshi9@soshified.com
Have a news item that you think Soshified should know about? E-mail us at tip@soshified.com.
Follow us on Twitter: http://twitter.com/soshified for the latest on Girls' Generation.