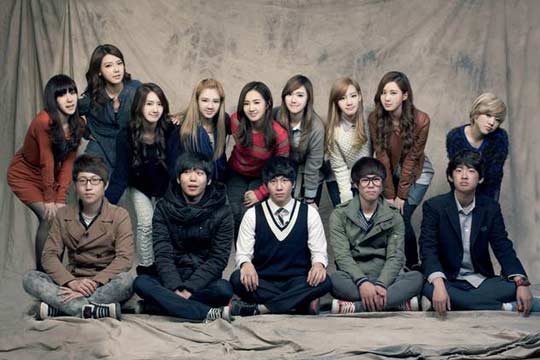 Update with new video:
During the December 18th premiere of "Girls' Generation and the Dangerous Boys", many fans tuned in anticipating Seohyun's display of anger towards the "Dangerous Boys". However, the segment which supposedly contained Seohyun losing her temper differed from what fans expected, as Seohyun said only one sentence rather than "exploding with anger". Instead, it was an unaired clip that showed Seohyun voicing her displeasure at the way the "Dangerous Boys" were living their lives.
The clip, released on JTBC's official website for the show, revealed that Seohyun in fact said, "You shouldn't live like this! I'm getting very upset right now."
Taeyeon, unable to hide her surprise, repeated, "Seohyun! Seohyun said…!", but could not finish her sentence because she burst into laughter.
Seohyun continued with "I'm really upset right now. I didn't know I would react this way either," and amidst Taeyeon's continuing laughter, said "This is getting me really upset. I'm just going to listen for now."
Taeyeon explained, "She's not a person who speaks informally to a person she's just met for the first time. This is a first for me. I've known her for years now."
Check out all of unreleased footage from the first episode of "Girls' Generation and the Dangerous Boys" below.
Previous article from 12/16/11:
On the new JTBC variety program, "Girls' Generation and the Dangerous Boys", Girls' Generation will be helping the "Dangerous Boys" and watch them mature and transform. They will be acting as mentors and will be providing the boys with personal advising sessions and training.
Seohyun, who is known as the "Girl Who Lives by the Rules", lost her temper on the first day she met the "Dangerous Boys".
Seohyun kept a stiff face when she was viewing the lives of the boys through a monitor. After the video clip, she showed her pity saying, "I think the boys are living without dreams or thoughts."
Though she remained calm during the personal advising session during which the boys answered with careless words, Seohyun later surprised everyone when she exploded with anger by saying, "You shouldn't live like this."
Seohyun later showed her determination and said, "I'm upset that the boys seem to live without thinking about anything and without a dream," and, "I want to find a dream for the boys."
The first broadcast of "Girls' Generation and the Dangerous Boys" will air on December 18th.
Sources: TVDaily, sonefunny3@youtube.com
Translated by: minigiglo@soshified
Written and Edited by: bhost909@soshified
Contributor: taengsoshi@soshified
Have a news item that you think Soshified should know about? E-mail us at tip@soshified.com.
Follow us on Twitter: http://twitter.com/soshified for the latest on Girls' Generation.