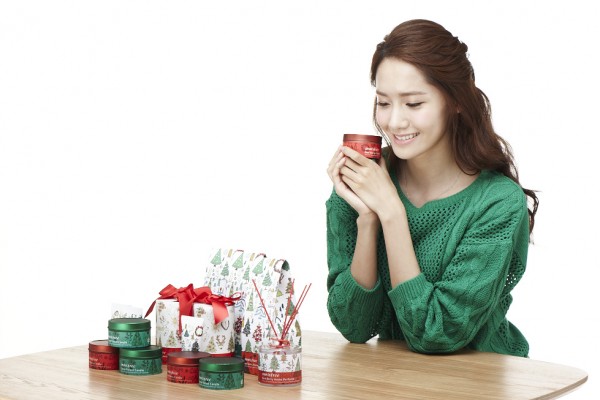 Girls' Generation's Yoona has started the Christmas season a bit early as several endorsements came out in rapid succession.
Yoona Wishes You a Green Christmas with Innisfree
First up is a commercial with Innisfree who is having a "Green Christmas" campaign during this holiday season. Yoona takes center stage as she bursts out of the present and begins singing a traditional Christmas song, wishing everyone a Merry and Green Christmas. If you purchase a limited item with the Christmas seal, 500won and a pair of socks will be donated to Save the Children's boys and girls.
Yoona's Innisfree Green Christmas App
Next up is an iphone app of Yoona dressed in a simple outfit consisting of a pair of blue jeans, a white sweater, and a very long scarf. Yoona fusses around with her scarf for a bit after yawning and even sings a short but sweet part of a Christmas carol.
Last but not least, a beautiful set of pictures featuring Yoona in Christmas styled clothing released by Innisfree:
Yoona, Yoona1, Yoona2 , Yoona3, Yoona4, Yoona5, Yoona6, Yoona7, Yoona8
Christmas is around the corner and Yoona is kicking off the festivities.
Source: ecoinnisfree11@youtube.com, epsilonish@youtube.com, dcinside Yoona gallery
Written by: SeraphKY@soshified.com
Edited by: MoonSoshi9@soshified.com
Contributors: hannahhrpark@soshified.com
Have a news item that you think Soshified should know about? E-mail us at tip@soshified.com.
Follow us on Twitter: http://twitter.com/soshified for the latest on Girls' Generation.