We're back with the second part of this month's Soshified Spotlight. In Part 1, we featured ♥Nadine, or Andini. In Part 2, we're going to meet Litney, or Licelle. A SoShi Stylist, Licelle obviously is quite interested in fashion. She aspires to be a model and a fashion designer, and even keeps a sketchbook of fashion designs so that she can sew them and open up her own clothing line in the future. Like many other SONEs, she used to dislike K-Pop, but now loves the girls. She's even learned Girls' Generation's choreography, joined a dance club after being inspired by Hyoyeon, and become interested in Korean language and culture.
What is your first name?

Licelle
How did you find out about Soshified and why did you decide to join?

I really can't remember, but I think it's because when I was searching for SNSD's 'Mr. Taxi' and I saw this link that Girls' Generation is going to team up with Justin Bieber. So I was like, I should check it out! After I read the article, it was just a joke for April fool's day ))) Then, my friend told me about this new drama of Yoona, "Cinderella Man" so I searched the internet and saw this website the re-posts the videos of Soshi Subs. While I was watching one of the episodes, it suddenly stopped so I went to Soshified to watch the drama. But then, I have to join the cafe for me to watch the drama. So I was thinking… if I join this cafe I'll get to know Girls' Generation more?? Since I'm a fan, I decided to join.
How did you come up with your screen name?

How did I come up with Litney?? hehehe… My classmates gave me that name because I'm also a fan of Britney Spears. I was really crazy over her in the past. So I decided that name to be my screen name.
Where are you originally from, and where do you currently reside (city and country for both)?

I'm originally from Philippines in Metro Manila and I am currently living here. Since I was a kid I live here.
If we were visiting you where you live for one day, where would you take us? Why are these places so significant?

If you're going to visit here, I would take you to Palawan and Chocolate Hills. First of all, Palawan because it is very interesting there you can go to beaches and go to sea caves. Second, Chocolate Hills, don't take it seriously… it's not really made out of Chocolate ))) It is called "Chocolate" Hills because when it's dry and sunny outside it looks like a hill of chocolate and when it rains it turns to color green.
Tell us a little about your life. What do you do full time and in your free time?

I am currently studying in high school, a junior high school student in a Catholic school. So what I do full time is to study and study )) And what I do in my free time, I just go online and check the latest news about K-pop and Girls' Generation and also I watch TV and listen to my iPod.
What's the most interesting thing about you and/or that has ever happened to you?

What's the most interesting about me?? Hhmmm… I think it's my hair? hehehe… I guess so… Every time I get to know new people and they get to know me, they always say that my hair is really extraordinary like out of this world. Some of grandma's friends say that it is like the hair of Santo Niño.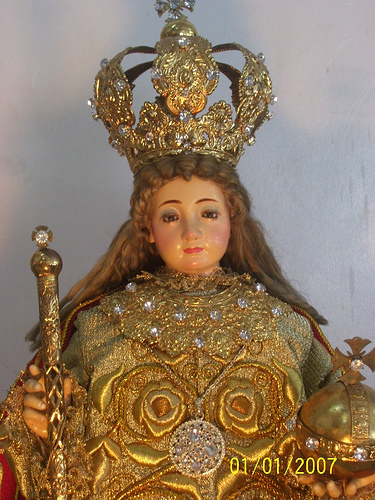 For people who are first meeting you (like most of us), how would you describe yourself?

When I meet new people, I'm very shy at first. But when I get to know them well, I really am talkative and fun to talk with. I also love to joke around with my friends.
Tell us some things that most people don't know about you that you think they should.

Most people know that my dancing skills are good but I think they don't know that I'm more than just a dancer. I can sing, play different instruments, draw my own designed clothes, and also rap.
What instruments do you play? Which one do you like best, and how did you learn to play them?

– I play the guitar, flute, and a little bit of piano. I like the guitar the best. I learned to play the guitar when I was in grade 5. My mom signed me up in the guitar club but i didn't want to. Since we can't change our clubs, there's nothing i can do about it. Well, i had fun with the club, i got to learn the guitar very well. As for the flute, i learned that during our music class when i was in grade school. And for the piano, my cousin thought me how to play it.
How did you get your passion for fashion?

– My mom loves to go shopping and buy clothes. When we go to a store I find a lot of pretty clothes and shoes. My bestfriend and I also loves to watch this show called "America's Next Top Model." I really get inspired by the looks of the models and the clothes that they wear.
You've also said that you are a "frustrated artist". What do you mean by that?

– LOL. I've always dream of becoming a popstar someday. I even auditioned at K-Pop Star, but sadly I wasn't notified that they got my email.
Is there a reason why you're practicing your signature?

– Maybe there is, if someday I'll be a star in the future, who knows?
Is there anything big in your life that you're working on? (This can be related to school, career, hobbies, family, friends, etc.)

I should say… I'm studying hard, for me to be able to finish studying, not just high school but also college. I just want to go to a good university after I finish college I would be able to find a good job.
What are your interests outside of Girls' Generation?

Hmmm… I should say Britney Spears and other K-pop artists. I'm more into K-pop right now. I also like Super Junior, B2ST, KARA, After School, and T-Ara. I also like American artists like Eminem and Bruno Mars. I love watching TV series like Glee and I love to watch Korean dramas.
You've mentioned that you used to hate K-Pop. How did that change? Was it because of Girls' Generation?

– I think it change because I always see my bestfriend dances to Girls' Generation's 'Gee'. When he dances, I find it really cute and awesome. And also because when I watch in our music channel here in the Philippines, I always see the MVs of Girls' Generation and other K-Pop artists being played. I think it's not only because of Girls' Generation, but I like them more than other artists.
How did you first become a fan of Girls' Generation?

I think it all started with 'Gee'. When my grandma was watching Music Bank, I really get annoyed because how can you understand those artists what they're singing about? I asked my grandma if she can understand what those singers are singing and she said "yes". Well, that's not true at all because I'm better at her in my Korean skills hehehe… When I saw Girls' Generation perform, I was like WOW that's so cute. I also saw their MV on Myx. When I saw it, the dance moves really made me move to the beat. That's how I started to become a fan.
Who is your favorite member and why?

Choi Sooyoung! The one and only Shikshin! She's my favorite because she is so like me. She has a big appetite, I also do hehehe… She's tall and I am. She's emotional, I am too. What I also like about her are her dance moves and singing skills. And also, she has a great sense of fashion. I love fashionistas!
What is your favorite Girls' Generation song and MV and why?

Almost all but what I like the most is 'Into the New World', at first I didn't know what the meaning of the song but I can sense it within the MV that it's a song about courage and a strong girl. It gives me a lot of energy in the morning and helps me to become a stronger person. I also like the MV of 'The Boys'. Those extreme dance moves and that line, "Girls' bring the boys out!" That song just can't get off my mind.
What is your favorite Girls' Generation moment and why?

I love every moment of them. What I like the most is when they all perform together on stage. It shows that they have a good bonding with each other and they have a good teamwork.
How has Girls' Generation impacted your life, in specific areas or even as a whole?

Girls' Generation made me stronger and a happier person. They're the ones who inspired me to join our dance club in school and also to audition in different dance contests.
What do you like most about Soshified, and why? Any section in particular you're attracted to?

What I like about Soshified is I get to interact with my fellow SONEs and update me with the latest news about Girls' Generation. The sections that I like are the Super Generation thread and of course Soshi Style! First, Super Generation thread because I love Super Junior and Girls' Generation. I ship these two groups. :> I also get to spazz here a lot especially when it comes to my OTP, HaeSica (even though my bias is Sooyoung). And lastly, Soshi Style! Where we update all the latest fashion about SNSD and also we do some tutorials, outfit of the week, weekly polls, and GTLs.
Why did you decide to join the Soshified staff, and why the particular job you have now?

I joined the staff because I want to contribute something and share new ideas to Soshified. At first, I want to be a writer but I said to myself that I think I don't have enough resources to get news about Girls' Generation and since I love fashion a lot, I decided to join the stylists' team.
What exactly do you do? Do you enjoy this position? What do you like about it?

I am one of the hair stylists and I also do GTLs. Yes, I do enjoy doing this job because you get to learn new ideas and discover new styles. What I like about it (especially in the GTL) I get to see new kinds of clothes while I'm searching for a look-alike of the item and I get to learn new skills in doing my hair tutorials while I do my research about the hair style that I'm going to do.
What is your favorite project that you've ever been involved in?

My favorite project would be the GTL. Every time we brain storm on what to do next, I always get excited on what we're going to do.
Any interesting experiences when interacting with members?

I get to interact with my members and fellow SONEs through the shoutbox, artword threads, fanfic threads, and the Super Generation thread. I should say that twonyshidae (hey dongsaeng! ) is the one I get to interact with, mostly. She is really friendly and we often interact in the artwork and fanfic section. I really don't get to interact with my fellow stylists but there is one, SNSDave We chat through our twitter accounts. And also I chat with my fellow PH SONEs through the shoutbox (hey guys! ). I wish someday I'll meet them in real life so we can get to know each other more and to have a bonding together.
Is there anything else about you that you would like to add?

Hmmm… what else should I add? )) I think that would be all guys. Just don't forget to visit Soshi Style for the latest news about Girls' Generation's fashion. And also, I want to thank you David for interviewing me. I really had a great time!
Huge thanks goes out to Licelle for participating in Soshified Spotlight this month. As usual, you can submit nominations for future Soshified Spotlights if you'd like to participate or if you'd like to get to know a fellow member better. Instructions on how to do so can be viewed at the Soshified Spotlight Solicitation announcement.
Compiled by: residentbenchwarmer@soshified.com
Pictures courtesy of: Litney@soshified.com
Graphic by: cioco@soshified.com
Have a news item that you think Soshified should know about? E-mail us at tip@soshified.com.
Follow us on Twitter: http://twitter.com/soshified for the latest on Girls' Generation.