Yuri, who is known for her workout regimen, including her habit of doing 600 sit-ups every day, once again had her physical training featured, this time on KBS2's "Star Life Theater" on November 24th. A member of the gym Girls Fitness, Yuri was shown going there after hours due to her schedule. She commented that during Girls' Generation's Japan Arena Tour over the summer, breathing inside the hot venues was difficult, but she was able to handle it because of her training.
The episode on the 24th also showed scenes of the girls participating in a fansigning event.
The girls have also attracted attention with their full gluttony despite their perfect figures.
In the episode broadcast on November 23rd, the girls revealed their easygoing daily lives outside the TV screen.
On this day, the girls cheered at the sight of food bought by one of the staff while preparing for a music program in the green room. They replenished their energies by eating enthusiastically, and showed a vigorous desire for food.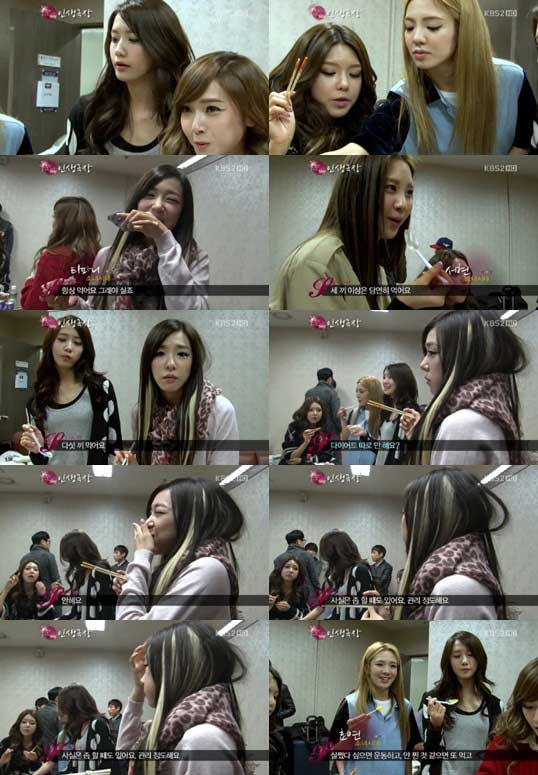 The members said, "There's always a buffet in Girls' Generation's green room. The manager oppas work really hard." At this, the VJ asked if they go on diets. The girls replied, "No we don't. If we think that we gained weight, we just control what we eat, but we need to eat to work." With this, they showed a free and easy attitude.
On the other hand, Tiffany attracted attention by practicing very hard for her first musical. She received many favorable comments from viewers after this episode revealed her practicing for her upcoming musical for 12 hours a day, in addition to working earnestly as a singer.
Tiffany also spoke of her drifting relationship with her father, as she tearfully shared some of the difficulties she has had.
Through the show, she admitted that she has become distant with her father ever since she went to Korea to be a singer. Tiffany said, "I was sixteen years old eight years ago when I first came to Korea. I was at the peak of my wandering adolescent age, and it was two years after my mother passed away."

Tiffany mentioned how she came to choose this career path. "During that adolescent period of my life, music was the only thing that made me happy." However, her father was opposed to Tiffany becoming a singer. On this, Tiffany said, "In honesty, my relationship with my father drifted a lot while I've been working as a singer. It's been a long time since we've talked, and now that I think about it, I have never spent much time with him at all," and spilled the tears she was trying to fight back.
Tiffany kept wiping her tears as she said, "It's been almost eight years since I came here and…it's upsetting."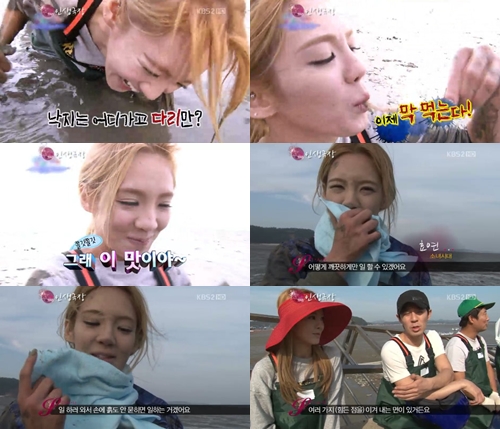 Also on the 23rd, Hyoyeon showed her professionalism and her maturity. Hyoyeon was recently chosen as a fixed cast member on KBS2's "Invincible Youth 2" along with Sunny. Perhaps because of the nerves that came with filming the second episode (Editor's Note: the article says first episode), she was having such a rough time that she even skipped lunch. However, she said in front of the production crew, "I don't think it's indigestion," and put on a bit of a smile.
Before going back to filming, Boom cheered her up by saying, "Don't be sick," and also encouraged her. He said, "Hyoyeon has something strong in her heart. I respect and admire that about her. I'm just expressing as a fan my respect for her when I see her overcome difficulties while being active in Girls' Generation and constantly improving herself in every album."
The cast then went to the mud flats where Hyoyeon tried her best and did not hold herself back even though she was not feeling well, showing how passionate she is.
When Hyoyeon was interviewed, she expressed her intentions and once again showed her professionalism when she replied, "How can you always be clean when you work? When I'm on stage like for Music Bank, I strive for perfection because I have to show the best I can be as a singer. But right now, I'm here to work so all I can do is think positively and put in my best effort."
Sources: Etoday.co.kr, Daum, Daum, Wstarnews.hankyung.com
Written by: residentbenchwarmer@soshified.com
Translated by: minigiglo@soshified.com, taengbear@soshified.com
Contributor: MoonSoshi9@soshified.com
Special thanks to mattguitarist for the tip.
Have a news item that you think Soshified should know about? E-mail us at tip@soshified.com. Follow us on Twitter: http://twitter.com/soshified for the latest on Girls' Generation.