Videos
Taeyeon Ranks 1st for Idols Who Are Sought After for Duets
On "Pops In Seoul" this week on Arirang World, their Best 5 ranking chart had idols who were the most sought after as duet partners, and Taeyeon tops the chart this week. She is renowned in Korea for her impeccable vocal ability and how she meticulously approaches her singing. Any duet she does turns to gold, so it's no surprise that singers are lining up for a chance to sing a duet with her.
Seohyun Talks About Her Favorite Songs
Seohyun recently gave an interview with SBS MTV "Playlist Top 6". She talked about songs that have recently caught her attention. Some of the songs she mentioned are Kelly Clarkson's "Stuff  Like That There" and CNBlue's "Love Girl". Seohyun also talked about her tap dance performances from the girls' solo concerts a few months back. Look forward to the Soshi Subs version of the video.
Endorsements
New December Vita500 Wallpaper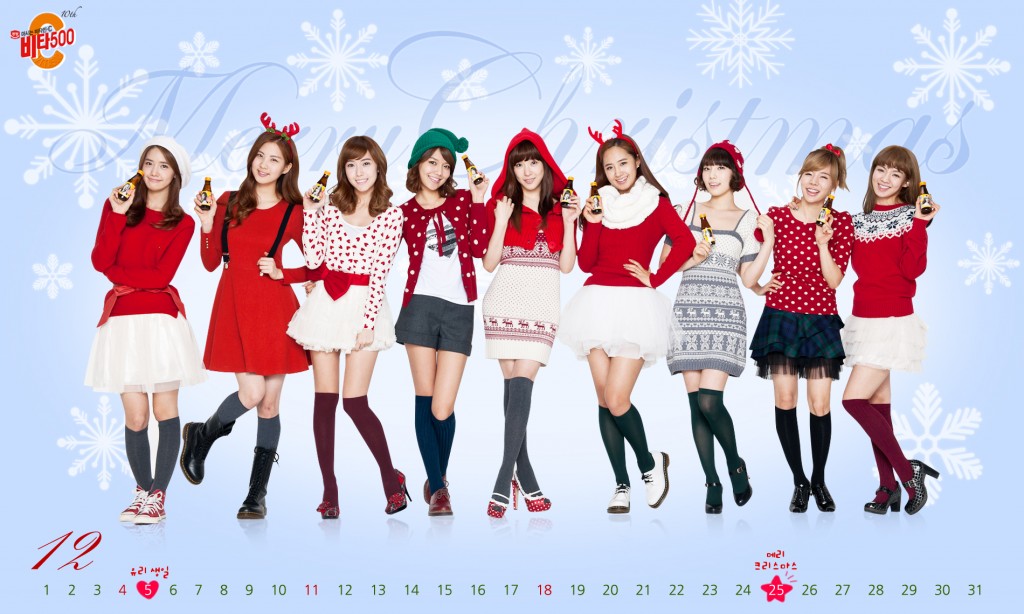 Kwangdongpharm shared a new wallpaper of the girls for the month of December. With winter quickly approaching, they are shown dressed in their adorable, warm winter outfits. In case anyone forgets, they even starred important dates: December 5th for Yuri's birthday and December 25th for Christmas. Having Soshi set as your desktop is an awesome way to keep track of your days.
Goobne Chicken to Give Out Girls' Generation File Binders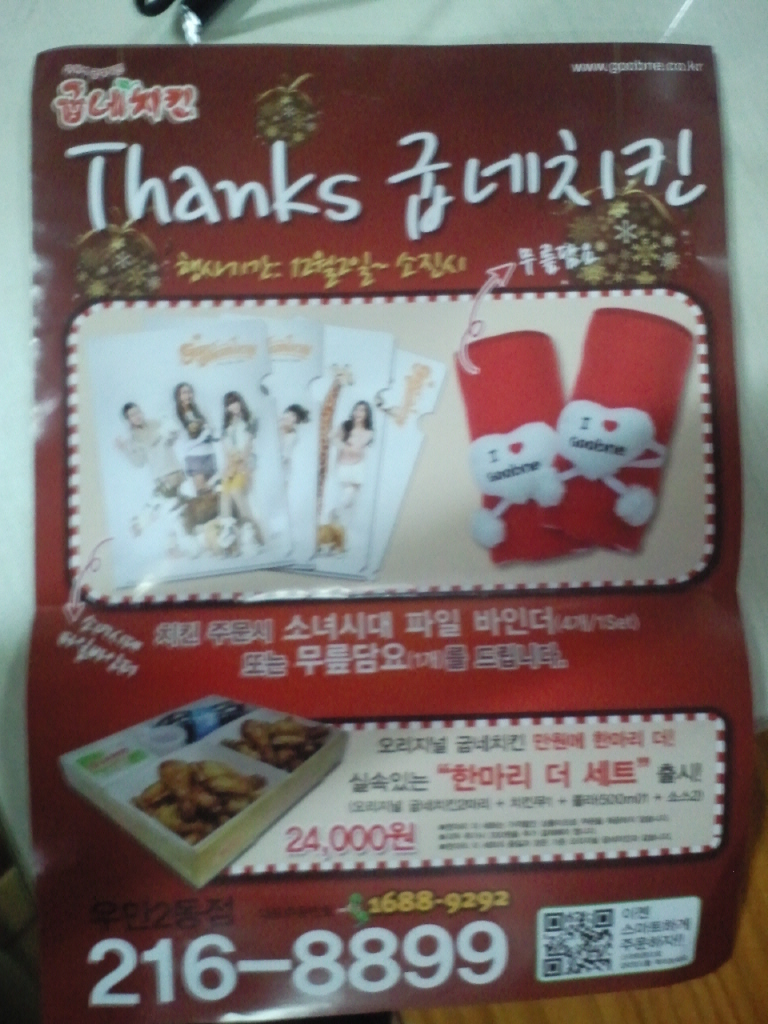 Now that Christmas is right around the corner, Goobne Chicken is getting into the giving mood. Starting December 2nd, Goobne Chicken will be giving out file binders featuring Girls' Generation members. The binders come in a set of four. Looks like chicken will be a popular meal for SONEs this holiday season.

Others
Girls' Generation To Appear on '100Million Quiz Show'
Girls' Generation will make an appearance on SBS's "100Million Quiz Show". Unlike music programs and award ceremonies that are usually pre-recorded, the girls will participate in a live broadcast during the show. Girls' Generation will choose a question to ask that is worth 10 million won prize money.
Girls' Generation Featured in Straits Time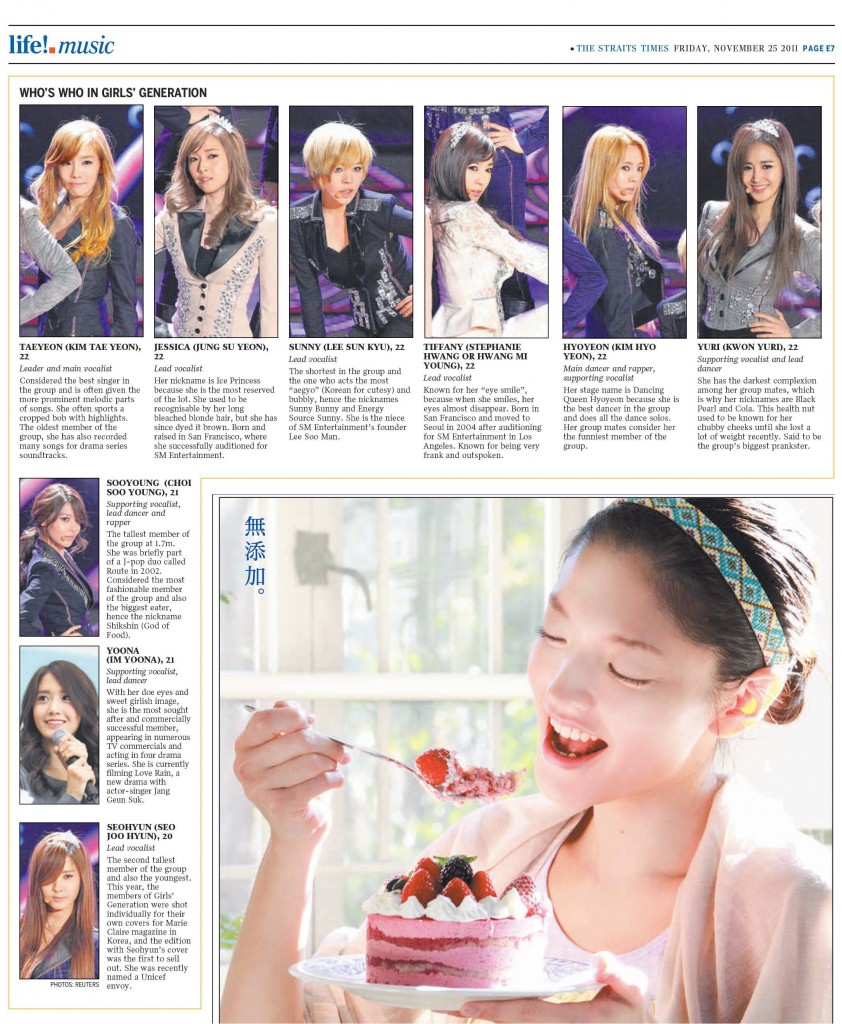 With Girls' Generation's two-night gig in Singapore and the 2011 MAMA coming up, The Straits Time recently released a feature on the girls in the Life! section. The girls were introduced to readers as "Foxy Leggies" and a short description of each girl was also provided. The article talks about Girls' Generation's soaring success not only in Korea, but also across the world, especially in Japan. There is also a short interview in English with Taeyeon via e-mail near the end of the article. Check the whole article out 
here
!
Jessica Takes Another Selca with Krystal
Jessica and Krystal recently took another selca together. The Jung sisters are known for their close bond, and they displayed their affection once again through their funny photo together. Jessica is seen pouting angrily with Krystal making a funny face in the background. Don't the two sisters look adorable together?
Girls' Generation Helps Raise SM Shares
SM Entertainment is set to see its market capitalisation reach $1 trillion won soon. On the 22nd of November, SM's shares recorded an all-time high with 60,100 won. In August 2010, the share prices were roughly 20,000 won, but a year later, it soared 220% higher. In September and October this year, shares prices have increased to 40,000 won and 50,000 won respectively. No doubt, Girls' Generation's comeback with "The Boys" was one of the reasons why the share prices have skyrocketed.
Girls' Generation's New Album Swept Music Charts in Taiwan
On November 27th, Girls' Generation's third album, which was released on November 18th in Taiwan, took the number one spot on the weekly chart according to G-Music, a site that tracks the total number of albums sold there. This is even more meaningful, as they have beat out singers such as Jay Chou and Bibi Chou, whom are both very popular in Greater China.
Girls' Generation Ranks in the Top 10 on Japanese Music Charts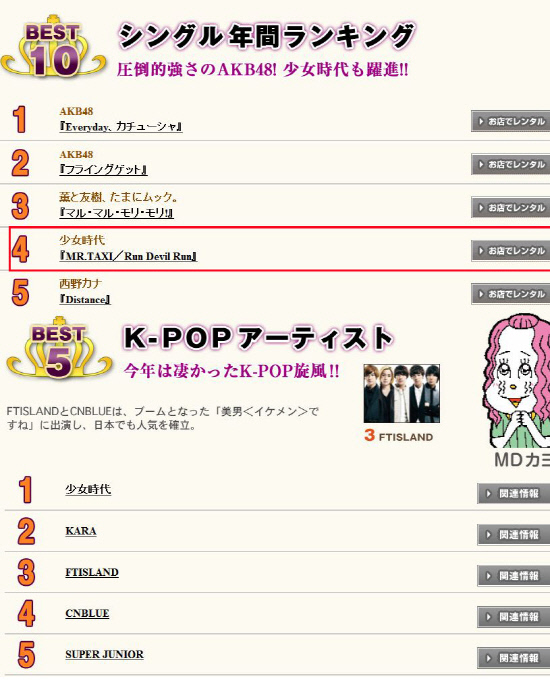 Girls' Generation's Japanese albums '"Mr Taxi/Run Devil Run" and "Gee" have come in 4th and 9th place respectively in Tsutaya's "2011 Popular CD/DVD Rental Ranking". It is a huge accomplishment that the girls placed in the top 5 amongst other popular Japanese artists such as AKB48.
Girls' Generation in French Magazine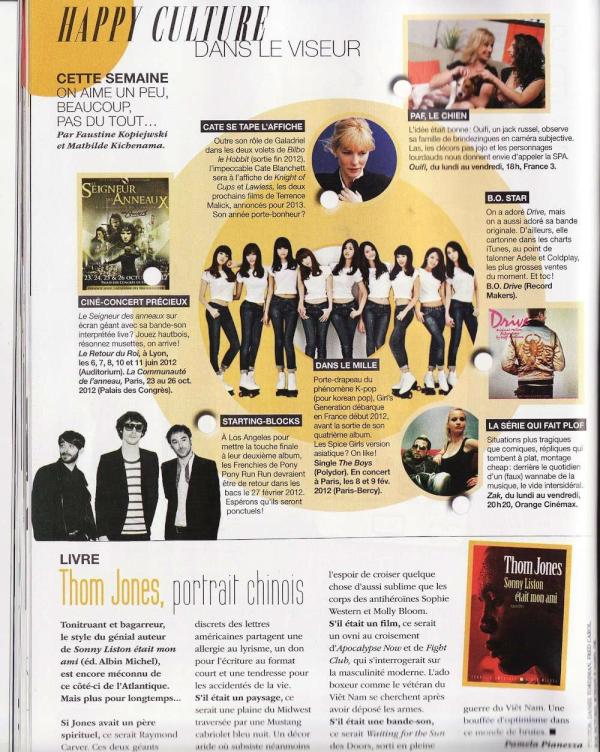 Girls' Generation appeared in a French magazine, once again proving their worldwide popularity. They were praised as a Kpop phenomenon and were referred to as the "Asian Spice Girls".  They will be performing in Paris February 8th and 9th of 2012 for Music Bank.
Girls' Generation Congratulates MyDaily on Their 7th Anniversary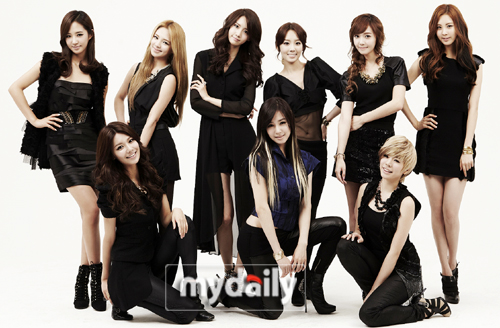 On November 28th, the girls congratulated MyDaily on their seventh anniversary with a congratulatory video, which can be seen here.
Jessica in W Korea Magazine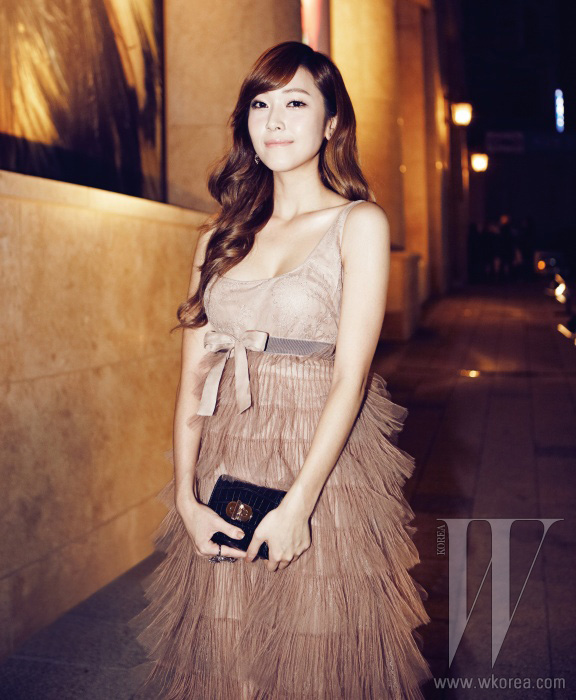 Jessica will be appearing in the December issue of W Korea magazine. She's seen dressed in an elegant gown at night. From the sneak peak, we can expect pictures that will be sure to have everyone's jaws drop.
New Sets of Pictures
Vita500 – Taeyeon1, Taeyeon2, Taeyeon3, Jessica1, Jessica2, Jessica3, Sunny1, Sunny2, Sunny3, Tiffany1, Tiffany2, Tiffany3, Hyoyeon1, Hyoyeon2, Yuri1, Yuri2, Yuri3, Sooyoung1, Sooyoung2, Sooyoung3, Yoona1, Yoona2, Yoona3, Seohyun1, Seohyun2, Seohyun3
SONE Picture/Video of the Week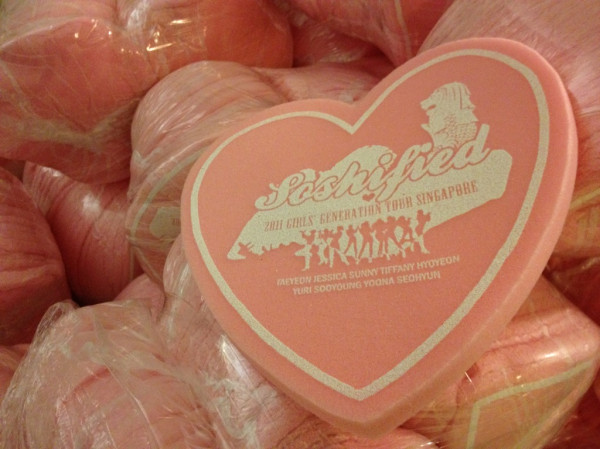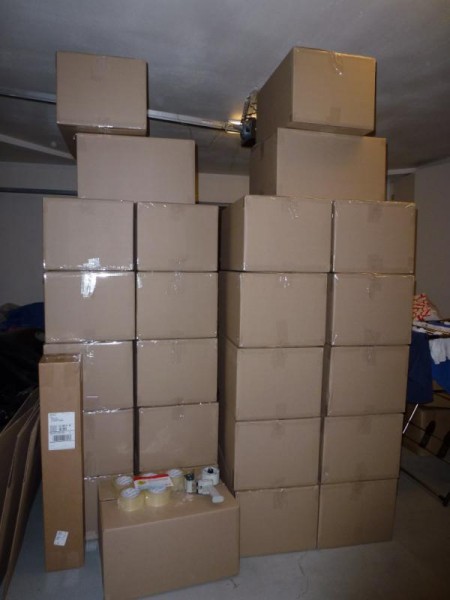 With everyone gearing up for the Singapore concert, Soshified makes its presence known with its trademark foam hearts which were specially designed for the upcoming concerts. Special thanks go to the Soshified projects team for making this possible, as they had to pack away 26 boxes filled with foam hearts and banners in the U.S. for the SONEs in Singapore. Enjoy the concerts Singapore. Cheer loud, cheer hard, but most of all, keep yourself and the girls safe.
If you have any pictures or videos you'd like to submit for SONE Picture/Video of the Week, please feel free to do so by sending them to the Soshified Writing Team at tip@soshified.com or posting at the official SONE Picture/Video of the Week thread
Sources: Soshified Photo Section, arirangworld@youtube.com, EnterNews, http://www.newsen.com, Kwangdongpharm@twitter.com, hyunmyoung1@youtube.com, DC Taenggall, http://news.nate.com, Jung_ChanMi@twitter.com, ItsMeFavii@twitter.com, 9__stars@twitter.com, http://www.mydaily.co.kr
Written by: letaengbutt@soshified.com, residentbenchwarmer@soshified.com, MoonSoshi9@soshified.com, Pandai@soshified.com, taengsoshi@soshified.com, LetsGo@soshified.com, SeraphKY@soshified.com
Contributors: cedge, SunnyStawr@soshified.com, ch0sshi@soshified.com, minigiglo@soshified.com
Graphic by: cioco@soshified.com
Have a news item that you think Soshified should know about? E-mail us at tip@soshified.com. Follow us on Twitter: http://twitter.com/soshified for the latest on Girls' Generation.