Videos
Girls' Generation Members Congratulate SBS and MTV
Last week a clip of Yuri's congratulatory message for SBS and MTV Korea's merger was released. This week we get to see the rest of the girls offer their well wishes for the two broadcasting stations.
Girls' Generation on "Entertainment Relay"
The girls were featured briefly on "Entertainment Relay" this week. The show went through a list of times where something unexpected happens on air, and a couple moments with Girls' Generation members were captured. Even when the unexpected happens, the girls just roll with it like pros.
Short Commercial for "Fame" with Tiffany
Tiffany is already garnering a lot of attention for her role in the musical "Fame". A commercial advertising the musical was aired this week, and Tiffany makes a (very) brief appearance. Even this little bit is enough to get people excited for the show.
Girls' Generation Is Shufflin' for Mnet
Mnet is holding a contest on their Facebook page for the Mnet Asian Music Awards to go to the 2011 MAMA awards in Singapore. Hyoyeon and Sooyoung demonstrated their best shuffle for the shuffle dance relay contest. I think this might be their best dance yet!
Girls' Generation Members Pick Their Favorite J.ESTINA Bags
J.ESTINA signed on Girls' Generation to model their new line of bags recently. Each member recorded a video where they talk about their favorite bags. Check out the rest of the videos below.
Interview with Girls' Generation on MBC Morning News
MBC produced a segment this week on their Morning News program talking a bit about Hallyu. They interviewed Girls' Generation about their reach in Japan and abroad, as well as showing off some of their dances. When it comes to Hallyu, Girls' Generation is definitely the one to ask about since they are leading the wave.
Commercial for "Star Life Theater" Featuring Girls' Generation Airs
As we reported earlier, KBS will be producing a new documentary called "Star Life Theater" and Girls' Generation will be in the pilot episode. A commercial aired this week showing a little bit of what we can expect when the show finally comes out. Documentaries are always a really interesting type of show when it comes to Girls' Generation. Going behind the scenes as the cameras follow the girls around will be entertaining and enlightening.
Girls' Generation Teaches MTV News Some Korean
While the girls were in New York for SMTOWN, they stopped by the MTV studios for some interviews. Christina Garibaldi, the correspondent who interviewed the girls, has been enamored with Girls' Generation since meeting them and has been posting a lot of articles and video from their interview together. In this one, the girls teach Christina some Korean slang like "daebak" and "jjang". Sooyoung even gets in on some shameless self promotion with "Girls' Generation dae~bak". Check out the full article here as well as another where the girls talk about their style.
Invincible Youth 2 Teasers
Sunny and Hyoyeon are starring in the second season of KBS2 TV "Invincible Youth". This week a couple teasers were released showing off the girls and the rest of G8 working as they shed their idol role for that of a farmer. The show starts November 12th at 11:05pm KST, so look forward to it!
New Woongjin Coway CF with Tiffany
Tiffany shows off her cuteness in the latest Woongjin Coway CF. Eye smiles, winks, and kisses abound as she advertises the company's water purifiers. I'll take 9 please.
Endorsements
Seohyun Displays Seen for The Face Shop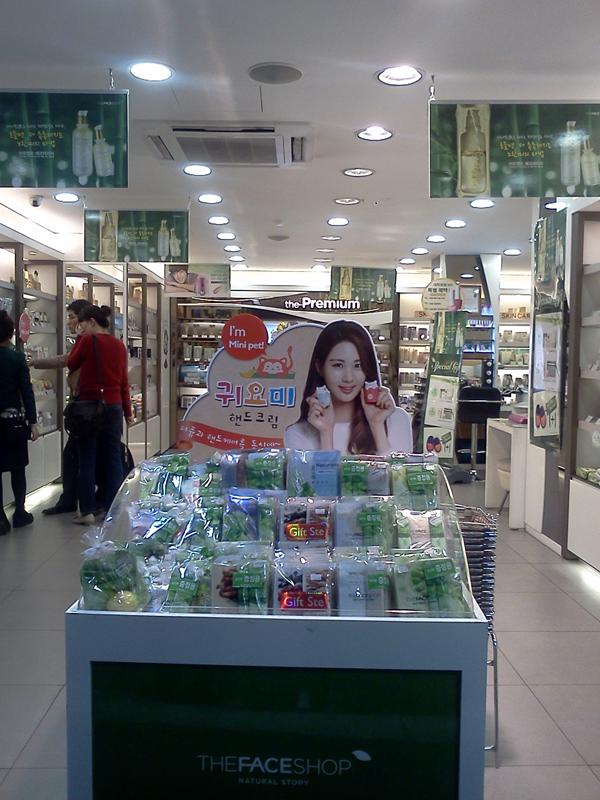 Seohyun's face is now all over The Face Shop. Her ads have started to appear in the beauty supplies store showcasing the different products available. Brace yourself, The Face Shop, SONEs are coming to buy everything with Seohyun on it.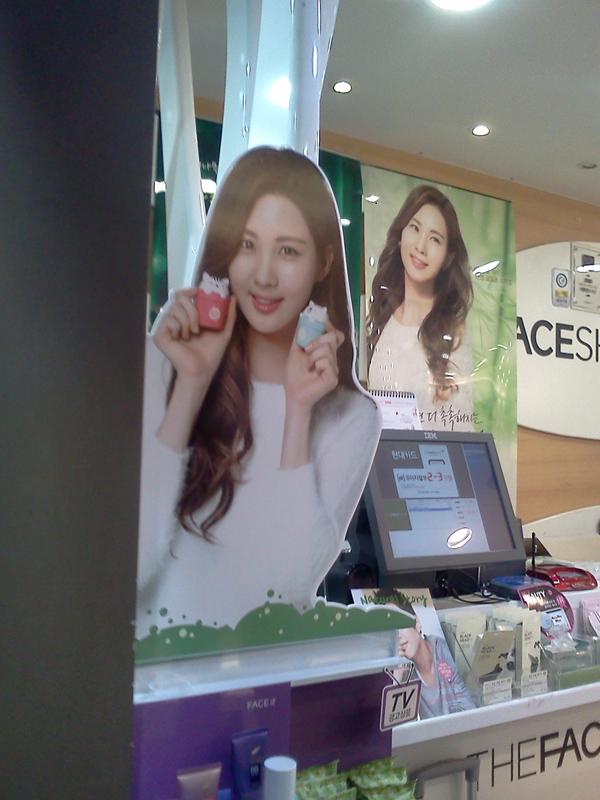 J.ESTINA Girls' Generation Website Opens with Screensavers and Wallpapers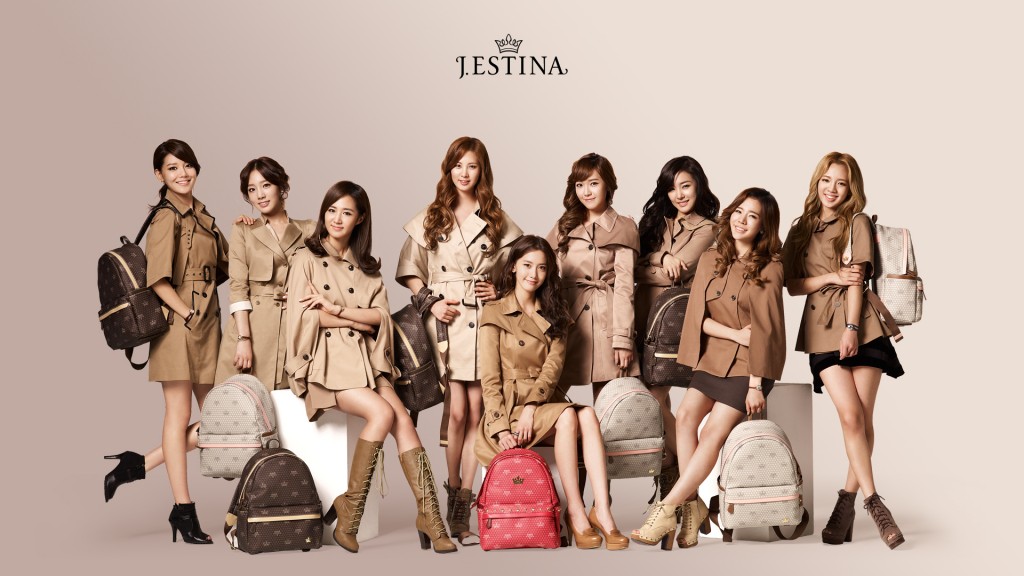 J.ESTINA's new microsite for Girls' Generation has opened this week. On the site there are screensavers, videos, and wallpapers that all feature each of the girls modeling their line of bags for the designer. Check out all the full sized wallpapers in the New Photos section below.
New Vita500 Group Pictures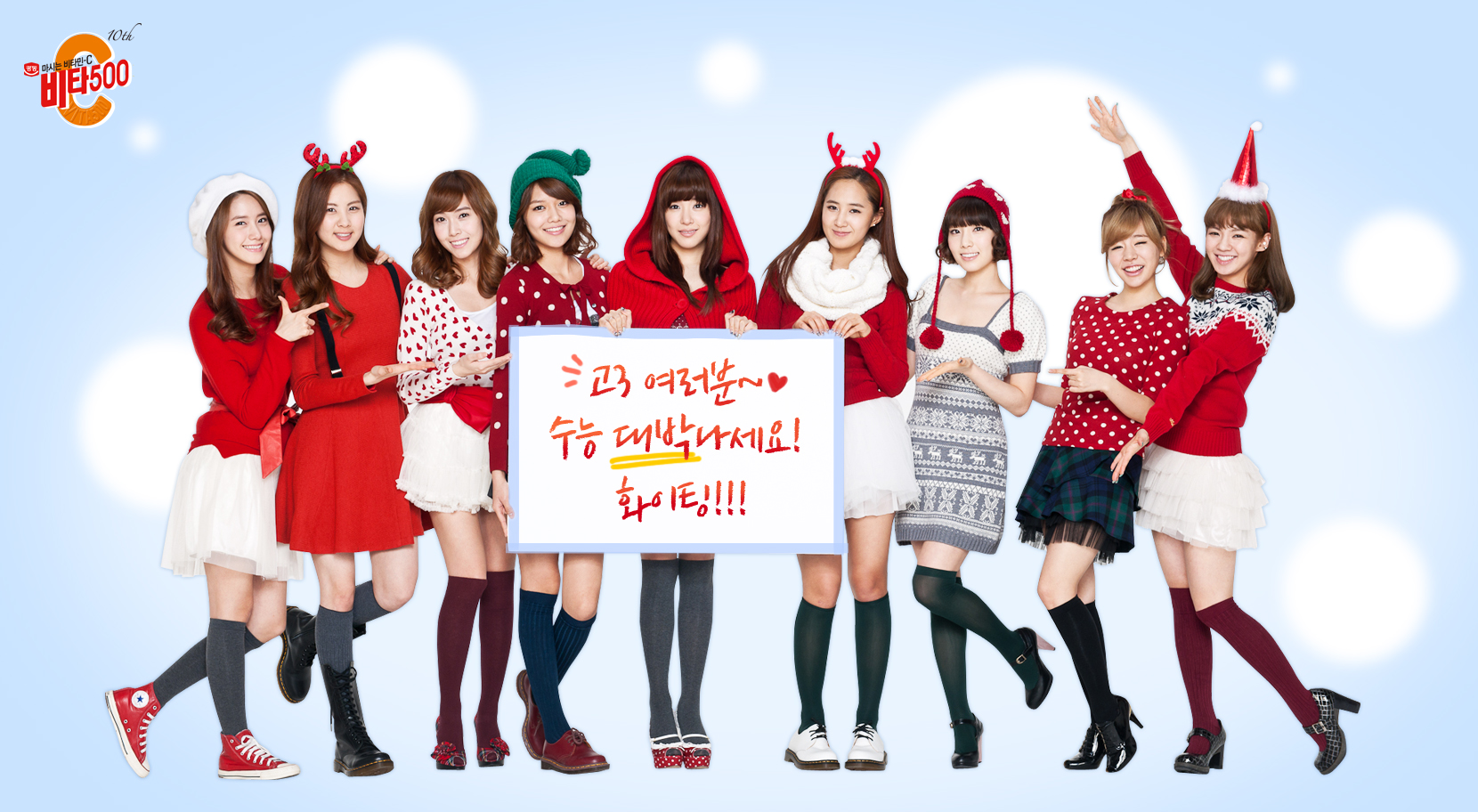 Kwangdong Pharmacy shared some new group pictures of the girls this week. The first one, since it's been a little cold in Korea, shows the girls in some cute Christmas outfits. Both pictures offer cheerful messages of encouragement. Fighting!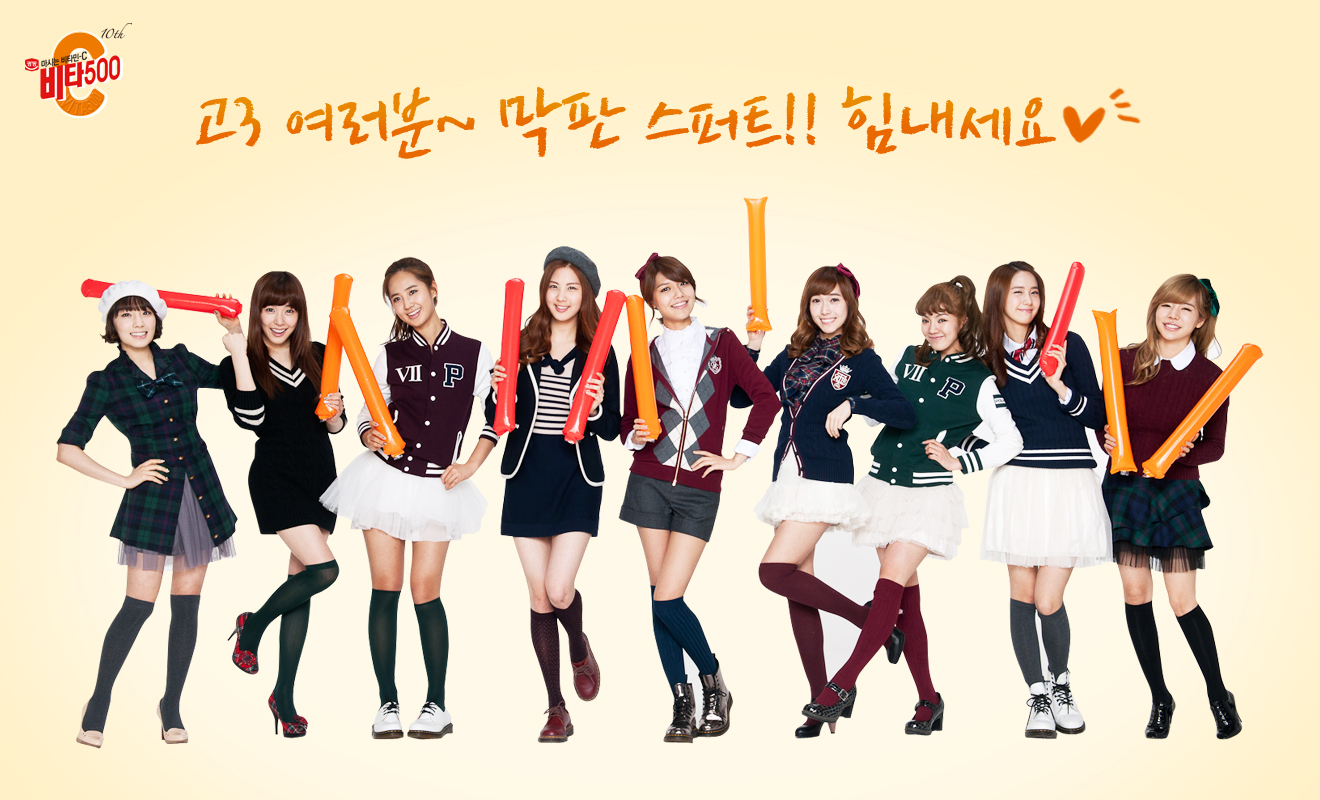 Others
Girls' Generation Congratulates BoA on her 10th Anniversary of Debuting in Japan
It's been 10 years since BoA's debut as a singer in Japan. SM artists Girls' Generation, TVXQ, and SHINee sent BoA a congratulatory video to celebrate her achievement. Girls' Generation said they want to become an artist like BoA who can move people with their music. BoA was vital in opening a path for Korean artists in Japan, and Girls' Generation is always thankful for their sunbaes' work.
Photos from Invincible Youth 2 with Sunny and Hyoyeon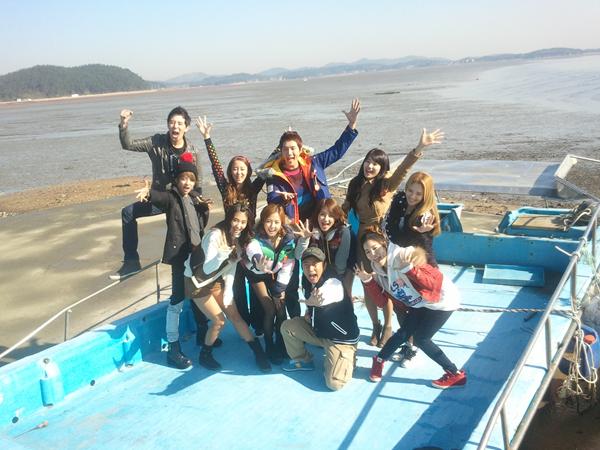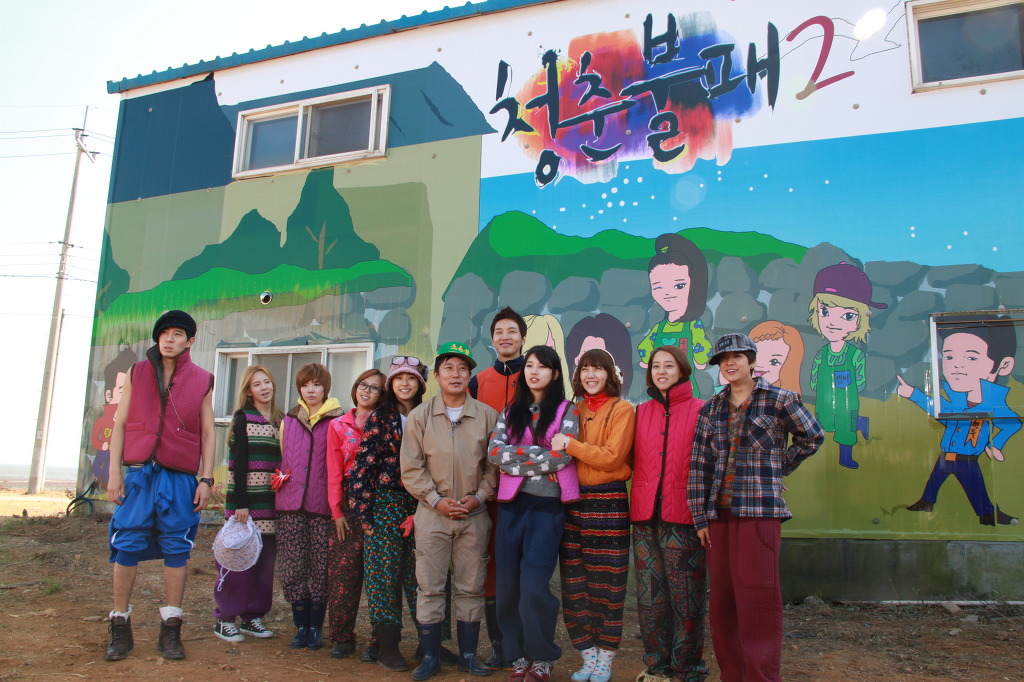 Sunny and Hyoyeon have been hard at work filming for the next season of KBS2 TV "Invincible Youth". Some photos of the new group of idols, G8, were released this week showing the girls and MCs on the show. Sunny is the veteran of the group with her widely praised experience from the first "Invincible Youth". The show will air its first episode on November 12th at 11:05pm KST.

Girls' Generation Shows Their Compassion at Their Fan Signing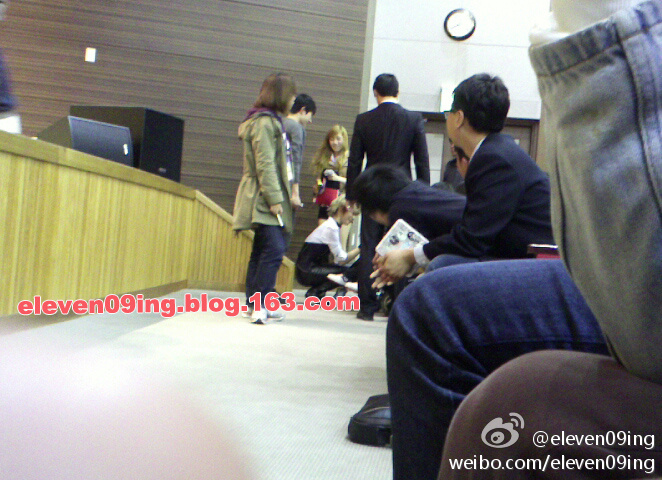 Girls' Generation members recently held a fan signing event in Korea where many fans finally got a chance to meet their idols up close and get an autograph. One fan, however, was unable to go up to the girls due to being disabled. So, the girls went down off the stage to greet the fan and give their autographs. In the above picture you can see Taeyeon looking on as Sunny crouches down to be at the fan's level. These girls always go out of their way to do whatever they can for their fans.
Girls' Generation on the Cover of the Novemeber Issue of Asta TV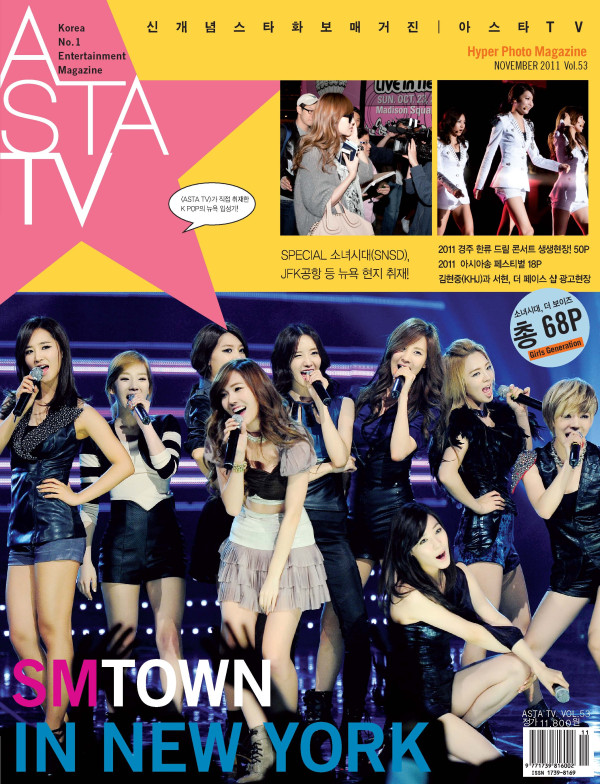 Even though the girls were on the cover of last month's Asta TV magazine, that's not stopping them from being the cover girls again this month. Asta TV has yet another 68 pages of Soshi, as they show off pictures of the girls in New York for SMTOWN.
Interviews with J-14 and M Magazines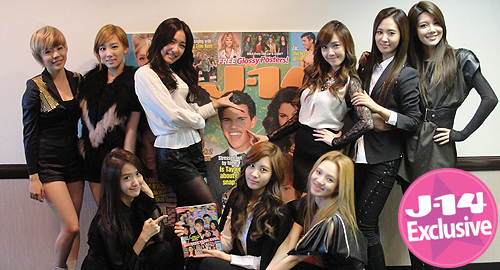 While in New York, Girls' Generation had a Q&A session with J-14 and M Magazines. The girls answered questions about introducing themselves, saying "We also have impeccable choreography — we practice a lot and we're definitely a team to check out and watch onstage." Also, on why girls rock, Taeyeon shows off her sense of humor about her height saying, "We can wear both skirts and pants. We can make ourselves up, wear heels and make ourselves taller!" Check out the full Q&A's here and here.
Girls' Generation Articles on CNNGo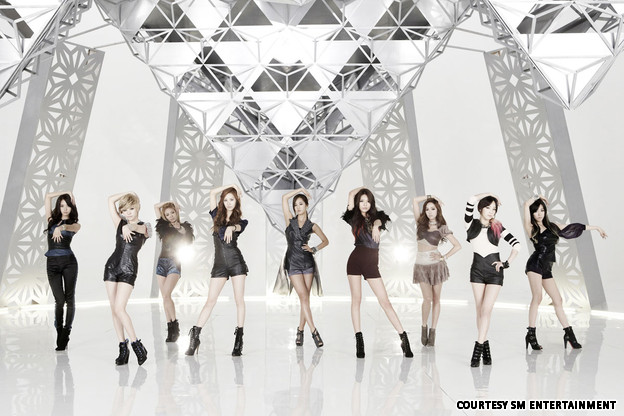 Girls' Generation was featured in a couple articles on CNN's international website, CNNGo. The first one asks, "How far would you go for Girls' Generation", as they talk about the girls traveling to New York and their global release of "The Boys". They continue on talking about Girls' Generation's global appeal and how fans will even travel to Korea to see them(as I'm sure a few Soshified members can attest to!). The second article asks some random Americans what they think of Girls' Generation. There are some wildly varying opinions in this article. One thing is for sure though. There was a lot of coverage of the girls being in the U.S.
New Sets of Pictures
Vita500- Taeyeon, Taeyeon2, Taeyeon3, Jessica, Jessica2, Sunny, Sunny2, Tiffany, Tiffany2, Tiffany3, Hyoyeon, Hyoyeon2, Hyoyeon3, Yuri, Yuri2, Sooyoung, Sooyoung2, Yoona, Yoona2, Seohyun, Seohyun2
SPAO – Jessica, Tiffany, Sooyoung, SNSD, SNSD2, SNSD3, SNSD4
Daum – Taeyeon, Taeyeon2, Taeyeon3, Taeyeon4
J.ESTINA – Taeyeon, Taeyeon2, Jessica, Jessica2, Sunny, Sunny2, Tiffany, Tiffany2, Hyoyeon, Hyoyeon2, Yuri, Yuri2, Sooyoung, Sooyoung2, Yoona, Yoona2, Seohyun, Seohyun2, SNSD, SNSD2
SONE Picture/Video of the Week
For the past couple weeks we have shown some amazing remixes of Girls' Generation's latest single. This week, we switch it up a bit and show off an absolutely incredible dance cover of "The Boys". Thai dance cover group "Relationshipz" exhibits some of what Tiffany likes to call "impeccable choreography" as they are all completely in sync together. We might have a contender for winning SM's dance cover contest for "The Boys" here. Amazing work learning all the choreography and syncing everything up.
If you have any pictures or videos you'd like to submit for SONE Picture/Video of the Week, please feel free to do so by sending them to the Soshified Writing Team at tip@soshified.com or posting at the official SONE Picture/Video of the Week thread
Sources: Soshified Photo Section, Nate, cleanmountain@twitter.com, ramski_station@twitter.com, SoshiSoshiSoshi2@youtube.com, eleven09ing, StayFanyCam@youtube.com, Mnet@youtube.com, TheSoneSource028@youtube.com, MrShoujify@youtube.com, MTV News, MTV News, Oumnae31@youtube.com, J.ESTINA, astatv_magazine@twitter.com, J-14 Magazine, M Magazine, CNNGo, CNNGo, orangechiiz@youtube.com
Written by: MoonSoshi9@soshified.com
Contributors: letaengbutt@soshified.com, meehyun@soshified.com, SeraphKY@soshified.com
Graphic by: cioco@soshified.com
Have a news item that you think Soshified should know about? E-mail us at tip@soshified.com. Follow us on Twitter: http://twitter.com/soshified for the latest on Girls' Generation.