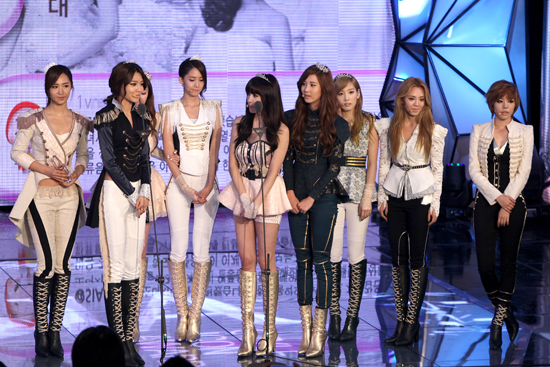 On November 7th, Girls' Generation who achieved the number one spot after releasing their third album "The Boys", appeared on "SBS Power FM Power Time with Choi Hwajung" and had a very casual and honest talk.
During the radio, DJ Choi Hwajung asked them, "It has been a while since you last made a comeback, so do a lot of new groups have difficulty in approaching you?" In response to this Girls' Generation said, "Honestly, many new groups feel uncomfortable being around us and they always make a 90-degree bow."
DJ Choi also asked, "Then how about just accepting their bows in a friendly manner?" Sunny replied very humbly, "Actually, its only been 4 years since we've debuted and so it's more appropriate to bow back to them in an equal fashion instead of accepting their bows."
In addition, DJ Choi asked Girls' Generation, "Who is your favourite male junior recently?" Taeyeon said, "I really like Infintite. It's good to see them and they're always working hard." After which, DJ Choi followed up the question with  "Who is your second favourite?" and Taeyeon wittily responded, "Can I say Infinite again?".
Source: http://news.sportsseoul.com
Translated by: yjw1234@soshified.com
Edited by: SeraphKY@soshified.com
Have a news item that you think Soshified should know about? E-mail us at tip@soshified.com.
Follow us on Twitter: http://twitter.com/soshified for the latest on Girls' Generation.