Updated story with information from official press release:
Running into the Sun, the production company responsible for Girls' Generation's concert in Singapore, announced that a second Girls' Generation concert will be held on December 10th at 6:00 PM SGT at Singapore Indoor Stadium. This is in addition to the girls' originally scheduled performance on December 9th at 8:00 PM SGT, also at Singapore Indoor Stadium.
"We're over the moon that the girls are able to perform a second night here as we understand
there are many fans who might not have gotten their tickets," said Beatrice Chia-Richmond,
Managing Director and Creative Director of Running Into The Sun, "with the additional show on
10 Dec, we hope this will give fans a greater opportunity to watch the concert and deter anyone
from purchasing tickets from the black market."
According to the October 30th press release from Running into the Sun, the most popular tickets were located in the mosh pit, which is in the middle of the stage and holds 2,000 people who will get to see the girls up close. SISTIC, the ticket seller for both concerts, shows that each day is sold out. Tickets had gone on sale on November 2nd through the 3rd for Samsung mobile and tablet customers and OCBC debit and credit cardmembers, and to the general public on November 4th. Tickets were $218 SGD for the terrace and mosh pit, and $168 SGD for the balcony, plus a $3 SGD SISTIC charge.
"Based on the feedback received on Facebook and Twitter, along with the dozens of calls and
emails we receive every day, we expect sales of the tickets to move swiftly," said Chia-Richmond in a Running into the Sun press release dated October 20th.
Running into the Sun, SM Entertainment, Conceptual, and Dream Maker are responsible for running the concerts, which are sponsored by Samsung, OCBC Bank, and F&N Sparkling Drinks.
"We are committed to providing consumers with the ability to enjoy a complete entertainment
experience anywhere, whether at home or on-the-go with Samsung's range of smart devices
including smartphones, tablets and Smart TVs. To complement this, we are excited to bring the
latest pop acts to our customers," said Ms Irene Ng, Vice President of Sales and Marketing at
Samsung Asia Pte Ltd. "Earlier this year, Samsung co-presented the most popular Korean boy
band, Super Junior, for their first solo concert in Singapore. Now, to reward our customers for
their loyal support for the year, we are thrilled to present the first solo concert for Asia's top girl
group from Korea, Girls' Generation."
"The production
quality we'll see at the concert will be top-notch, and along with the superb performance by the
girls, we're sure the show will be nothing short of spectacular," said Chia-Richmond.
Both concerts are expected to last for three hours, and will feature sexily choreographed dance moves, laser beams, LED screens, trapezes, and elevated platforms. Two stages and three passageways will be set up for the girls to perform and walk on, and these will allow concertgoers to see the girls from all angles during solo and group performances.
Earlier story from 11/10/2011: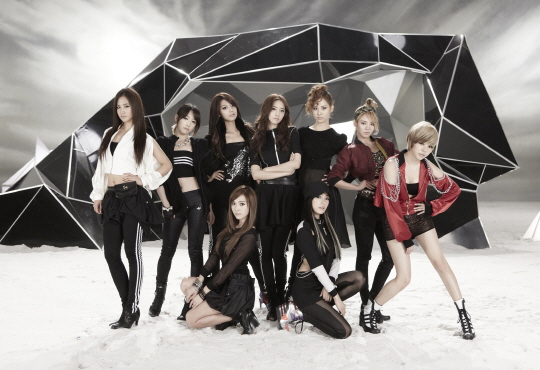 It has been announced that Girls' Generation will be holding a second concert in Singapore.
According to Channel NewsAsia, Girls' Generation will hold another concert on December 10th at 6:00 PM at Singapore Indoor Stadium, one day after their initial concert on December 9th. All 5,500 tickets for the December 9th concert, also at Singapore Indoor Stadium, was sold out four hours after going on sale. Tickets for the December 10th show are sold out as well.
While the December 9th show starts at 8:00 PM, the December 10th show will start two hours earlier at 6:00 PM to accommodate teenage fans who need to take the Mass Rapid Transit (MRT) home.
Tickets for the December 9th concert were all purchased by priority customers, before they could go on sale to the general public. Prices ranged from S$168 for balcony and partially-restricted seats to S$218 for terrace and moshpit seats. The cost for the concert is estimated to be S$1.8 million, making it the most expensive K-Pop concert to be held in Singapore.
To read about the announcement of Girls' Generation's first Singapore concert date, go here.
Source: Running into the Sun, Channel NewsAsia, Yahoo! Singapore
Written by: residentbenchwarmer@soshified.com
Have a news item that you think Soshified should know about? E-mail us at tip@soshified.com.
Follow us on Twitter: http://twitter.com/soshified for the latest on Girls' Generation.